For a long time I had two bulky dark wood bookcases in my office. They held a lot of books, but once I got a couple of new bookcases elsewhere in the house, I decided I didn't need a ton of books in my office and the cabinets were just too heavy for the room. The cabinets were relocated to another part of the house where they made more sense. My office is 11 x 11, at the most, so every inch counts. If you missed yesterday's office update post, you can find it here! (PS. If you are not getting your email subscriptions on time or getting two in a row, my apologies! Just working out the bugs with the new delivery service!).
What I really needed was another small work surface and storage for office supplies. My dream was to have built ins to make the most of the space. But since built ins were not in the budget, I eventually just gave up on that idea.
Awhile back my daughter Courtney and I stumbled upon this sweet solid wood secretary and hutch at a local flea market (The Vintage Housewife in Poulsbo) and completely fell in love with it. It was already painted white and sweet as could be–complete with precious hardware.
It was funny because when I first saw it, I wasn't even thinking about my office. We tried to think of where it could go and decided we just didn't have room for more furniture. Sadness. We walked a couple of blocks to a coffee shop and as soon as we got our Frappuccinos in hand, it dawned on us. It was the perfect piece for my office.

We pretty much skipped all the way back to the store and before we knew it, this little beauty was sitting in our entry waiting for us to have the big bookcases moved. But it was worth the wait and inconvenience!
Now that it is here in my office, I'm so excited it's here! We have already found a thousand reasons why we love it. Not only does it have fun little slots for notecards and all our paint samples (I love the little cubbies!), but the glass cabinets are perfect for storing a few treasures and books. The drawers are perfect for office supplies, too!
Best of all, we are able to pull the desk down to use as a second desk when we need it. It also works great for our laptop and my girls and I even brought in lunch the other day and used it as a table! And to top it off, it adds a fun vintage personality to my small eclectic office.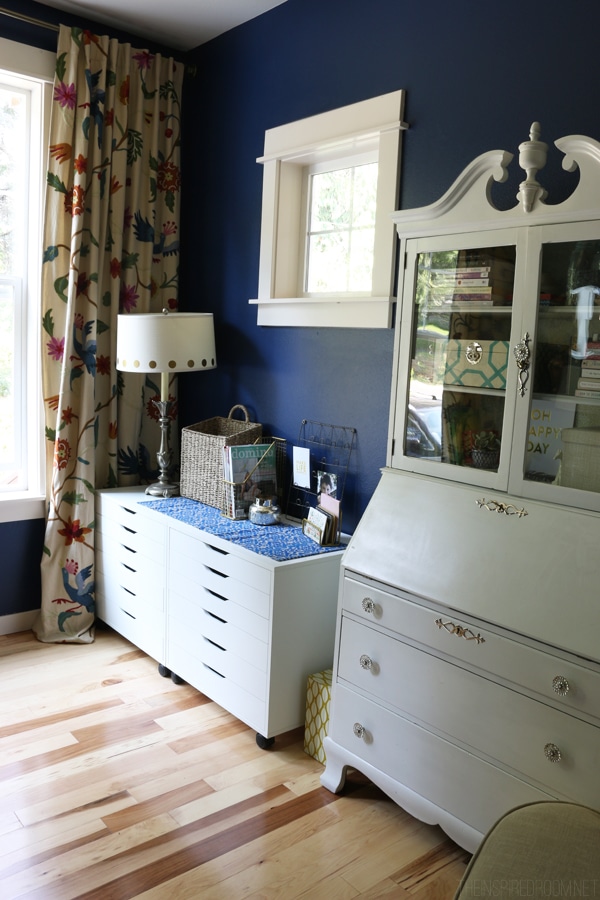 Here, here for versatile and affordable furniture!
PS. The fun gold Oh Happy Day print in the hutch was a gift from my friend Lara Casey. She is the Editor-in-Chief of Southern Weddings magazine. She has a cute shop shop with some inspiring items that I love, like these motivational goal sheets: Make it Happen PowerSheets. All of her shop products were created to inspire women to focus on what matters most and to motivate them to make it happen! You can find her shop here: http://laracaseyshop.com/.