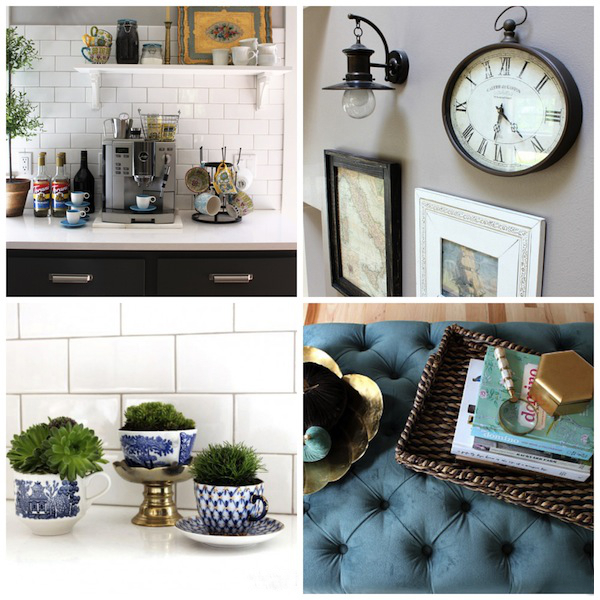 In a day and age where entire houses appear to be entirely redecorated in the span of one TV show and blogs make style seem as easy as the perhaps now over used phrase "just decorate with what you love," it can be a little intimidating to know where to begin when you are on a budget. Especially when you are looking at a house that has very little you love and no style you ever would choose on your own. And unfortunately if we decorate with everything we love there's a possibility we might not love it all together :-).
Where DO you begin to decorate with what you love? While everyone might have their own opinion on what to do first, the reality is if you are truly decorating in a way that is authentic and meaningful to you, there is no "one size fits all" answer to the question of where you should begin. The rule to start with a favorite fabric or a rug or a chair or a sofa only works in a circumstance where 1) you have the money to purchase the ideal piece 2) you find the exact right item you love at the right moment on the right budget 3) you are starting from scratch with money to spend or 4) you actually NEED and want that recommended piece and it wouldn't look ridiculous with everything you already have.
If only it was as easy as following a one-size fits all formula! Yet, getting started doesn't have to be complicated.
The reality for most of us is you have to start with what you have, or what you find on the budget you have and in what order you find it in, and then evolve from there. It's not a perfect formula, but it's your home, not a show room!
So if you can afford to shop for everything you need, should you just run to your local retailers and buy everything you love or the whole set of furniture and be done with it? No, probably not. Even if you could do that, you would be missing out on the journey. Discovering what you love, what suits the home you are in and what enhances the life you live there is what makes the journey of creating a home so personal.
Being in a rush to "finish" often means you buy things that aren't necessarily the best choice in the long run. Yet, I don't believe everything you acquire has to be a perfect showstopper for that space. The "perfect piece" or combination of elements might take years to find, but it's so much fun to hunt for it over the years! If we are on a budget, we might add or acquire things that fill a need for the time being. That's OK. Don't spend money on something temporary that you don't like at all though, instead buy something you'll like in other rooms down the road. That way when you find the ideal piece for that space in your home, you can simply rearrange what you had to make room for something you love more in that spot.
Sometimes you want some sense of order in the process so you let yourself enjoy something that makes your home "better than it was," even if it isn't exactly how you envision it long term. That's OK too. Having a sofa that isn't perfectly your style so you have something to sit on isn't a decorating mistake if it works for your family in this season of your life. My house has been in process for years. I've worked with what I had and changed things as I could. It's not perfect, but evolving! That's part of the fun (and honestly, it is part of the challenge too)!
Creating a home is like a never ending love story. Let your style evolve. Every home tells a different story and every chapter of our life brings a fresh perspective. You clear out things that are no longer beautiful or useful and move them to a new home or another room. Then you are ready for new things to come in.
Decorating your home in a style you love doesn't happen overnight. If we are impatient and want it done NOW, we might assume the only way others create a beautiful home is by spending a fortune in a short period of time to make it "perfect."
But when you are on a budget like most people, you add one layer at a time and make do with what you can afford or already have. You get creative. You learn contentment with how it is now, but enjoy knowing it has greater potential in time. Sometimes you might go on a little decorating spree and update a number of things at once. You might go on a wall painting spree. Or remodel a kitchen. Or find a few new pieces of furniture in a short period of time. That's fun! Other times you might just add a new pillow or a lamp, or a coat of white paint on that same old table. And in some seasons, you just pause for awhile and savor what you already have and avert your eyes from things you will deal with another day.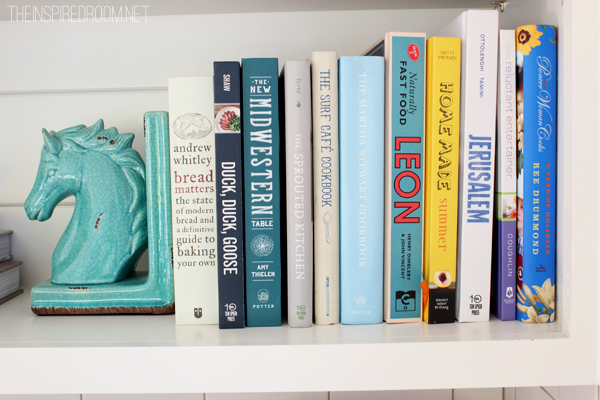 What worked for you a few years ago may no longer work as well now. Don't feel you are stuck with what you already have. It's time to refresh it, let it go or start the hunt for something new. What you loved at one point may not be right for how you live today. Your style evolves. When it comes to decorating, it's OK to let go of something you once thought you loved in order to make room for something better. That is why decorating slowly on a budget appeals to my sense of creativity. Flexibility in my style allows me to evolve and feel creative at home, even when I don't have much time or money. I don't have to feel stuck with something or fear regretting a purchase if I don't spend too much (unless I am pretty sure it will be a staple piece in my home for years to come).
The more you work at it, the better it will probably be. It's like anything you devote yourself to, it usually gets better with trial, error and practice. If you see a style you love, study it and start working towards incorporating that same vibe knowing it might take you awhile to get there. It's likely that the owner of the house you admire took a long time to acquire that look too (or had their decorator shop for them to speed things up! Heh!).
And even if a mistake is made along the way, that is part of living a full life. Live life and decorate with GUSTO. Try new things. You will try some things and they won't always work. Learn from it and move on!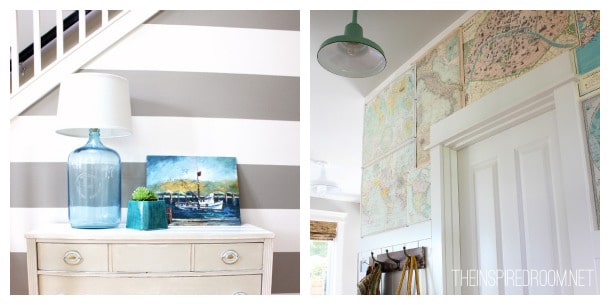 It's not easy to decorate slowly, it is hard patiently piecing things together over time. It would seem much easier to go buy all the beautiful things you love that already go together and fit perfectly in your space! Yet in the seasons where you find things you truly love and can afford and know will be with you for the long haul, you can be all the more grateful for them because you waited for it and thought about it for a very long time. It's so much more meaningful when your style evolves with you.
And acquiring things you love over time might give your home a more interesting story to tell! My living room has been nearly empty or in various stages of transition for a very long time. I put things in there for awhile but then I move them out again to a better spot in the house. While that process might feel slow or even like it is going backwards at times, like you aren't making any real progress, it's what happens as you are refining your style for the home you are in. Parts of your home might go through awkward phases and setbacks, like a tween :-), where it has potential but still something isn't quite put together yet.
You know with endless funds you could fill it with perfect furniture, but instead you wait for the right time. You watch for the right piece. You work with what you have. You save. And then, when you do find what you want at a price you can afford, you are ready to commit! That process can take a long time, so you might as well try to enjoy every step along the way!
I think the care we put into a home over time makes it all the more lovely!
What are your thoughts, challenges or feelings on decorating your home over time?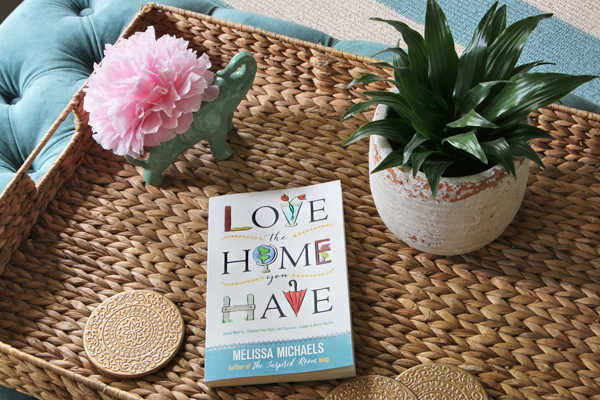 Order my book Love the Home You Have (NYT Bestseller!) at Amazon or Barnes and Noble.
You can create the home of your dreams right where you are. Take the 31-day Love Your Home challenge, declutter, organize, and decorate your rooms with ease, and leap from dreamer to doer with confidence. Dare to see your surroundings with new eyes!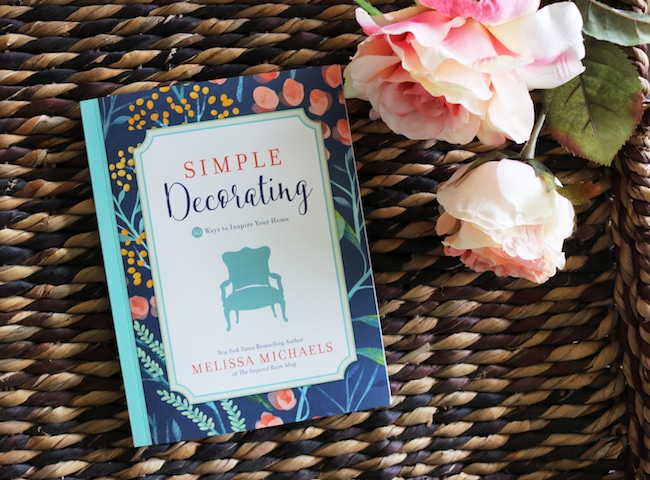 Order my book Simple Decorating at Amazon or Barnes and Noble!
Jump-start your style and refresh your home with budget-friendly and practical ideas from my book Simple Decorating! You'll learn to embrace your style, reimagine your spaces, and transform hard-to-love areas into favorite destinations.