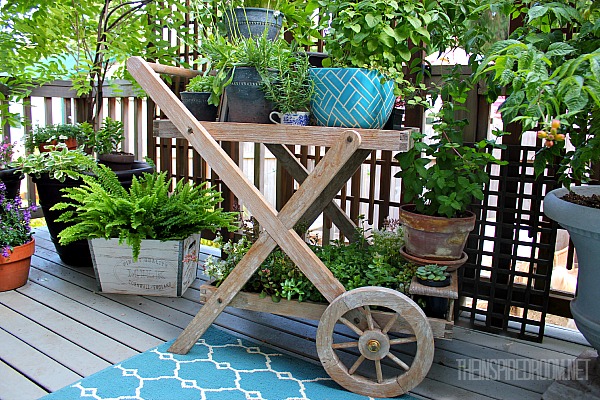 Awhile back I bought a teak teacart at our local flea market. It was the perfect piece for our backyard ice cream party and drink station. I knew it would also make a fun backyard plant stand, so it was a great flexible purchase!
A few weeks ago I decided I wanted to bring the teacart up to my deck and try it with plants. But FIRST we needed to give our deck a little spruce up. Right? Hahaha! Does that ever happen to you? You simply want to move something around but then you feel compelled to do an entire project first? Gah. We have issues.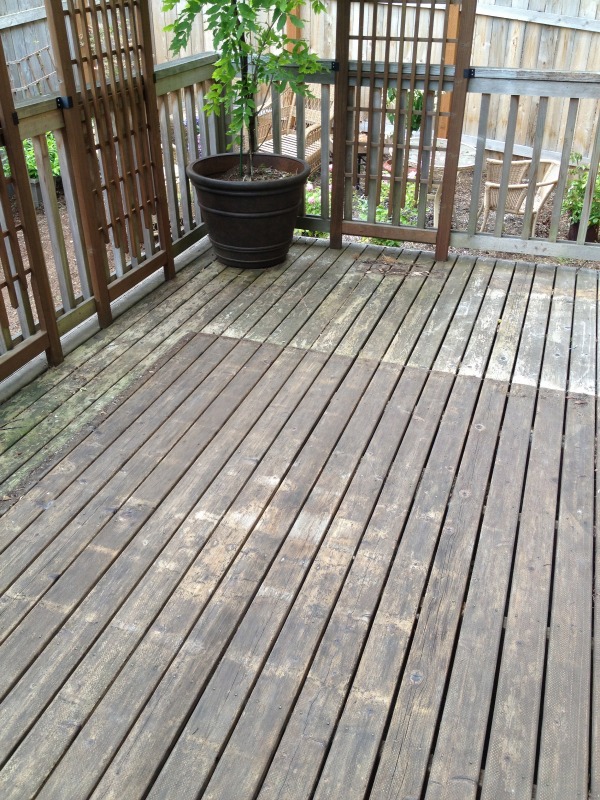 For the past few years the finish on our decks have been wearing down to bare wood and it was looking pretty shabby. It was a project I was dreading because it seemed like so much work.
But not only did I want to bring my teacart to the deck, now I had the ultimate deadline. Better Homes & Gardens was coming to photograph our kitchen, so I felt like the time had come to put a fresh finish on at least the back deck (you know, since you can see it from the kitchen sliding door). So motivated by the BHG deadline and wanting my teacart up on the deck, we got busy on this project.
While my ultimate dream was to tear this deck down and create something bigger and more beautiful, the reality is that kind of project just isn't a priority in our budget or our time right now.
So, making the deck "better than it was" was the goal. It was really quite a simple fix. My husband found a product he wanted to try called "Deck Over" by Behr. There was no sanding involved, just a quick clean up to remove dirt. Then he rolled the product on like paint and it turned out great! We didn't do the railings, just the surface of the deck itself.
Unfortunately before I could set it up and take any after photos for you of how the deck turned out, THIS happened: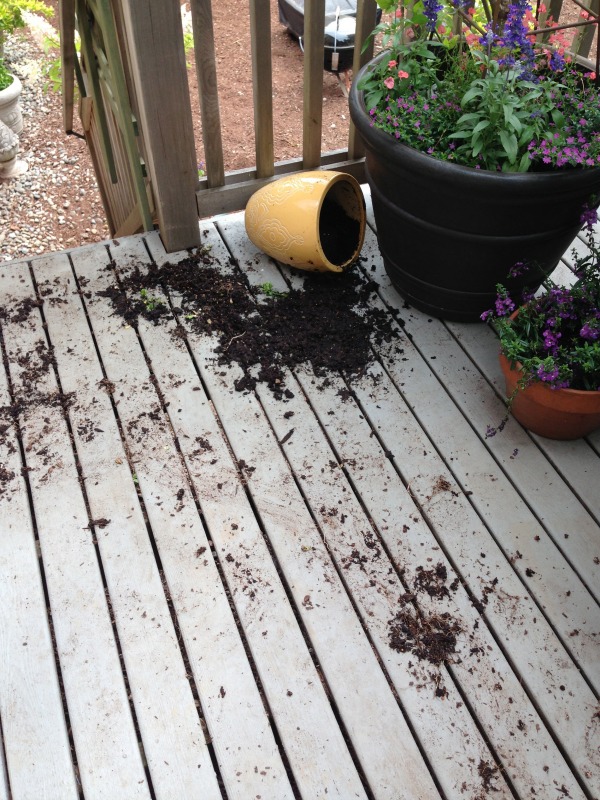 Lily was unattended for a few moments and tipped over a plant. She had a blast digging in the dirt while spreading it all over the previously fresh and clean deck and brand new rug. And then she came in the house and did the same. Yay.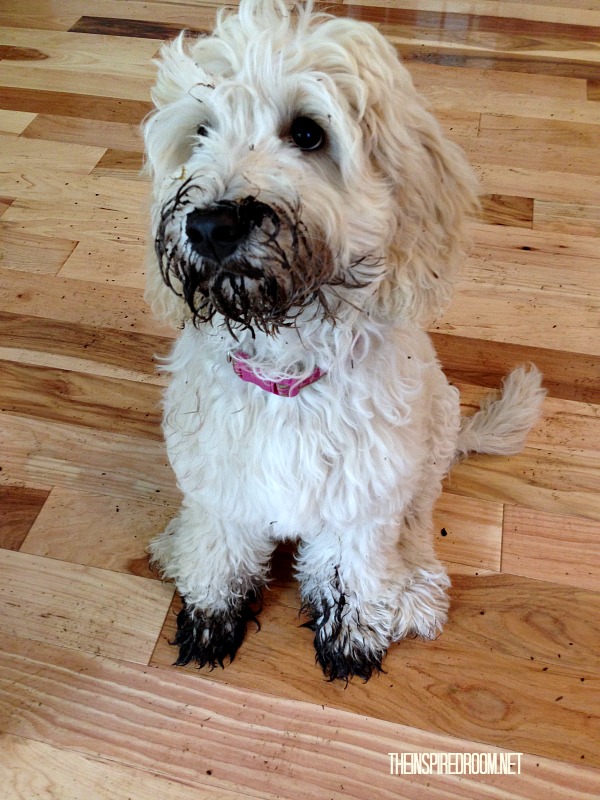 There you go. That is life with dogs! Never a dull moment (if you follow their Facebook updates you know they are always up to something silly!).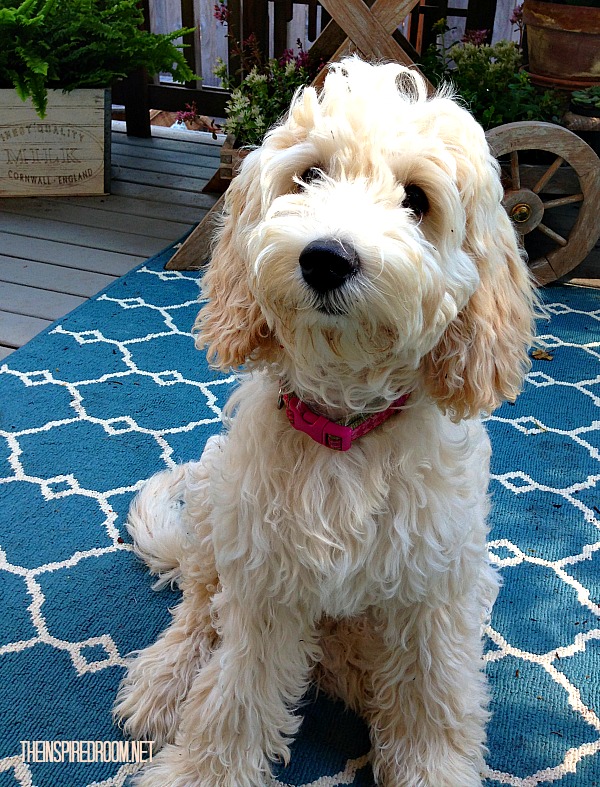 Good thing she is cute, right?
My sister says she looks like Fozzie Bear from the Muppets.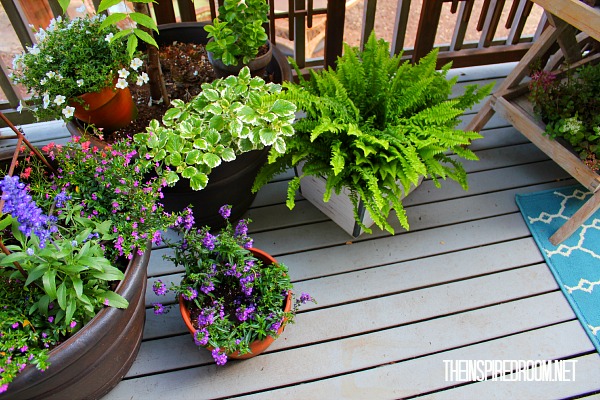 Anyway, I'm happy to have a nicer finish on the deck even though it already has that lived in look and I am not in the mood to clean it since the dogs will likely get it all dirty again right when I'm done, ha! It's still better than it was!
We took all the furniture down to the back yard when we did the deck. We decided the furniture would be great for conversation areas in the yard, so eventually I'll put a gravel patio down below. And I decided I actually really like the deck with less furniture since it is such a small space, but I'm thinking about adding just a small cafe table and chairs so I can sit up here with my morning coffee when the weather is nice.
We got the rug on overstock and I love the splash of color.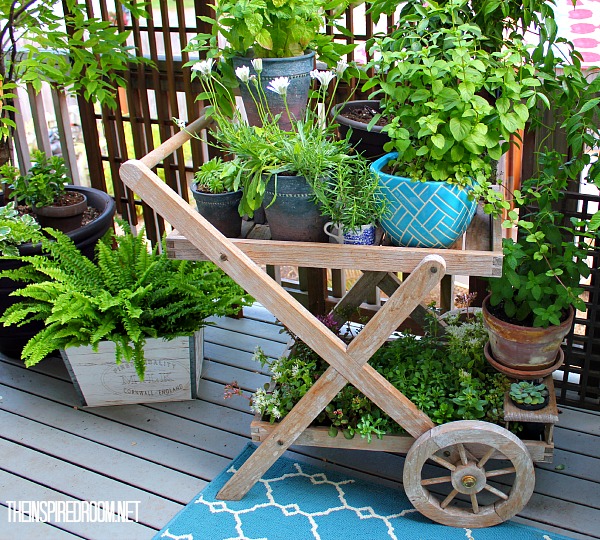 But back to the teacart story (don't you love how I get off on rabbit trails?). I brought the cart up to the deck and I think it looks really cute with all the plants on it! I love having it right off my kitchen.
The succulents on the bottom shelf are still in their original plant tray (I believe they call it a succulent carpet or something like that) so I didn't even have to plant them. Eventually I can plant them in the yard. All the other plants are just in pots so I can change them around as needed. I just love the cart with all the plants on it.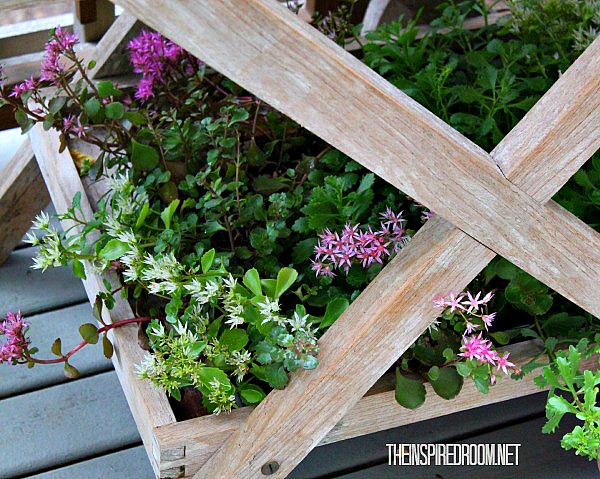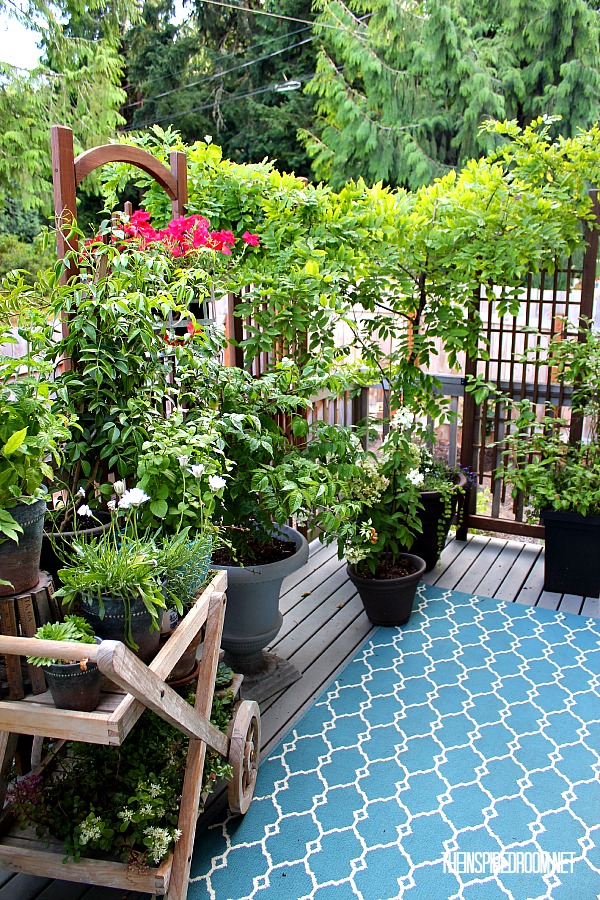 In plant news, my wisteria in the corner is growing a ton! While the vines are attached to the privacy screens for stability and it seems to be doing OK right now, I'm thinking they are going to need to be moved to our lower area by the fence this fall or at least by next year. They will eventually need stronger support and I would hate to have them rip my trellises of the deck! I love how much privacy they offer up here though!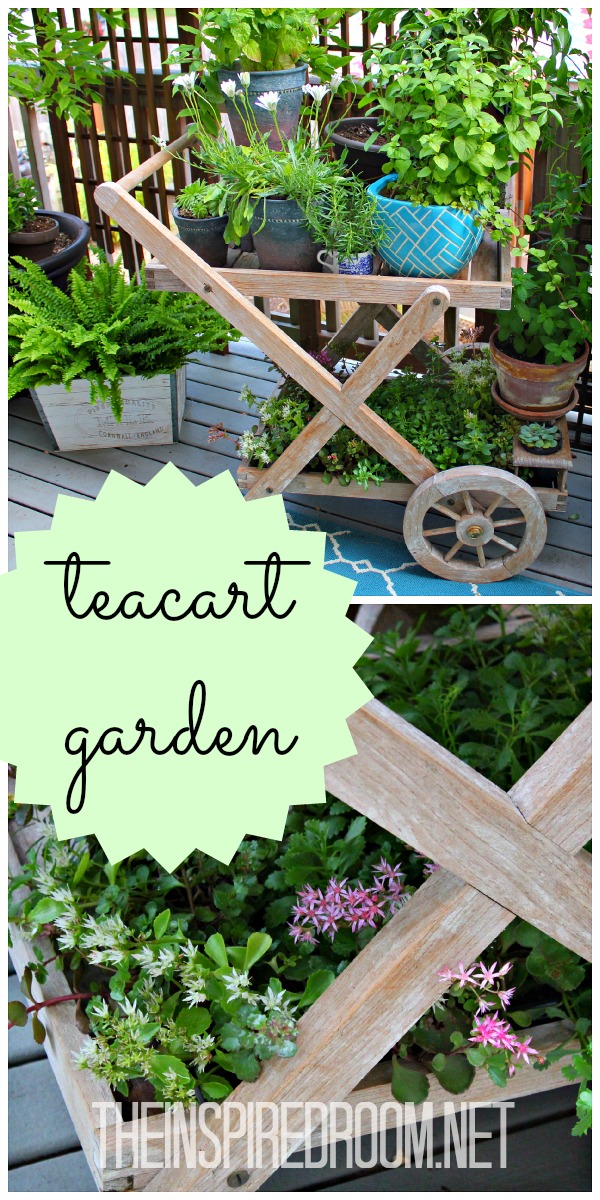 Teacarts are so flexible!
Do you have a teacart that serves another function besides for serving tea?