Close your eyes for a moment and picture your dream house. What do you see? Do you see piles of clutter, dirty dishes in the sink, or stuff piled on every surface in your dream house? I'm going to guess not. :) Somewhere deep inside, we know that how our home looks and feels is important to us. And while we know the people matter more than the house, we can't help but feel a bit discouraged or flustered if our dreams and reality are too far apart.
We want our home to be a true sanctuary in every sense of the word. We want it to be comfortable. Nurturing. We want it to reflect who we are. A place to welcome our friends and family. The way we see and care for our home greatly impacts our feeling of contentment in life and even our ability to effectively impact the world around us.
Do you relate?
OUR HOMES MATTER! :)
There is an inner conflict many of us house-lovers face.
We live here–therefore our house is a mess.
We live here–therefore we don't want our house to be a mess.

It's a tug-of-war between what we dream our sanctuary should be and the reality of what we see around us. And we try to find that balance in unfulfilling ways.
We need to make changes in our approach to find lasting contentment and love for the home we have.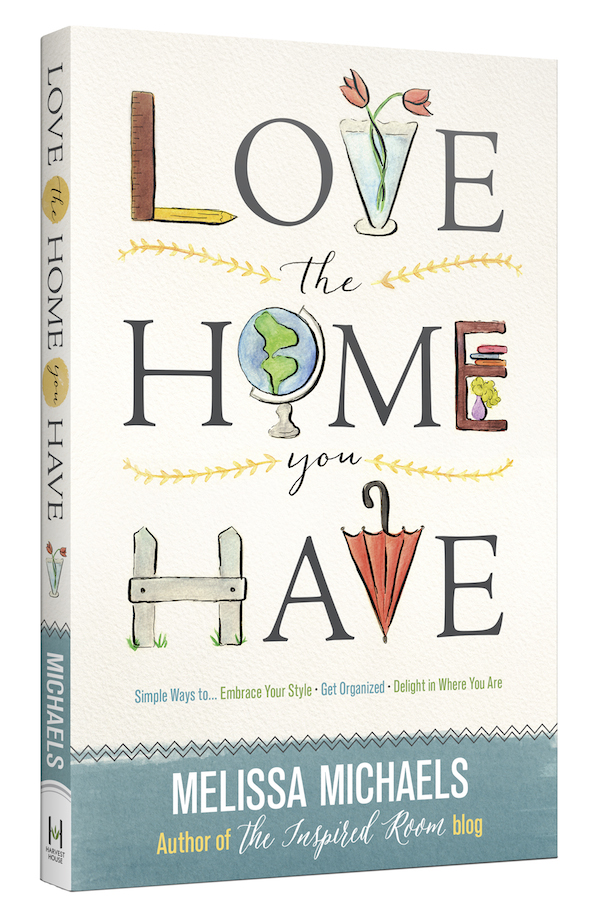 I understand the struggle to find contentment, because I've felt it too. The solution for me isn't to just accept the house in its mess (or I feel defeated, discouraged, and uninspired), and it isn't to chase perfection (because I'll never find it or be satisfied).
I wrote the book Love the Home You Have because after years of searching, trial and error, failure and success, I now know where contentment with a home isn't found. And best of all, I know what it takes to find it.
I wrote this book to encourage dream-house seekers, apartment-dwellers, homeowners, renters, perfectionists, imperfectionists and everyone in between.
You'll find inspiration and doable action steps in the book if you look around your home and …
…you feel at all discouraged by what you see.
…you love what you see, but you still wrestle with discontentment.
…you enjoy your home, but never feel you can keep up with your own expectations.
…your house feels out of control.
…you want your home to be your sanctuary.
…you wish your home was prettier or cleaner.
…you just moved in to your first home or you've been around the block a few times and want to remember what it's like to dream.
…you don't want to invite anyone over because you are ashamed of the mess.
…you wish you had a friend to come alongside you to cheer you on to get out of your slump so you can see your home in a new light.
… you need to find a balance between embracing the beauty and mess of everyday life.
…you can't help but wonder if you are in the right (or wrong) house.
…you want to create a meaningful and intentional life within your own four walls.
…you want encouragement with how to love what you have and find contentment right where you are.
This is my first book, and it's the first step on the journey to love the home you have. It will be officially released on March 31st! It's a cute little book full of encouragement, practical tips and inspiring advice. It's not a decorating book. It's not an interior design book. But I'll help you get started with that, too. It's a book that will motivate you to take action with what you can do or change in your surroundings. Your new outlook on your home will change the way you view your life. All without spending a fortune or moving to a better house.
I'm so grateful to you all for your help in making this book what it is. Without you, without your encouragement, I would never have been brave enough to put these words and my stories on paper. Thank you for every comment, every high five, and every "me too" along the way.
It would be amazing and SO encouraging if you would pre-order the book at Amazon, Barnes and Noble, or iBooks and let your friends know they can pre-order it too (pin or share this post?) Soon I'll have a special book page so you can read more about the book and find lots of goodies created just for you.
PS. Our amazing designer at Harvest House, Nicole, did a beautiful job on the hand-drawn quotes in this post and created so many other sweet details inside Love the Home You Have. I can't wait for you to see!
We will have LOTS of fun book launch activities coming up. I'll share more of how you can help me with all that needs to get done in the next few weeks to get this book out, if you are able to help me? I would love for you to join my launch team — I'll post details on what that's about soon :-D! And, just so you know, I'm just about finished with another book (a coffee table book), called The Inspired Room, and I'm ridiculously excited about each one for different reasons! Eeek! :)
Thanks for joining me on this wild journey! XOXO
Don't forget to pre-order at: Amazon or Barnes and Noble!