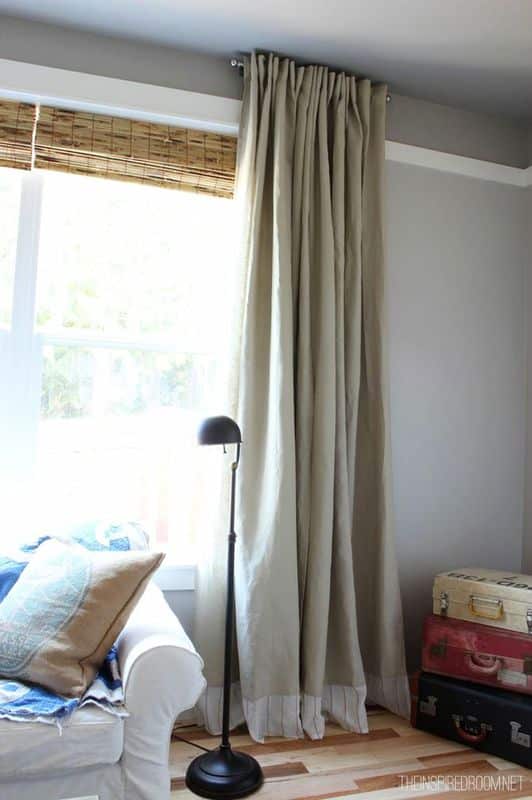 Remember awhile back when I got my new bamboo shades for the family room? Well, I STILL love them. I've been especially loving them all summer because when the sun pours in hot I've been able to lower them to keep the house cooler. Even though I loved the windows with just the shades (for how they look as well as privacy and temperature control), I still wanted curtains to soften the room and add another layer of warmth and texture.
But finding affordable and and unique long curtains is not always easy. In my office I splurged and got some gorgeous crewel Anthropologie curtains. Even though they were not cheap, I haven't regretted it. They really are beautiful and bring so much personality to my office. I smile every time I see them.
For my dining room curtains, I had some fabric leftover from curtains in a house we lived in years ago.  We were able to give them added length with a band of blue at the bottom. They turned out great and I love them.
For the family room I decided I didn't want any pattern or vivid color, my goal was to just soften the room and frame the window a bit. I didn't want the curtains to be the personality of this space, rather they were going to be in a supporting role. While I do love color and pattern, sometimes too much can be distracting in a room that already has enough going on to keep your eyes happy! But a little detail that doesn't scream at you can be nice.
I really love a cozy home in Fall and Winter so while my style in this house might be a little more summery, I am wanting to keep the seasonless details that make a house warmer and snug in those colder months.
I've had trouble finding long affordable curtains for every house I've ever had and we've had to custom make them or add to them in some way to get the look I wanted. Fortunately this time IKEA had just what I needed in the way of affordable long curtains, except for the fact that they were a little on the plain side and STILL not long enough! EEK!
I almost always like to hang curtains higher than the window frame so while they may have been fine if I had hung the curtains right at the top of the window, visually I wanted these panels hung to the ceiling. And that is why they were too short!
So armed with some iron on stitch tape to avoid sewing, my ever-so-helpful mom who has made dozens of curtains for me in my lifetime cut up an extra jute sheer striped curtain panel from World Market that was just sitting around my house (an extra panel from this curtain project) and attached it to the bottom of the IKEA curtains.
Voila! Instant touch of personality and one of a kind style, not to mention enough length to reach the floor. Score!
My mom will not like me showing you the back side of the curtain but I will anyway just so you know, it doesn't have to be perfect to look good on the front side. Of course you can sew a border on the bottom of curtains to lengthen them if you want to (that is how my mom did the dining room curtains and these panels with burlap trim for me). But since our border fabric was so light weight it was perfectly fine to use iron on tape (you can find the iron on fabric tape at JoAnn's Fabric or any other fabric store)!
After some ironing, the curtains were done and looking good! I was worried that I wasn't going to like curtains in here since I actually loved how the room looked without them. But I do really love how it quietly finished the room.
If we had a house with an amazing view out the window I don't know that I would care about having curtains as much. But since I like to focus our attention inside rather than outside at the view especially in the dreary days of winter, curtains can make a room complete!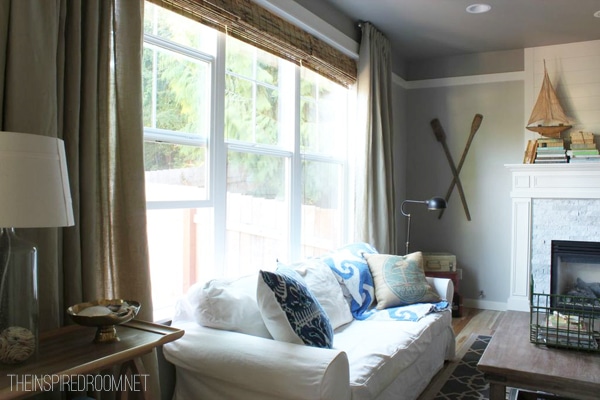 You'll also notice that I opted to make the curtains stationary and just used a short rod on either side rather than a full curtain rod all the way across. With all the molding and window trim, I didn't want to have a long rod adding another line across the windows, nor did I want a huge rod with big finials to call attention to it.
I just used a regular short curtain rod from Lowe's and only overlapped the rod slightly on either side of the window to let the most amount of light into the room. I am definitely pleased with how it turned out!
Now I'm about to tackle living room panels! My living room window is SUPER tall so I'm having to add on quite a bit of length to my curtain panels. But this time my mom is not up here to help me, darn, so I'm on my own!  I'll report back on how it goes!