Closet curtain with DIY Driftwood Rod
I just realized that I had done a little something new in my hall upstairs a few months ago, but never showed it to you all. Oops! I think I put it on Instagram and Twitter way back in November, so some of you probably saw it back then! (you can follow me at theinspiredroom on Instagram!). Anyway, today you all get to see it.
THE PROBLEM:
We had a closet door in our upstairs hallway that never shut properly. It was always getting jammed and stuck and basically frustrated us enough that we finally just took it down. Which, of course, left an opening for all of our unsightly hall closet stuff to be seen by all.
It sat that way for months. Maybe a year. I'm not proud of that, but it is reality.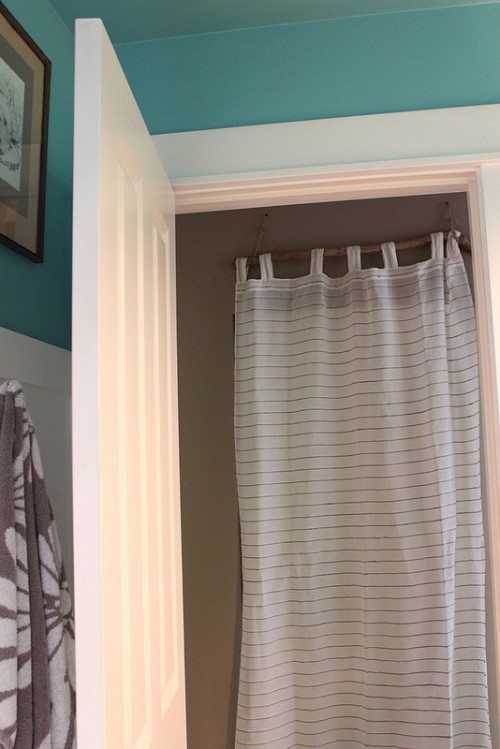 Jute striped curtain hung from driftwood!
WEIGHING PERFECT VERSUS REALITY:
While ideally I would have liked a new closet door or maybe to have made the inside fancy and cute enough to be left open to the hallway, let's face it. I'm busy. I'm working on other projects. I have other priorities. I don't have time right now to find a new suitably sized closet door and get it installed correctly, let alone time to make the inside of this closet cute enough to leave the door off.
But, I was tired of looking at the gaping opening — so right before the holidays last year, it was time to find a quick fix.
CREATIVE SOLUTION:
Enter, a cute jute striped linen curtain from Cost Plus and a piece of driftwood we've had sitting around for years.
I hung the curtain loops on the driftwood and then hung the driftwood from jute and nails.
Done.
MORAL OF THE STORY:
Sometimes you just need a creative but simple fix to make something better than it was. It took maybe five minutes to complete this project, so why did I wait months to get it done? The perfectionist side of me sometimes paralyzes my progress, because I want to do it "right." Sometimes waiting for the perfect solution is worthwhile, but sometimes I think we make things too hard on ourselves when "simple and done" are the best solutions for now. It is a lesson I remind myself of often.
I'm glad I finally pushed aside the need to do it "right" and replaced it with the resolve to get it done! My creative fix accomplished the goal of hiding the closet contents AND made a fun little statement in the hall at the same time. That works for me!
What simple project could you finish around your house right now, but are putting off waiting for the "perfect" solution?
Here are a few other recent tweaks around my house if you missed them!
The upstairs hallway is painted Studio Taupe (Behr All in One), which is the color that will eventually go through the main rooms of my house. That is how much I love this color. It is a gorgeous warm brownish gray (at least in our lighting).