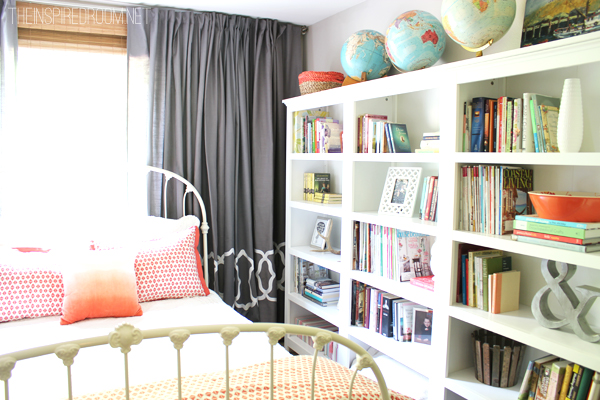 A million years ago, I started a makeover of a guest room / room for my daughter Courtney when she came home from college on the weekend.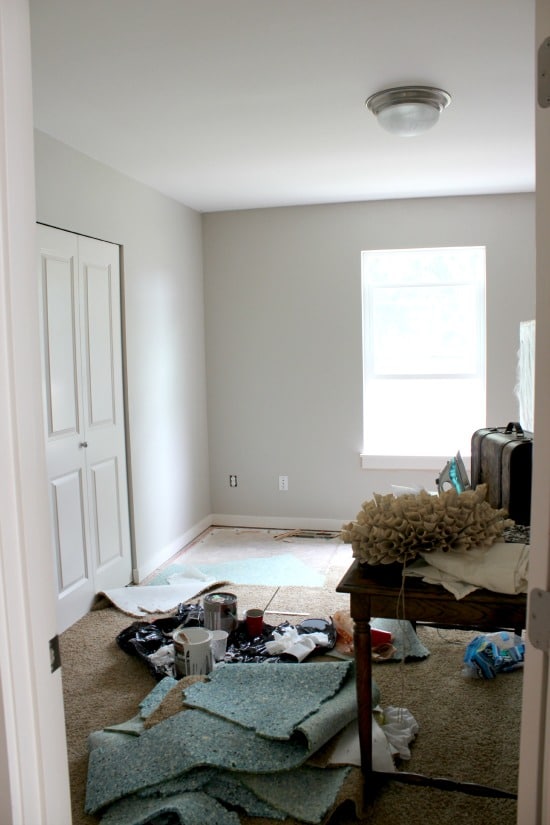 This was how you last saw it as it was in progress, in a post where I was talking about creating a visual flow between rooms. The walls had been painted (the beautiful gray color is Studio Taupe from our living room, but lightened with white.) and we were getting ready for new carpet. That, my friends, was over a year ago! How does time fly?
Long time no see, but I'm excited to finally show you some progress today, namely the addition of our new library bookshelves (as you can see, there has been more completed in the room and I will update you on in detail on in an upcoming post. I promise you won't have to wait as long this time!).
Since we last talked about her room, my daughter graduated with her interior design degree and is now working full time, living on her own (see how much happens in a year's time?). This room will still be her room to come home to, of course, but also a guest room as needed. Mostly day to day it is a space I've claimed for myself as a space to relax, since I'm the only girl living in the house during the week! :-). For simplicity sake, we will call it "the guest room."
But secretly, I call it MINE. Haha. I LOVE it.
One thing I really wanted in this room was bookshelves. As I've mentioned in other posts, we love books. Just as I love the open shelves in my kitchen, where I can keep cookbooks or have fun with accessories, I want to have bookshelves in several rooms of the house. I not only love the look of bookshelves, I love how practical they are in making the most of a space.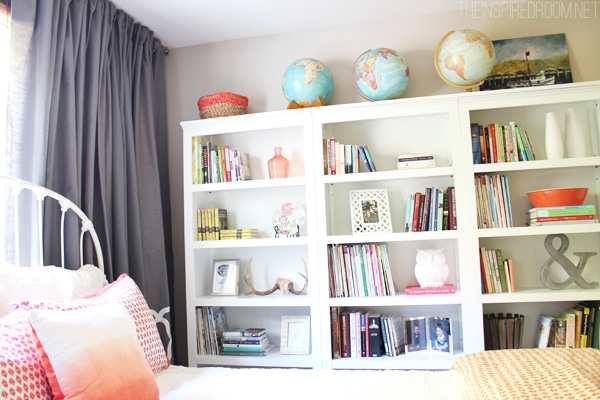 Because our rooms are on the small side, I feel overwhelmed if they are filled with too many pieces of furniture or overwhelmed stuff. Yet, I am not a minimalist so too much emptiness, lack of personality or not enough function in a room and I start to twitch.  :-)
Built in bookcases are a match made in heaven for me. But for my realistic budget of time and money, ready to assemble bookcases were a perfect compromise!
We found ours from the awesome Threshold line at Target online and they were delivered to our door. My husband put them together for me. They are three separate bookcases, but side by side they form the look of one! No modifications necessary!
Click HERE for the bookshelf source.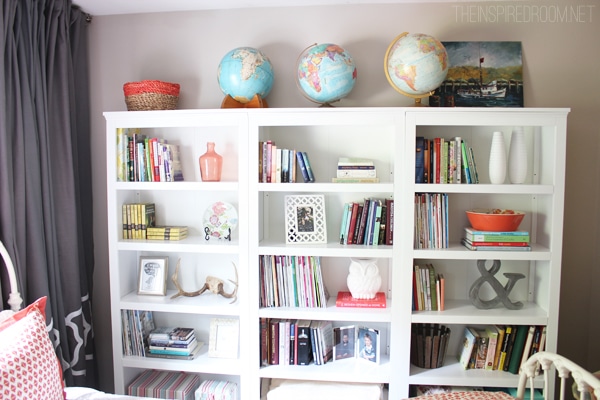 We are super happy with how the bookcases turned out and their contribution to a room I now LOVE being in. I feel like we just gained an extra room!
Plus, the best part of this was that everything on the shelves was already in our house! That means I didn't have to go buy anything new to fill them up, I just had to shop in my other rooms. DOUBLE BONUS! Amazing how much stuff ends up all over the place without a designated home — it has been a long time dream to be able to add more usable space without adding on or moving out! It feels great to finally find a new home for wayward books and accessories and have the room to add to our collection if we want to.
I'll share more of this room makeover soon, it is now one of my favorite rooms in the house.
Little by little our house is getting de-junkified, more organized, and we are on our way to making the most of the space we have! 
NOTE: I can't wait to show you how our son's room is coming along (my next update for you will be THIS WEEK!) We couldn't be more excited to be making so much progress on the bedrooms.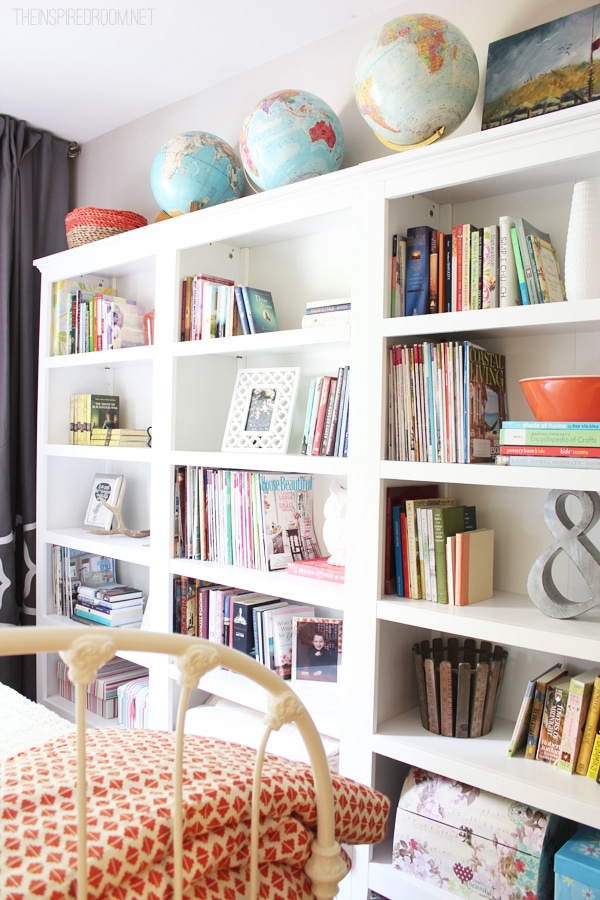 This post on our home library is published in partnership with one of my favorite places to shop, Target! I received a gift card in exchange for sharing about their great library program (below), but my post and room are my own.
Target is transforming 16 school libraries as part of The Target School Library Makeover Program, an initiative that breathes new life into elementary school libraries across the country.
By reimagining school libraries and transforming outdated spaces into state-of-the-art learning centers, Target hopes to foster a love of learning and help more children on the path to high school graduation.  Each remodeled library features 2,000 new books and a complete technology upgrade including iPads, interactive white boards and more. Each student also receives seven new books to take home!
The Target School Library Makeover program is part of Target's commitment to helping more children learn to read proficiently by the end of third grade. As a result of programs like this, Target is on track to give $1 billion for education by the end of 2015. Here's a fun infographic that shows you a look at the life of these projects, I really love this program!
Do you have a home library?