Don't get too excited, haha, this is NOT our new house :) Bummer, huh? Yeah.
All of the photos in this post are from the listing photos of homes in Seattle we either saw online, saw in person during the time we were looking at homes. Some we considered, some homes were out of our price range, some not in the location we wanted, and some just weren't the right ones for us for various reasons. The homes are just for fun to illustrate the ups and downs of house shopping and all the cute houses we enjoyed dreaming about. The house we chose is not shown in this post :)
So, if you've been following along on our adventure, you know we sold our house! It was pretty hard to make that decision, but we really felt peace about it. For months I've been sharing about our desire to move to the city of Seattle (the surrounding area, actually) in order to bring our family closer together (you can catch up on the details in this post). Moving to a city like Seattle isn't something we wanted to take lightly, not only because of the impact on our own family, but the cost of living is high and the housing market makes moving into it rather challenging (especially if you aren't moving in from another more expensive, hot market!).
A few weeks ago we decided to take a leap of faith and put our house up for sale, to see what might happen. We had a deadline of September 1 due to the new school year, so the pressure was on. If we sold in that short time frame, great! If not, we'd stay.
We've had some really challenging house selling experiences in the past, trying to sell in hard markets, and with houses that were even just days away from closing where buyers walked away at the last minute. So needless to say, we were holding our breath about the sale once we received the offer, not wanting to get our hopes up until the deal was done. You can read about our house selling here and our moving day, here.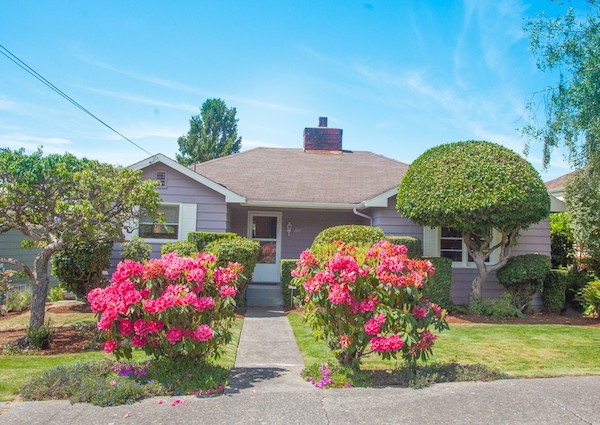 Even though we weren't sure what would happen with our sale, we started house hunting in Seattle last spring. We didn't plan to find or buy a house before selling ours, but we really wanted to get a feel for the market, the neighborhoods and what kind of house we might be able to afford.
My husband and I took a couple of days off and we drove up and down streets in various neighborhoods, trying to decide which ones felt right to us. The house you see at the top of this post was MY DREAM HOUSE! If that had been an option, I would have moved right in. :) But at a sales price of over a million dollars, it would remain a dream. Sigh.
But that's OK. This wasn't a move to find a dream house at all. House hunting had very little to do with what awesome house we might find, and more about what life we would have in whatever home we chose. For a house-lover like me, that isn't my normal default. You know me, I'm all about finding a charming home so my contentment skills had to kick into high gear. :)
Finding any home to buy can be a stressful experience, especially in this kind of market where there are few houses for sale so there is a lot of competition. When everyone is lining up to make offers for the same house you would want and they are willing and able to spend way more than asking price, you have to get realistic about what you are going after and even then, you pray for miracles. But no matter the outcome or house we ended up with, we have been aware every step of the way that we are in a season that many would love to be in, so we are humbled and grateful to even have the option to house hunt.
The neighborhoods we were looking at were Magnolia, Queen Anne, Ballard, Sunset Hill, Greenlake and the surrounding neighborhoods (for those of you who know Seattle, you might enjoy knowing where exactly we were looking!). Those are some of the desirable neighborhoods, so that made house-hunting even more challenging.
Mostly our neighborhood choices centered around wanting to be near our girls, who live in Magnolia, and also close enough to where our son would go to school. We didn't want to move all the way to Seattle to be near our family and then have to drive for 45 minutes through traffic to visit them. So, we were open to whatever popped up in those areas.
As far as features of homes or sizes, our goal was to find something that was not overwhelmingly in need of a complete overhaul to begin with. We did not want a total fixer upper because we needed to be able to move in right away and work on improvements while we lived there.
We wanted to find something that we could put our own improvements into, but whether those were minor cosmetic changes or an addition or a brand new kitchen, we were open. Houses that were pretty perfect were out of our desired price range. And so many houses looked amazing online but were disappointing once you actually drove by or got inside. And the truth is, we grew much more realistic as time went on. It's easy to look online and find adorable houses you think you will like, but getting one that worked for us wasn't as easy as one would wish.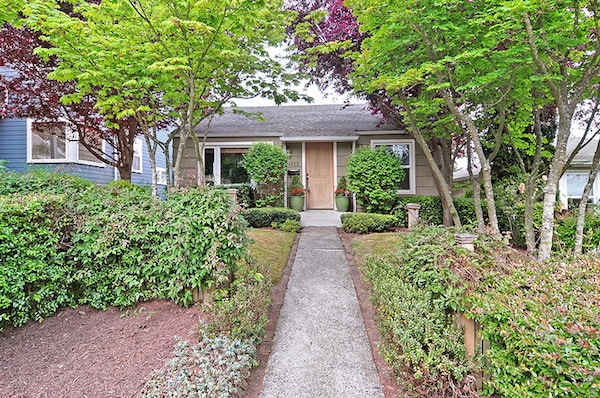 I liked all of those neighborhoods for different reasons. We even found a very tiny itty bitty house in Magnolia we liked the location of (above), but we would have wanted to add on and remodel to be comfortable with our family, dogs and working at home, so we decided that was a project we couldn't handle since we had to live there at the same time. We were open to everything, but we really thought through each possibility and tried to make the best move we could.
We discovered that we really liked the Sunset Hill area of Ballard because we could walk out our door and within a few blocks we could be overlooking unbelievable views of the water (Puget Sound). We love walking in neighborhoods and water views, plus it seemed a little more affordable than similar streets near the water in Magnolia.
We love Queen Anne, which is where my girls went to school, but the houses we saw in our price range were in need of much more serious work than we were up for and in all likelihood we would have been far outbid, anyway.
While in my house hunting dreams, I always want an adorable house with amazing curb appeal, we wouldn't be holding our breath or even necessarily trying for that as we knew they would likely be over our budget and the houses everyone fought over.
We didn't want to go crazy trying to out-bid or outspend everyone in order to win a house. And to be honest we couldn't have been in a bidding war, even if we wanted to, so we weren't exactly in the best possible position for house buying. But in a way, I think we were in the best possible position because we had to keep our head on straight and not go crazy. Those limitations probably saved me from myself, HA!
The cutest house we might have liked during that time sold for over $100,000 more than asking price (gah) and even at that it was scrunched in between other houses so it didn't feel ideal to us even though it sold for way over our budget! We really wanted a little more room to breathe, but in a city, you can't always get that. Unless of course, you decide to move just a little outside those neighborhoods.
Sadly, even houses that needed A LOT of help went for $100,000 over asking and over our budget. It was pretty shocking.
Since we weren't confident at all that we'd find what we needed in the neighborhoods we were looking in, we started to look in an area just a wee bit outside those neighborhoods. As far as convenience went, we realized we had hit the jackpot in finding a quiet area that was within five miles of everything we wanted to be near. It was also near the water, within walking distance of a beach, so that was a bonus. That area was still expensive (because, hello, close in to Seattle and few houses to choose from) but I felt like you could get a little more bang for the buck. It was nice to have another area to consider. In fact, it ended up being the area we found a house in! Although I don't want to share the specific location for privacy reasons, I think it's a good idea to look just outside of the more well-known neighborhoods when you are house hunting on a budget.
It was after all that searching just to get a feel for houses and neighborhoods that we actually put our house up for sale. If our house sold, we'd begin house shopping for real. But we felt good that we had done so much research ahead of time, so we wouldn't regret our choice when it came time to buy. Then when our house sold immediately, it was finally time to start hunting!
As I mentioned in a previous post, right after we got the offer on our house I had to leave on a business trip. Of all the timing! But right before I left, we found a house. It had been totally redone already and yet we still saw such great potential for it. It was larger and more 'done' than we had ever expected to be within our reach, but we were super excited about it and made our best offer. But, alas, our best wasn't good enough to get the house. Hopes dashed.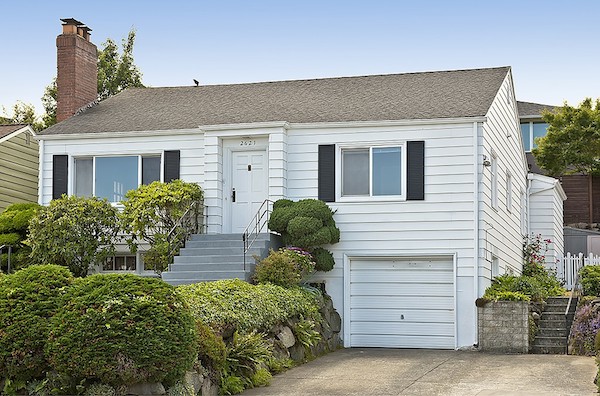 To help us get another jump start on looking while I was out of town, our girls went with our realtor and previewed more houses. To be honest, they were really discouraged at that point about house hunting in Seattle. Reality was hitting us. Nothing we would want was available at that time. Everything that was for sale was in bad shape or too much money or on a busy road.
Everything, except for one house they were surprisingly excited about! (Again, it isn't pictured in this post). They texted me details and pics and I made plans to see it as soon as I got off the plane. Even though it might not have necessarily made my top list in the beginning, we found a house that ended up being THE ONE! I can't share photos yet until everything is finalized, but as soon as I can I'll share details on this house and what happened next! Thanks for coming along on this journey, we can't wait to get started on our next adventure.
If you want to catch up with all of our moving posts, click here and scroll to the bottom to start from the beginning!
PS. If any giant ads have appeared anywhere on my site this week covering up your screen, I apologize! It's just as annoying to me as it is to you and we are working hard to have it removed! :)