I woke up this morning on this glorious day of the beginning of October to rain pounding on the roof. So what's a girl to do but go into FULL FALL NESTING mode! I turned up the fireplace, put on my cozy sweater and fun scarf and started PUTTERING around the house! Happy as a clam.
After my coffee, of course.
In the midst of the puttering, I decided I would cozy up the entry. But by that point, the sun was out! YAY FALL! My favorite.
I started thinking about how all in the same day we can have sunshine, rain, be chilly and then warm.
So with Fall's beauty in mind, I decided I would warm up the entry a bit, but still let it be cheerful, bright and happy.
I looked around for what I already had and found this plaid runner from last year's holiday dining table. Yes, it has snowflakes on it but let's pretend it doesn't. Humor me. You actually can't really tell unless you ZOOM in like this. So let's not do that again.
I loved adding the cozy layer to the entry dresser with the softness of the subtle plaid. And, I didn't have to go buy something new. Bonus.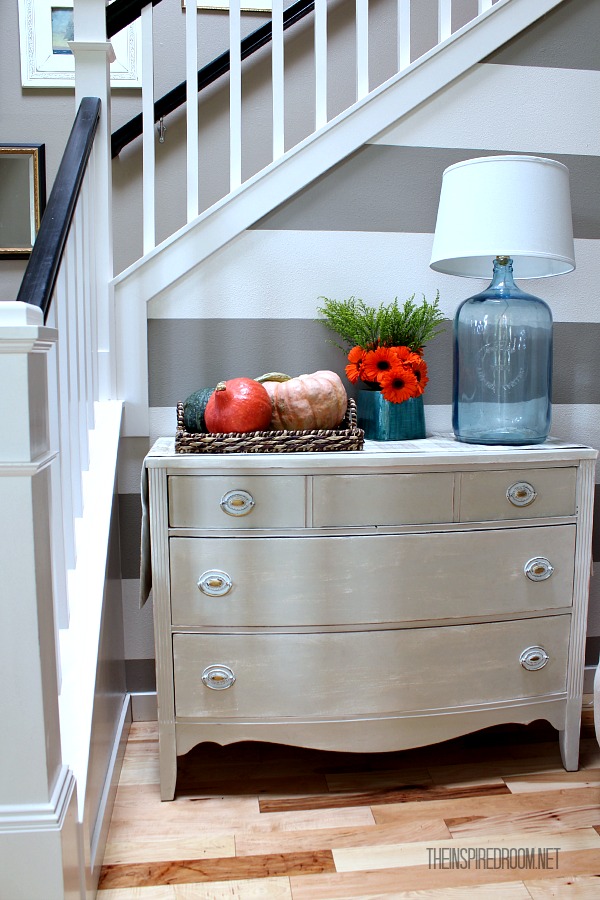 Then I decided to nestle the dresser more into the corner of the staircase rather than where it was which was more centered on the wall. I instantly LOVED IT!
I was amazed how that simple change made the entry feel so much more cozy.
Then I felt like I might as well cozy it up even more so I brought in a chair and an ombre pillow from my office (chair from World Market, vase, basket and pillow from Target awhile back, lamp is my DIY bottle lamp and the dresser was my flea market find!).
Ooooo, so cozy now! And how many times can I say the word COZY in one post?
I ran to the market and got some pretty Fall flowers and pumpkins and squash.
I loved the pretty oranges, blues and greens all together on the dresser.
Neutrals are nice, calm and subtle, but pops of pretty colors can make me smile.
And, as the season evolves, the colors can too!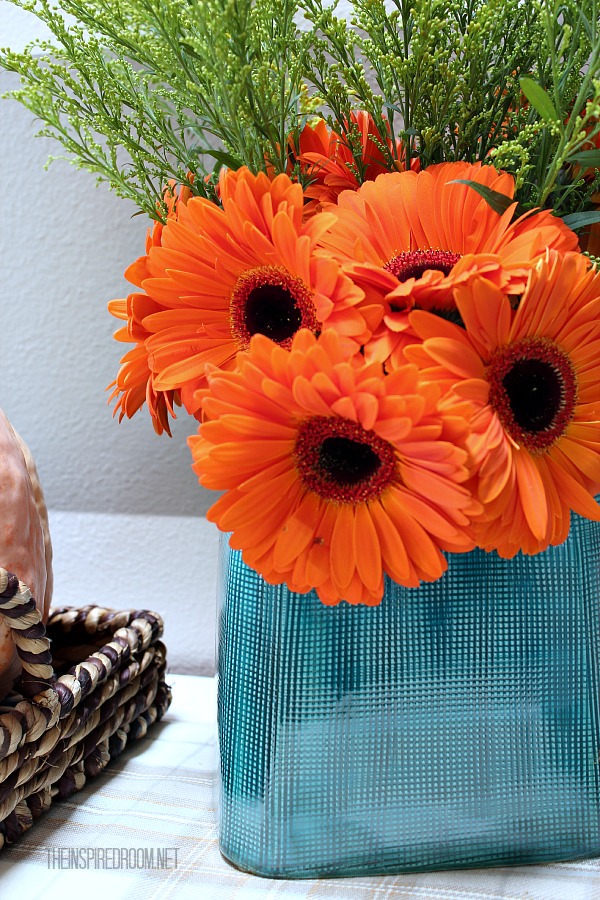 Were you in Fall nesting mode today like I was?
***Catch up with my 31 Days of Falling for Fall***

Day One, Day Two, Day Three, Day Four, Day Five, Day Six, Day Seven, Day Eight, Day Nine, Day Ten, Day Eleven, Day Twelve, Day Thirteen, Day Fourteen, Day Fifteen, today is day Sixteen!

Come visit kindred spirits & Join the Fall Nesting Link Up Party

Have a question about the stairway or gallery wall? Here are some posts about it! Stairway Makeover & How to Make an Eclectic Gallery Wall!