Please welcome my guest today,
Katie from Making This Home!
Bigger is supposed to be better. That's what we've always heard, and if we want a better life, it's generally understood that it means a bigger house, a bigger car, and most especially, a much larger kitchen.
I'm learning that bigger doesn't always make life better.
This is my kitchen: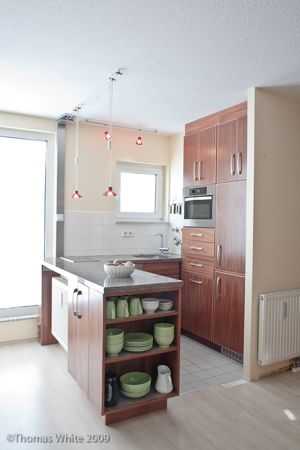 It's the smallest kitchen I've ever had by at least 60 percent.  It also happens to be my favorite. My husband and I just finished building it ourselves.  We had such a limited amount of space to work with, so we really did have to make every inch count.  Here's how our kitchen looked as we began the project:
We had to think about each thing we wanted (like a microwave) and things we didn't truly need (like a KitchenAid mixer on the counter).
We also had to battle what society expected of us.
For example, everyone has four or five burner stoves.  How often do you use that many?  We realized we never have; we sought out a more affordable a two-burner option.
Large ovens use a lot of space.  They also take a lot of energy to heat.  (Electricity costs 3x as much in Germany compared to the US.)  So we went with something smaller.  We're vegetarians, so the biggest thing we need to stuff in there is a casserole dish, not a turkey.
Then we decided to take our oven a step further; the one we chose was also a microwave.  I'll admit it's a little tough getting used to the fact that I can't turn to the microwave when I'm baking something, though I'm adapting.  I'm following my grandmother's footsteps and melting butter on the stovetop instead.  Turning to a life of simplicity instead of simple shortcuts feels really good.
Each time I work in this small kitchen, it feels like a celebration. It isn't a task to feed my family.  Cooking in a small kitchen means I clean up as I go.  There's not enough counter space to do otherwise.  Unloading the dishwasher is a snap.  Everything is easily within reach.
Everything we have in our kitchen is there for a purpose, and we use and treasure each of the items because they hold value in our lives and our meals.
I thought I would hate the lack of extras.  Instead, I love it.
I'm more aware of the simple joys in life.
I grate cheese with the sun shining on me, and I look out at the cobblestone streets of Berlin where people are biking by.  These were things I never noticed when I had a machine grating my cheese.  The greatest thing a kitchen can have isn't a big fancy gadget.  It's just a window to watch the world.
A small space that fulfills your needs and matches your personal character… to me that's far greater than anything ten times the size.
Katie, author of the blog Making This Home, is an American in Berlin, Germany.  Her home is 480 square feet; the kitchen is 36.
—–
For more ideas on how to manage in a small kitchen, check out this post on Blissfully Domestic!