image: House Beautiful
Kitchen Ideas
Frustrated with looking at magazines for kitchen ideas because you don't know how to recreate the look on a budget? I think there is a lot to learn from glossy magazine photos! Creating a beautiful room isn't about copying the entire space, buying expensive appliances, or installing marble counters on top of custom cabinetry. It is about finding doable details that contribute to the look. It just takes a little practice.
A room doesn't have to be an exact duplicate to have the same feeling. Come along with me and see what I see when I look at some of my favorite white kitchens! Here are my five take away tips!

Take Away Tip #1
The contrast of the white counters and cabinets with the black stools and lanterns really make this kitchen special. A simple patterned valance gives just enough softness at the window (above).
House Beautiful
Take Away Tip #2
The unexpected pop of color in the cabinet gives this white kitchen some added pizazz. Throw a striped rug near the sink, spray paint your current knobs black. and you have recreated the feeling for less!
This Old House
Take Away Tip #3
This kitchen gets a lot of its personality from painted black window panes, black open shelves and a striped rug on the floor. You can do this!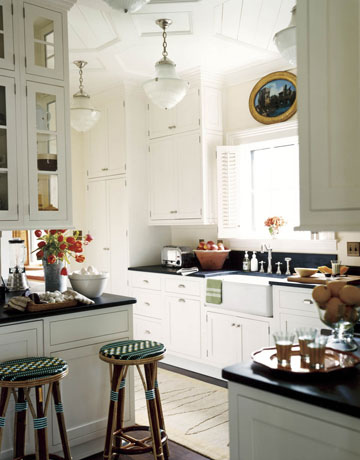 House Beautiful
Take Away Tip #4
Recreating this kitchen exactly would set you back a pretty penny. But you can capture the ambience with a couple of woven stools to mix things up and the unexpected framed oil painting above the sink.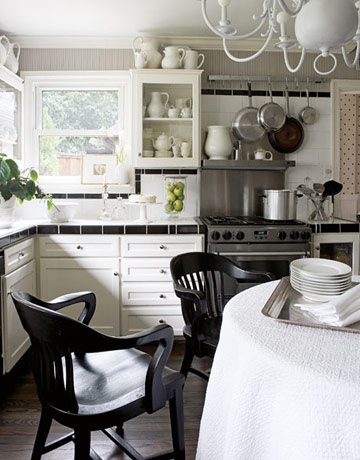 House Beautiful
Take Away Tip #5
Again black chairs give added weight. For a lot of personality, show off a collection of white dishes on open shelves and above cabinets. Hanging your pots and pans in plain view is pretty and practical. Spray paint your chandelier white!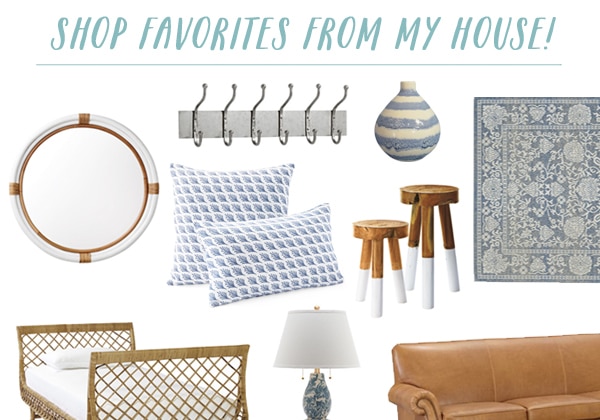 Photos: House Beautiful (click here to see HB's Kitchen of the Year!)
& This Old House