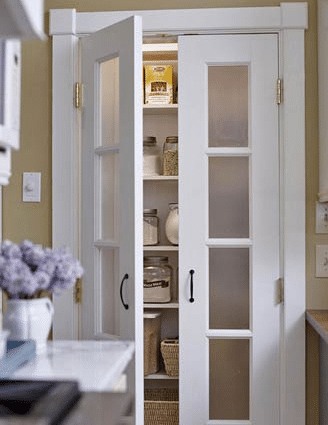 Kitchen Ideas
The Pantry
I dream of having a pretty and organized pantry. Especially in the fall! My new house does have a walk in pantry right off the kitchen, but it is pretty basic, just wire shelves. I've been looking around at inspiration photos and thought you'd have fun seeing these lovely pantries as much as I did!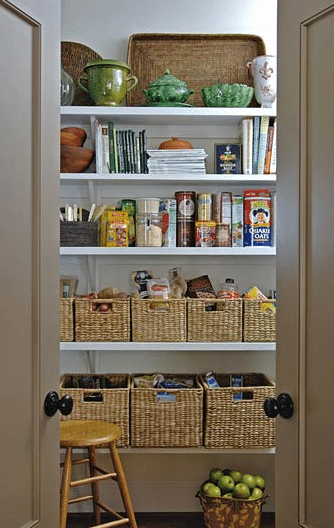 I have these same baskets — I hope to get my pantry as organized as the inspiration photo! Hmmm…someday!
I love the open shelving in this kitchen and I have no problem seeing pantry items and dishes out in the open. I like seeing "real life" so the open concept doesn't bother me at all. But if it bothers you, I'd keep the doors on!
This is a fairly small pantry but with the open glass doors it really makes it a feature of the room as well as a functional space for all kinds of kitchen storage.
Love these pullout style pantries, they sure look like they can hold a lot!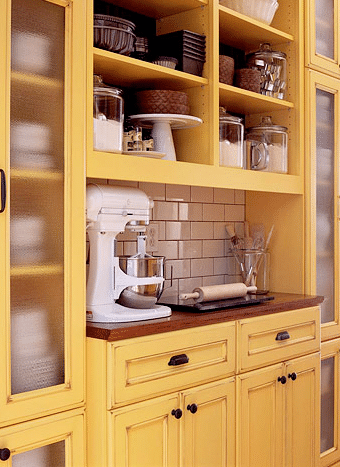 I have always tried to have a baking center in my kitchen (like we talked about in this post), even in a small space it is fun to organize all your "baking needs" in one area.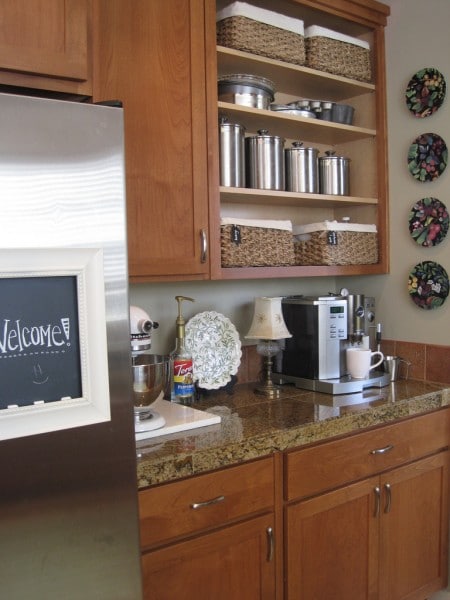 I actually just took the doors off of my upper cabinets in my kitchen baking area a couple of hours ago.
I don't have my kitchen all fancified yet (and now that I see those yellow cabinets (above), I can't stop thinking about wanting YELLOW ones!), but here is my first attempt at making my new kitchen more to my liking (below)!
I took off several other cabinet doors in the room and filled the shelves with all my white dishes. It is amazing how much bigger and brighter my kitchen looks, even without painting any of the cabinets (or adding my beloved subway tile…sigh, someday — I still have a big box of it so don't be surprised if I get inspired late one night to try tiling a backsplash!). I'll show you the dish cabinet photos another time, I didn't take a picture yet. As you can see, I love the open shelf concept for pantries and dish cabinets. Something about it just feels homey and "real."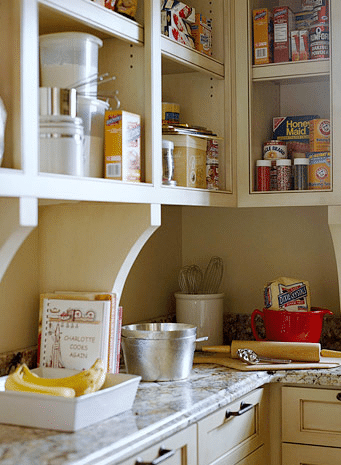 A regular cabinet or freestanding unit can work great to store pantry items! Most of my kitchens have needed extra storage and a freestanding cabinet has been a lifesaver.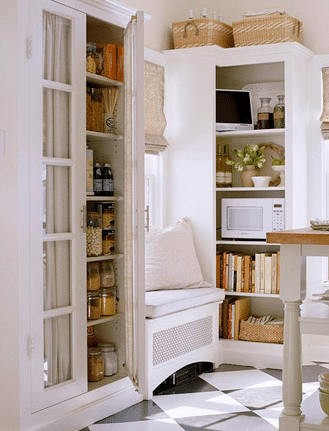 For more inspiration, check out my post on Frugal and Stylish Pantries!
Inspiration images from BH&G Kitchen & Bath online (find the rest of their kitchen pantry ideas on their website right here!)