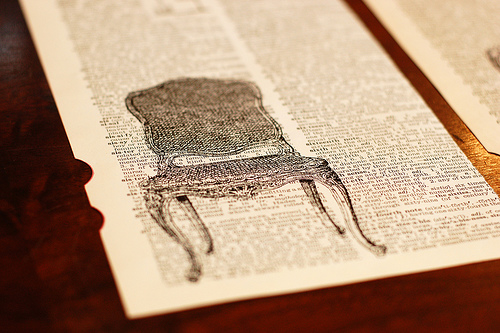 Guest DIY post submitted by:
Mrs. Limestone from Brooklyn Limestone
Not sure what it is about an old dictionary, but there is something beautiful about letter after letter spanning the onion skin pages. They aren't practical anymore – its so much easier to look up a definition on the web but they can be appreciated in other ways.
Here is how to make your own art using an old dictionary!
Step 1: Get one old dictionary. (Purchased for $1 at junk shop)
Step 2: Find a dictionary page suitable for the print. (For example, I selected the pages including the word 'sit' and 'furniture' for this set)
Step 3: Carefully tear out page; trim rough edge straight.
Step 4: Find and print out an image you like (try searching for free clip art online!).
Step 5: Using regular old laser printer, print your selected image on to the dictionary page (or a photocopy of a dictionary page).
Step 5: Matte & Frame as desired.
If you like this DIY idea, check out more DIY on The Inspired Room!