Written by: Tim Layton (aka Remodeling Guy)
Tim's love of creativity and design mix with a perspective built on a career as a remodeling contractor.He can also can be found at his blog, RemodelingGuy.net
Step Black!? Oh man… sometimes I really make myself wonder with my goofy titles.
Maybe a picture will help!
Black painted stair treads!
I was looking though some pictures on House Beautiful, and I started to realize that I was seeing the same idea over and over.  I must have been living under a rock, because I didn't realize much of this was going on.  Maybe it is.
Have you ever considered painting your stairs black? I'm talking solid black, as in "pitch".
How about a few more pictures: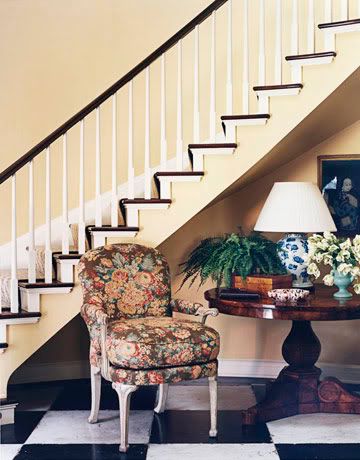 I like it!  I really think this is a great alternative to stained wood steps.  If you're remodeling and your old steps are pretty worn out, this is an option that can look wonderful without breaking the bank.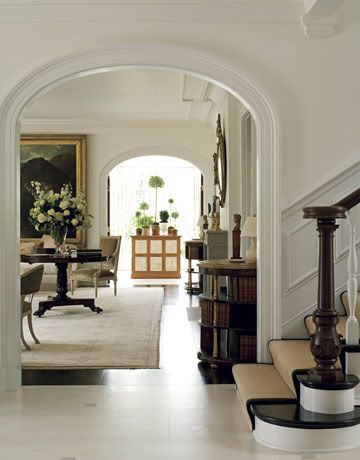 This is also something that can be done by a less experienced DIY'er if you're so inclined.  The real key is to make sure the paint dries well between coats and then that it is allowed to really cure for a good week or more before allowing traffic on it.  This allows the paint surface to harden up before it has to withstand foot traffic.
So, what do you think?
Are you going to step-up to the plate and give black steps a try?
Or maybe you want to take it down a notch and go with a lighter color?
Tomorrow, Melissa will be showing you her dramatic red staircase before & after makeover, her thoughts on the upkeep of wood and painted steps versus carpet, and her plans for making over for her new staircase (and the plans involve BLACK!) Stay tuned…
photos: House Beautiful