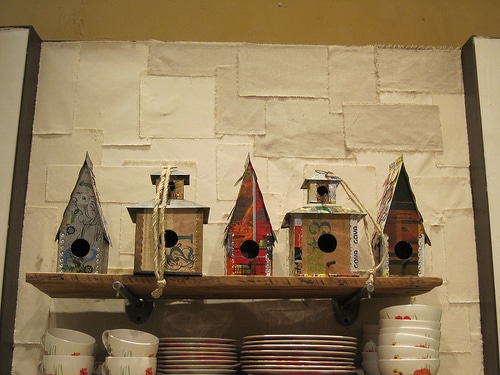 Anthropologie Store
I almost forgot to show you all a few photos from my latest trip to an Anthropologie store! You poor dears, I can't believe I haven't posted these yet! Last time I shared lessons from Anthropologie, I was in the Seattle store, this time I was in Portland. Yeah, I get around. As I shared before, there are several things I love and learn from Anthropologie. Certainly having permission to push the creative envelope is right up there in the fun lessons to be learned from Anthropologie!
They might not all be ideas you would actually use at home, but even if they aren't, it definitely illustrates the point that we are only limited in life by our own creativity.
There is no end to the ideas we could dream up to create lovely and UNIQUE home decor on a budget. All we need to do is regularly stretch our minds to look at everyday items in new ways. And, my favorite: we need to free ourselves to decorate in ways that are unique and personal to us, not necessarily using the same exact items as everyone else.
So, to help us all stretch our creative minds today, let's take a look at some innovative uses for everyday items from Anthropologie, shall we?

The top photo not only shows birdhouses made from cardboard boxes, but look behind the birdcages!
Simple inexpensive fabric squares overlapping to create an interesting wall covering.
WHY DIDN'T I think of using our utility light as a cool fixture in the house? Doh.
And oh how I love that plant table.
Oh, and look up above those clothes! Bottles and rope?! Who needs expensive artwork when you can find art in your recycling bin?
Take a Costco supply of 5,000 coffee filters and make a paper flower collage for your wall!
I bet you could even use them to make a wreath. I might have seen one of those in blogland. Anyone know who made a wreath out of coffee filters?
Don't those flowers remind you of those tissue paper flowers we used to make in third grade?
I don't think this photo was illustrating anything in particular, except for how much I just love being in Anthropolgie looking at their cabinets and armoires and light fixtures. OH, and the soaps. And the candles. And the quilts.  And floors. Yes, and the books.
What is your favorite thing to look at in Anthropologie?
Psssttt…… I have an awesome creative Anthropologie-ish accessory to show you coming up shortly! SO excited about it and I think you will be too. Stay tuned!