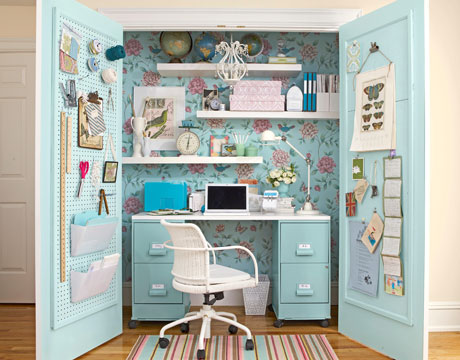 Inspiration: Country Living
Make a craft, wrap and gift closet
DON'T WORRY!
I'm not pining away for Christmas yet. I'm still enjoying summer. But I have always wanted to be one of "those" people who is so organized that they have all of their Christmas shopping done by fall and they can FULLY enjoy the holiday season — baking, decorating and wrapping gifts, and not stressed out about too much money flying out the window at Christmas. OK, I know that might be a crazy dream, but I have managed that a time or two in my life and it was BLISS.
Holiday gift wrapping: Country Living
For years and years, I have had a gift closet, or even just a gift shelf, that I used to stash my pre-bought gifts. Sometimes the closet holds crafts, wrap and gifts, and sometimes just gifts. I really enjoy finding gifts at my own pace, as I see things I like. Then when I need a present for someone (like a hostess or teacher's gift where I completely forget about giving the gift until it is time to leave for the party!), I can go to my gift closet and find something appropriate at a moment's notice.
By purchasing great gifts when I find them, I save lots of time wandering aimlessly through shops getting frustrated. And even better, I save money because I am not overspending in a hurry to find something. It is a win-win.
Country Living
Do you have a gift closet?