Country Living
I have always had a "thing" for gallery walls. Gallery Walls are a fancy way to describe a collage or collection of art and or photos used to decorate your walls. I like them all haphazard, I like them neat and tidy. I like them fresh and modern or old and traditional. In my opinion, there is really no "right way" to do a gallery wall. You can use all frames, you can mix in objects, use mirrors or any combination that tickles your fancy.
You can use frames that are the same size, or be eclectic and use a variety of sizes and shapes.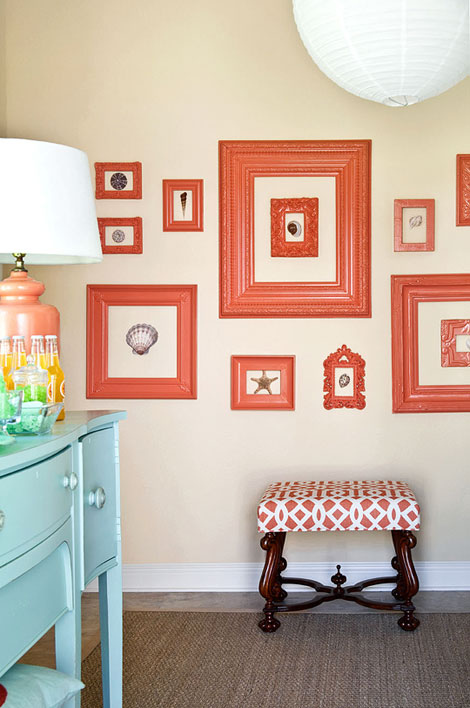 Remember the pretty orange gallery wall? I loved that it was fresh and pretty, and instead of framed photos there were framed objects.
I like the crispness of a black and white gallery wall, or the prettiness of various colored frames! So many options!

Sawdust & Paper Scraps
There is no rule about how many items to use in a gallery wall (although I check with Sarah from Sarah Bohl Designs while on Twitter and she said 7 would be a good minimum number for a gallery wall). The more items the more gallery-ish, I think!
You can go crazy if you want to! Gallery walls can look modern and fun, old world and quirky, or perfectly sophisticated. That is probably what I love most about them, they give you a chance for your PERSONALITY to shine through!
You can hang frames on the walls, put them on a ledge or hang them from string! Here are some inspiring Gallery Wall ideas from Creative Mama!
You can use big and little items together, let them be hung all crooked or make them level and straight!
You can hang art without frames mixed with art in frames.
I've shared quite a few inspiration pictures, but really, there are infinite ideas for gallery walls! Don't be limited by what you see in photos, be creative!
One of my recent favorite gallery walls was from Young House Love, I shared it on Facebook awhile back. They offer a tutorial for How to Create Your Own Gallery Wall which is really helpful, or you can forgo all the tutorials and instructions and just start hanging!
Want to create your own gallery wall?
Need more inspiration? Or do you have a gallery wall ready to show off? Well one week from today we are going to show off our gallery walls in a Gallery Wall Linky Party! Woot!
Thanks to Tricia from The Inspired Room Facebook page for the idea! You rock!
Everyone can play, no matter what style of Gallery Wall you have. And if you don't have one, maybe this party will inspire one at your house! You can whip one up just for the occasion if you'd like!
Get ready, cause here it comes! Get your posts ready to link up next Wednesday April 6th. You can create a new post featuring your wall, or it is fine to link up an old post!
Be there!