Farmhouse Ideas
Beautiful white farmhouse, oh how I love you.
Your wrap around porch would be perfect to enjoy morning coffee, watching the world go by!
I am in love with your real, authentic, working shutters and gas lanterns.
Be still my heart, your wood front door and welcoming front porch!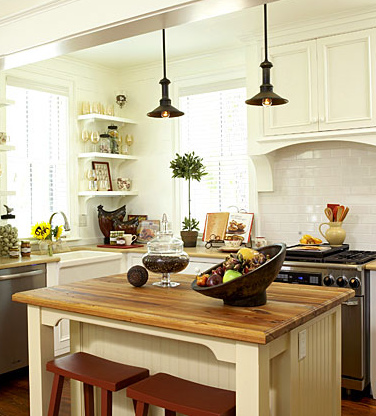 So much to adore about you…your cottage kitchen…subway tile, wood counters, open shelves, the lighting, farmhouse sink, red barstools? I'd love to spend the day there baking while my blogging friends sat on the barstools sampling treats, laughing and catching up on life!
Ah, even a creative concealment! I knew I loved your style. That shutter is hiding an electrical panel!
Adore the simplicity of this room, I LOVVVEEEE the red beds!

Sigh! A potting shed! That seals the deal. I do love this house. I do.
Featured in 2009. Dreamy enough to feature again.
All photos at My Home Ideas.com