While many people love an all white kitchen, I've been receiving emails asking to see images of kitchens with wood cabinets and cabinets painted something other than white.  It is interesting because while I too have loved white kitchens, I'm more and more gravitating towards something more unique but still full of charming, modern and traditional elements.
Every Fall I get all inspired by kitchens, and with the arrival of a crisp breeze through my windows this week, I'm right on cue to be thinking about baking and cooking again!
So let's take a little tour of some kitchens today, shall we? First up, above, I love how unique that kitchen is with the antique looking dark cabinets, dark walls, white trim, and the funky turquoise refrigerator! The open shelving on the wall keeps the room from feeling too heavy. And the chandelier is a touch of elegance.
You could not be depressed or cold in a yellow kitchen (above)! And I love the island table that serves as a perfect workspace without being visually overbearing!
The heaviness of dark cabinets in the above image is broken up by the white counters, pops of yellow and the removal of heavy upper cabinets. And I love the old wood table serving as an island!
I think this steel island is pretty awesome. Refacing a few cabinets or your island with metal would be a great solution to break up a sea of white or wood cabinets.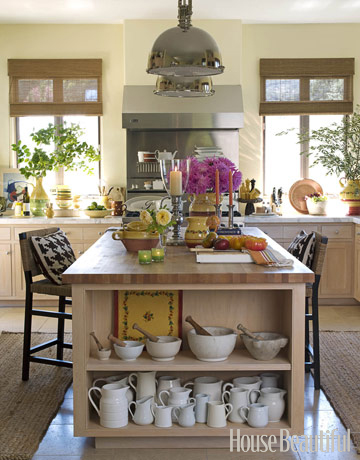 I usually don't love light wood kitchens but this one still grabbed my attention. The collection of white pitchers, the colorful pottery and accessories, and the metal pendants all contribute to the overall mood. The windows above the cabinets keep this kitchen light and airy but the blinds, rugs and wood toned cabinets give it just enough warmth to be cozy.
And how about a very dark kitchen? Love the mood in this kitchen with the patterned floor, the glass front cabinets, metal bar stools and the contrast of white walls! So much character!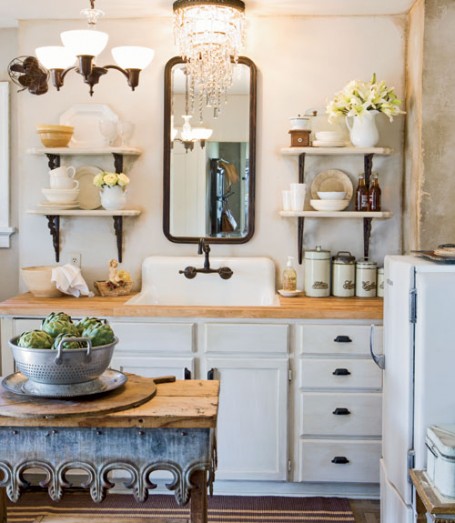 So even though the main cabinets are white, this kitchen is anything but typical white. The island is unique, the mirror above the sink and the upper shelving supported by metal brackets give the whole room a lot of personality.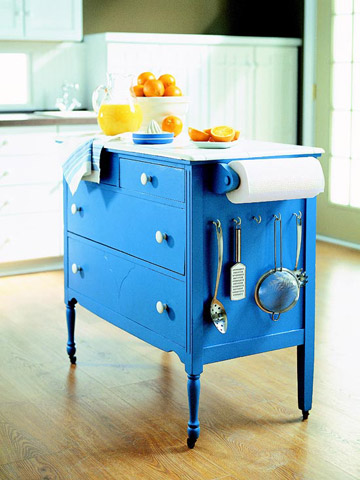 Shocking blue? Yes, why not. If you feel like your kitchen needs a little punch, or if you have a kitchen full of wood cabinets that you'd like to freshen up but don't want to paint, a bright and cheery island might be all the color you need!
Tell me about your dream kitchen! What would the cabinets look like?