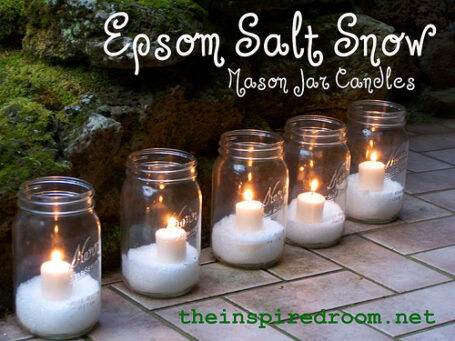 Simple Holiday & Party Decor
Mason Jars
So I know I've showed you these jars a bazillion times, bear with me here. I went to Pinterest the other day and put in the search word "Christmas" to see what ideas I might find and guess what I found on the front page?
HOLLA! Yeah. MY ridiculously easy Epsom Salt Mason Jars. Repinned thousands and thousands of times. Those jars are FOUR YEARS OLD so they are not some new internet sensation. I have made those jars for EVAH! Even long before blogging.
So, while I would ordinarily not want to bring up the same old idea again, they bear repeating because they really are a SIMPLE idea. These jars are a great decoration for any party or holiday. These really are THE MOST simple party and holiday idea ever. There is no denying it, they are pretty awesome.
I use them all the time, especially on my porch and walkways during parties! They add a real fun, magical feel to any event. I am always SO happy I have them on hand, they make decorating for a party almost effortless.
After seeing these mason jars repinned and talked about year after year, I'm so glad to know I'm not the only one who needs simple easy-to-do decor and holiday crafts. I'm happy to be of service. That is a relief. I can keep blogging!
Now that I know I am needed, I will get to work on my 2011 Holiday Mason Jar Collection.
Here was the fancy holiday version I made last year. See? I just keep reinventing the same idea year after year. BRILLIANT. Now you know my secret. I look for a few things I can do and I just keep doing them. No shame, people. When you find something that works, OWN IT!
You don't even need a tutorial for this project. That is how awesome it is. If you want to fancy your mason jar up, just wrap jute or ribbon around the mouth of your jar. Add bells or decorative brads or whatever you like.
So if you haven't jumped on board yet with these Mason jar Epsom salt candles, be sure to pick up some jars and Epsom salt at the grocery store. Then when you are hosting a party or holiday this season, you can whip them out and you'll feel all domestic, fancy and festive in no time. You'll thank me. I promise.
The 31 Day Inspired Holiday series continues!
Day 16: Holiday Decorating: Fresh Inspiration
Day 17: Cleaning for Christmas
Day 18: Finish Decorating Projects Before the Holidays
Day 19: Set Up a Wrapping Station
Day 20: Disconnect and Read a Book
****Special deal for you!****
Save 15% off your entire Shaklee Order!