Christmas Home Tours 2011
Are you getting ready for the Christmas Home Tours @ The Inspired Room?

I am! But right now, my house is a mess. Just saying, I need a Christmas miracle to pull this off. But if all goes according to plan (ie. the sun comes out so I can take some pictures!), tomorrow I'll show you my mantel…a little preview before the party! And on Monday, we'll open the doors for the 2011 Christmas Home Tours!
Here are some things you need to know about linking up to the party!
The 2011 Christmas Home Tours @ The Inspired Room will begin precisely at 6PM PST (9PM EST) on Monday December 12th.
If you are sharing your house on the tour, that means you'll have most of the day on Monday to get your post ready! YAHOO!
I know some of you like to be FIRST in linking up! Last month alone, The Inspired Room received just shy of 1 million page views, so I'm thinking there will be some big traffic for those linking up!
I've been told that the parties (and links from comments) at The Inspired Room generate a lot of traffic for readers, so don't delay on linking up and leaving comments!
If you want to be one of the first in the linky, you'll want to come to The Inspired Room around 6PM PST on Monday so you can add your link as early as possible! The linky will stay open all week so if you can't get there right on time you'll still be able to add your tour later.
For the newbies:
Welcome! For those of you still wondering what it means to "add a link" or "linking up" to this party means…not to worry. This is one of those things that I think is best learned by actually doing, but I'll do my best to help you get an idea of what to expect on Monday night.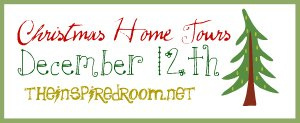 Join the party!
3 Simple Steps for Joining the Christmas Home Tours linky party:

One:
Take photos this week of your Christmas house, a festively decorated corner of your favorite room or even just a Christmas mantel. Don't worry if you don't have the biggest house or the fanciest camera or if you are not skilled with Photoshop (I don't know how to use Photoshop either). Really. Just have fun and let us visit you!
To make the tours more fun, I like to pretend you REALLY ARE coming over when I host an online party. Bake cookies to show us! Greet us at the door! Whatever. Just have fun.
Two:
Upload the photos from your camera to somewhere that we could all see them. That might be a public facebook album, a blog … any place that has an internet address you can "link" to. A blog is fun because you can write about the party and what we are looking at, but a facebook album will work too, as long as it is not private!
Three:
On the day of the party, copy the link to where your photos are stored (a link to the public place where we can go look at them) and add it to the party "linky" which you will be able to see in my Christmas House Tours post which will go live at 6PM PST on Monday the 12th. Then everyone will be able to click on that link and travel at the speed of light to YOUR HOUSE! WHOO HOO! It will make more sense when you see it on Monday.
Of course, you don't have to show your house to be a part of the fun. You can just visit all the other houses on the tour!
Could you also help me promote this party! Pretty please? Let your friends know about it via your blog, twitter or Facebook between now and Monday!
That is all it really takes to join the linky party! And if you don't want to share your own photos, just set aside some time to visit others! You don't have to share your own tour to be a part of this. It is going to be a fun week!
Don't forget, my Christmas mantel photos will be up tomorrow! Later today I have another post going up that was delayed when my server went down again last night, so you might as well just stay here all day. Go see the awesome new Room Tours I've added, as long as you are here!