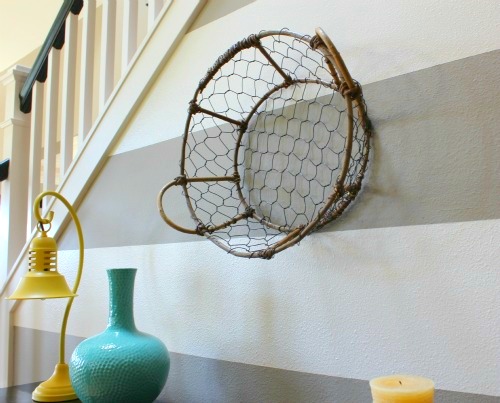 Hey blog friends living in my computer! How are you all? I've been crazy busy, which of course is not unusual for me (HA?), but I am getting tons of fun stuff done, so that makes me happy in an "I'm so tired I should actually take a nap but I'm having too much fun for naps kind of way." Thus, my quote post from Friday. Yes, I do tend to take on a lot of things and have to remind myself that I cannot do EVERYTHING at once! Darn.
While I was out shopping this weekend for some things for my office (which is coming right along and I'll be sharing many more updates of that room soon), I came across a new little basket! Oh happy day!
You know I love hanging interesting things like baskets on my wall, so I was quite pleased to find this chicken wire and twig one at TJ Maxx! Cute, yes?
I was going to put it in my grouping of baskets on the wall by my front door but once I got home and looked at it, I decided it actually looked better by itself on my stair wall. It may not stay there forever but that is where it landed for now! I think hanging it on the wall really shows off its cuteness.
For some reason it seemed kind of beach-y to me, or maybe even like a little fishing basket. Not that I would know what a fishing basket would look like or if there is even any such thing. I've never been fishing. But it is what I imagine a fishing basket would be like, if I was to fish. Which is unlikely as I don't like to look at fish. Especially flopping fish. Even if it isn't anything like a fishing basket, I just like it.
How was your weekend? Did you find anything fun or do anything special?