Ready for a little weekend escape?
My husband and I are both self-employed, with my husband the head of a start up church and me the CEO of blogging (haha).
We are home together most of the time working our tails off, taking care of the home and kids and dogs.  That might sound like the perfect life, and in many ways it is a huge blessing, sometimes it isn't the best for the work/home balance. Life and work can blur together and that can create its own type of stress and fatigue.
One of the things we decided upon after realizing how stressful and busy life is when YOU are the boss and the buck stops with YOU in several areas of our life is that we needed to schedule regular get aways, just the two of us.
No dogs, no cleaning, no schedules, no demands of work. No running errands. No responding to messages. No blog posts. No work. Just relaxation, conversation and fun.
Fortunately we live in a picturesque part of the country, so most of the time we don't have to travel far to get away. We can find beautiful and wonderful adventures right near our home.
We've been away together a few times now in the past couple of years, just the two of us. We went to New York for a bigger trip, but nearby we have been to San Juan Island and Friday Harbor, Port Gamble/Port Townsend (guess I didn't do a post on that trip, hmmm) and then most recently we "escaped" to Leavenworth, Washington, which is an adorable Bavarian style community in the Cascade mountains.
We had wanted to go to Leavenworth forever! I've heard it is beautiful year round. We decided on a whim that we just needed to squeeze in a trip this spring. I made a reservation via my cell phone (which could have been risky without research!) for a Bed & Breakfast called Abendblume that looked nice enough on my tiny iPhone screen, and off we drove into the mountains. I had no idea there would be that much snow up there, heheh, but thank goodness we didn't run into any problems!
The view out the windows was idyllic, with snow capped mountains and farm animals like chickens and horses and donkeys in fields outside. Loved it!
Inside, the Abendblume Bed & Breakfast was even more charming than I even pictured. So many handcrafted elements, from the doors to the furniture. It was just like we were in a cozy hotel Bavaria or the Alps or somewhere delightful and foreign like that.
There were even some creative DIY project here and there, like these dipped paint sticks hanging from an old ladder.
The dining room was so adorable, handcrafted furniture and full of ambience. The breakfasts were AMAZING! I actually went home and made something similar to what we had there and I'll share the recipe and our photos in the morning, it was fantastic (I've posted the recipe here!)
A cozy living room for reading, the perfect way to relax and get away from it all!
Our room had a gorgeous four poster bed and its own fireplace. We loved it, and we also loved the room you can see at the top of this post. So charming!
The town of Leavenworth was very charming too.
It was a gorgeous day so we walked around, shopped, drank coffee, read books, ate a delicious German dinner together and just enjoyed ourselves on a beautiful sunny day. Blissful? Yep.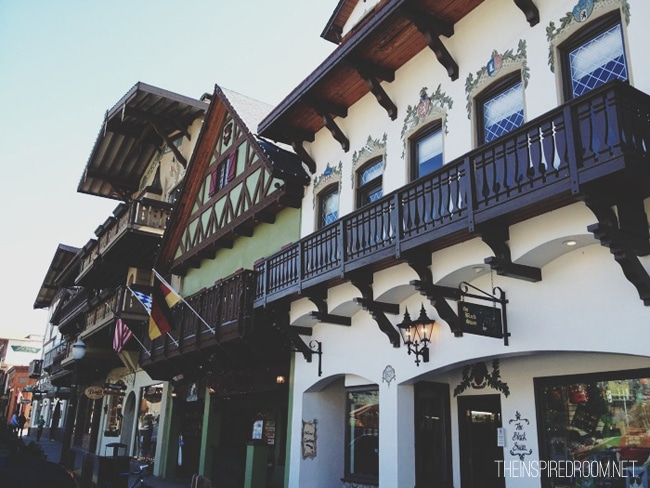 The scenery to and from Leavenworth through the mountains was absolutely breathtaking. Our photos cannot do it justice. INCREDIBLY beautiful.
We left feeling refreshed, but totally wishing we had another day or two to fully relax! But now we know how much we value these times away, so we will simply look forward to the next getaway, just the two of us!
Check out the brunch recipe, YUM is the best word for it but it has a fancy name. I'd go back to Abendblume in Leavenworth any day, even if was just to eat breakfast! So so good.
Do you enjoy weekend getaways?

What are some of your favorite places to go? Give me ideas, near or far!