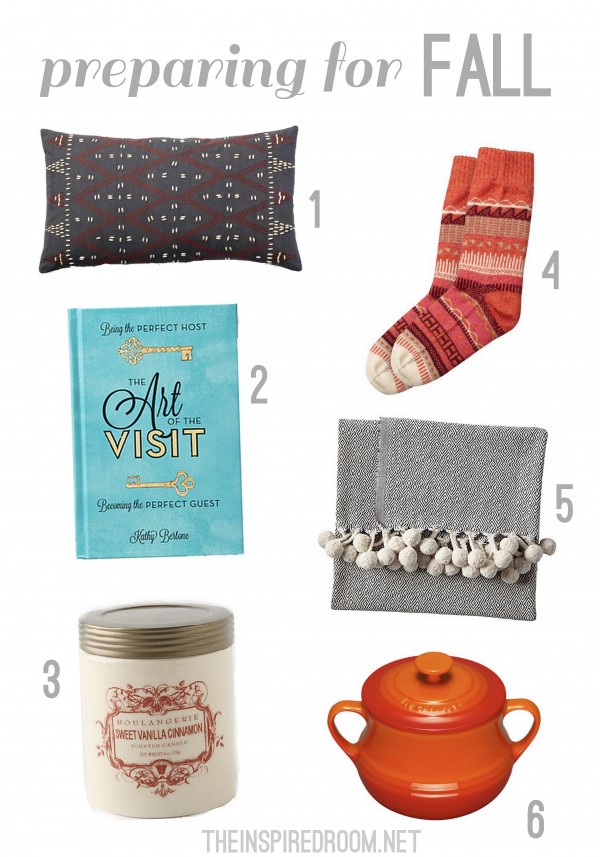 Fall Favorites: 1. Thai Bamboo Beads Pillow Cover 2. The Art of the Visit 3. Illume Boulangerie Jar 4. Graph  Socks 5. PomPom Throw Blanket 6. Le Creuset Soup Pot
This post is sponsored by Skinny Cow.
Lately I've been feeling that familiar chill in the late night air. You do know what that means, right?! RIGHT? Fall is almost here!! YAY! Very soon around my house, throw blankets and cozy fall pillows will help usher in Autumn with layers of texture and warmer color.
I am already practically giddy about the house being lit up at night with soft lamps and the flicker of our fireplace and candles providing a warm ambience for cozy evenings and a comfortable space for friends to gather.
Fall the PERFECT season for an informal girls' night in, which at my house likely involves a big pot of soup or chili on the stove, special hot drinks and tasty treats (chocolate is almost always involved). Friends will be invited to take off their boots and get comfy in soft new socks from the big basket by the door. I can hardly wait!!
Fall is my absolute FAVORITE time of year to entertain and to be invited to friends' homes.
Are you getting ready for Fall?
*Skinny Cow encourages women to create their own special space (called a WoCavé.). Whether you use your space just to cozy up with a blanket and relax, or to chat it up with your girlfriends, Fall is the perfect season create a WoCavé!