Bed provided Overstock.com
So last week I shared with you all our plan to redo our son Luke's room. He turned 13 this summer and has been asking for some updates to his room for quite some time. Actually, we've been promising it for years. I'm slow. He's patient.
Of course, I've been working on other rooms.
But this was the one room I really wanted to work on. I know there are only so many more years we have our kids under our roof. And at 13 years old, there are less years left with him as a child than we started with. It goes so fast! This boy is my last one at home. I want him to have lots of good memories of his room.
Fortunately, good things come to those who wait. The time had finally come where I could focus on his room and had the opportunity to make the changes he had been hoping for.
He didn't ask for much. He wanted a full sized bed and a desk of his own. He had bunk beds which were great for sleepovers, but they were just too small, awkward, and not as comfortable for him any more. He rarely used the top bunk so we were willing to give up that convenience in order to accommodate his request for a new full sized bed. We really wanted him to love his room and feel like he had a space all his own.
My girls and I put our creative hats on and tried to imagine how to fit a full sized bed and a desk in this tiny room. His room is just shy of 11 x 11, and with windows, a door and a closet, there just isn't much room for furniture or even much wall space.
Our biggest challenge was choosing a bed.
What wall could it go on? What should it look like? Would a big bed look ridiculous? What color should it be? SO many decisions!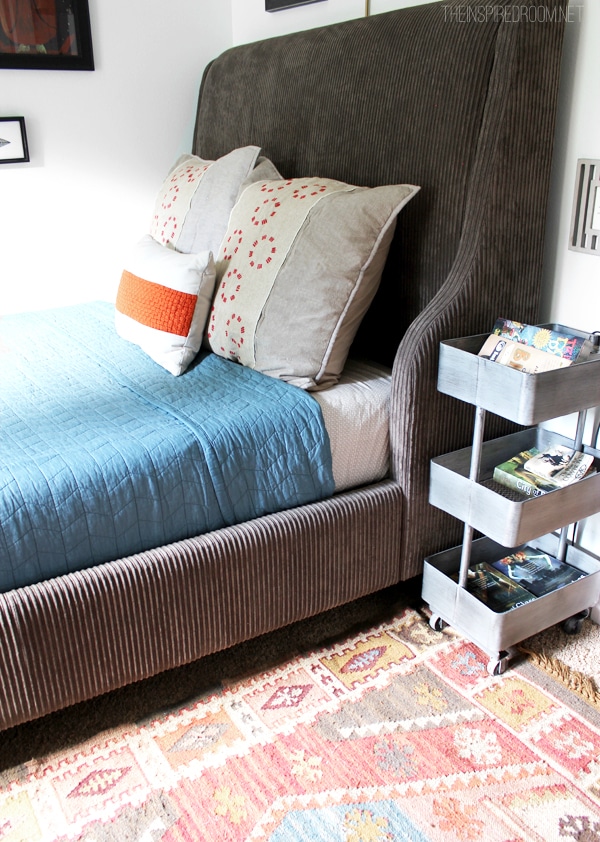 We decided that as long as he had enough floor space to get in the room right when you came in the door, we could fit a full sized bed in the right corner. We felt putting the bed on any other wall would have made the room feel like it was overtaken by a bed as you walked in, so tucking it away in the corner seemed like the best solution to minimize the visual impact in the space.
With a small room, you might feel like you are limited to small furniture. And while that is often a wise idea, sometimes it isn't so much the size of the furniture as it is the scale and often the shape that matter more than size. My first thought was we should find a bed without a headboard to maximize the space. But even though his room is obviously very small, I decided we may as well make the bed as cozy and inviting as possible since it already was going to take up a significant portion of the room. And a soft cozy headboard might be the best solution!
I've found that aiming for cozy in a small bedroom seems to help make the entire room feel intentional and comfortable.
So we started searching for the coziest boy bed we could find. And what is more cozy or boy friendly than a padded corduroy wing back bed? But still it was a bit of a risk. It wasn't tiny. It wasn't light colored or airy. I will admit I was nervous about how this would turn out until I saw it in the room.
And then … I LOVED it.
And he seems to like it too.
PHEW.
It turned out to be the perfect solution for this small space. I think what made it work was the relatively straight sides of the bed. It fits nice and snug in the corner. It is a statement piece that is a nice visual focal point on the wall. The color and texture adds so much to the space, too.
This room became a cozy destination (and yes, even though I've already claimed my daughter's/guest room for myself too haha I will admit that I took over Luke's room for a phone conference call while he was at school this week — and it was VERY comfortable and cozy!).
Hmmm, making over the kids' rooms is working out quite well for me. Why did it take me so long to do this?
Actually, the more I am working on my house, the more I am feeling at home here. I feel like our house is coming together as our home and we could live in it for a long time. Even though this new house was not necessarily intended to be our forever home and certainly not our dream house (and many times have felt like I just wanted to go back home to Portland where we are from) it's funny how if you keep working away at making a house comfortable for your family, you can grow to love where you live.
Once we got the bed for the room, suddenly we were thinking more about how functional his room should be. We started adding hooks, places for books, lights for reading and projects, and places to put mementos.
Loving the home you have isn't just about decorating or buying something new, it is about taking the time to think about what would make it comfortable for living.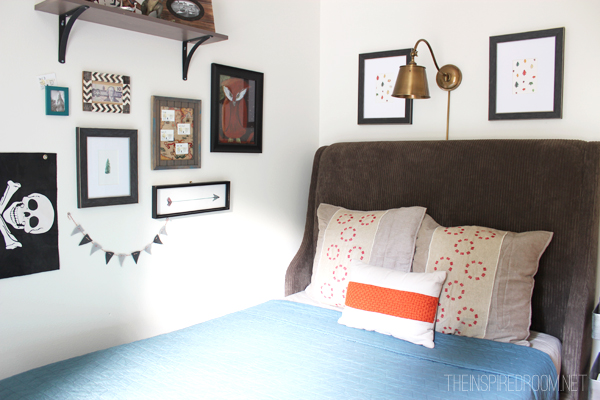 The bed feels right at home in the corner, like a little nest.  I'm so happy we took the risk and got him something he will really love so we can build a room around it. We also ordered him a new, allergy friendly mattress so the bed is super comfortable and clean feeling. It is his first ever brand new bed, one that was not a hand me down from his sisters. I think he loves it as much as I do! :-)
I'll be coming back with more angles and progress of this room makeover soon, with all the sources as well!
>>>>>>>FIND THE UPDATES TO THIS ROOM HERE!<<<<<<<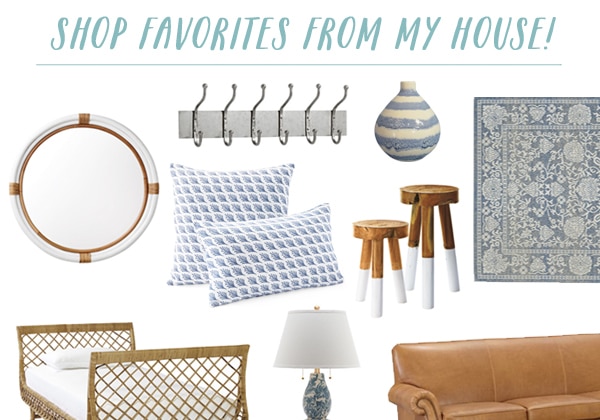 Disclosure: We were provided an in store gift card to Overstock.com to use in a room makeover project, so we were able to order the bed and the mattress we wanted for this room improvement project. Both items were easy to order online, arrived in a timely way and the bed was simple to set up! No other compensation was provided for this project. As always, the room makeovers, the designs, ideas, and opinions are mine.
GIVEAWAY IS NOW CLOSED!
Two lucky readers will win one of two $100 gift cards!

To enter, leave a comment about what room you could improve if you win!