How to Arrange Flowers
Hi all, Michaela here again for my monthly entertaining post! First I have to say it's such a joy to be over at The Inspired Room every month to show you some fun (and hopefully inspiring!) ideas for your home.
I am a lover of flowers; ever since I can remember, my mom has kept fresh flowers in our house and I always loved how cheery they made a room feel. Even when I was in college, I kept this tradition alive and it always made my dorm, apartment or house feel so warm and fresh.
With the holidays in full swing, I thought it'd be fun to give you a how-to holiday flower arrangement. This was our Thanksgiving centerpiece, but it could easily make a beautiful Christmas centerpiece as well, with its hues of red, green and white. Watch the video for tips, tricks and the entire floral arranging process (you may have to click over to here to view the video if you are reading this from a phone or iPad).
Music: Jess Penner, Life is Rosy
Flower Recipe: Peonies, David Austin Garden Roses, Seeded Eucalyptus, Ranunculus, Berries or Branches
Step 1: Begin by taping off your vessel into sections or quadrants. This will provide easy niches to sit the flowers so they stay in place and also helps you properly space them out.
Step 2: Create a structure and base with your "filler" blooms, lining the edges of your vase with the branches. Place them in different quadrants. I love the look of branches when they spill over the whole vessel.
Step 3: Next add in your "feature flowers," placing them in different quadrants to be sure they are spaced out. Cut some shorter and some taller, to be sure to give it some diversity.
Step 4: Add in your "accent" flowers to fill in the holes. I started with the Ranunculus, then filled in more with some berry branches.
Tip:
Be sure to rotate your vase so you are seeing it from all angles! You probably don't want a distinct front and back :)
***
What I love about flowers are there really is no "wrong" way to do it! With a few simple tricks (like the taping the vase into sections– seriously changed my life when I learned that one!) you can make professional looking bouquets in your home.
If you're wondering where I found Peonies this time of year, I went to the flower market in my city. Most major cities have flower markets that are open to wholesalers and retail customers. Just search for the one closest to you online! They're the best resource for blooms, because they are more affordable than anything you can find at a florist or grocery store.
Here are a few pictures of how the centerpiece looks on a holiday table. Just lovely, I think!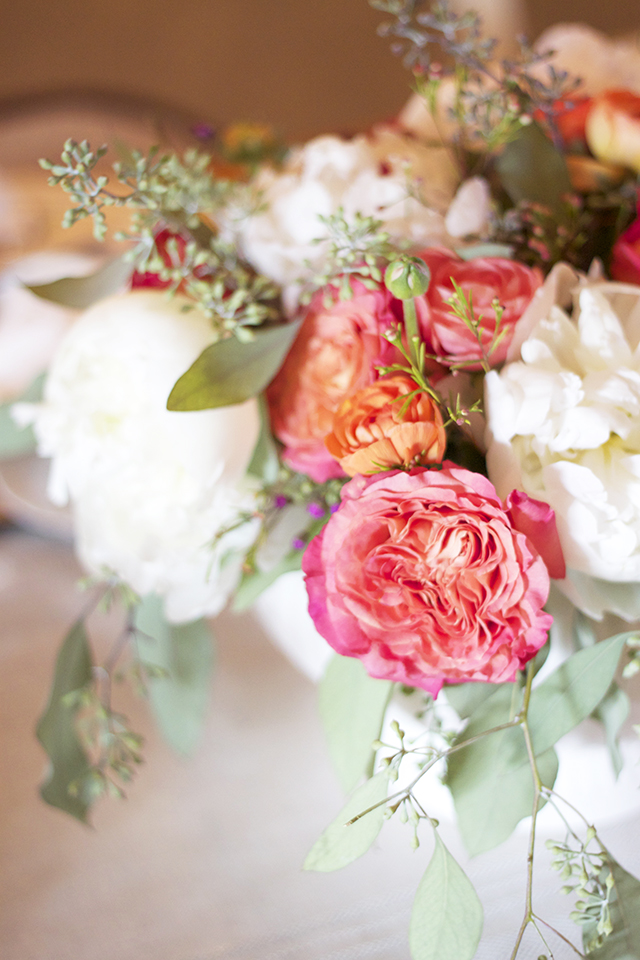 Hopefully this post has inspired some beautiful centerpieces for your holiday parties and gatherings! You can come say hi to me over at my design blog (I'm sharing a party favor today, so come visit!) or inquire about my interior design services on my website.
Happy December!