I can't believe 2014 is here already! For those of you who haven't seen me here at The Inspired Room yet, I'm Michaela and I write a monthly entertaining-themed post over here. Sharing these projects with you is so fun! I feel like we just rang in the New Year, and now I'm writing a post about how to set up a fun, girly Valentine's Day dessert bar. Time is flying!
Though Valentine's Day is often known for celebrating romantic relationships, I happen to think you can have just as much fun celebrating your close friends, too! With a few simple details, you can create a really lovely girlfriend's Valentine's party.
To start, I wanted to share a quick and easy DIY Cake Topper.
Materials: Paint brush, wooden hearts, chalkboard paint, kabob sticks, tape or glue.
Step 1: Paint your wooden hearts with chalkboard paint. Let dry and give it another coat. Let dry for an hour or two.
Step 2: Paint your kabob sticks (I did mine gold, but you can't really tell!) Cut your sticks and tape them on the back of the hearts at the length you desire.
Step 3: Write whatever you'd like on the chalkboard hearts. I did X&O but you can do your initials or a 3 word phrase– up to you!
As a little "favor" for your girlfriend Valentine's Day party, I came up with writing a cute note, slipping it in a red chevron bag and tying it to a red or pink nail polish. It's sweet and doesn't break the bank!
Here's how the whole set up turned out with the cake, cake topper, flowers, Martinelli's, glasses and flowers. Let the party begin! (I could see a movie night full of chick-flicks in this party's future!}
I baked a gluten free chocolate cake (box mix…no shame here! ;)) but made homemade frosting. Here's the recipe I used:
3 cups powder sugar
1 cup butter
1 teaspoon vanilla
2 tablespoons whipping cream<
Mix together sugar and butter. Mix on low speed until well blended and then increase speed to medium and beat for another 3 minutes.
Add vanilla and whipping cream and continue to beat on medium speed for 1 minute.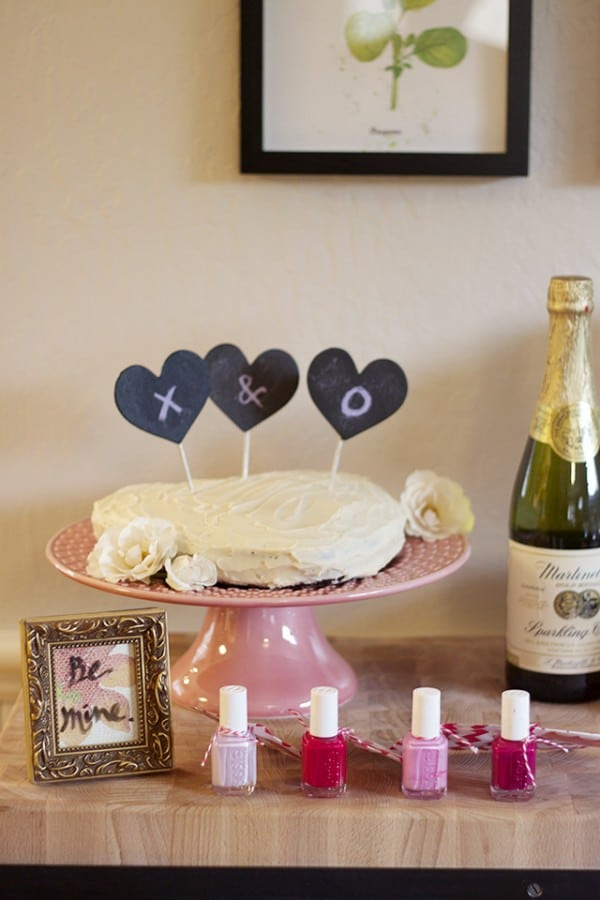 Hope you've enjoyed your New Year so far and have a wonderful February, full of all the little things (and people!) you love.
xoxo