Hello again, friends! It's Michaela here, back this month with my entertaining post. I'm sharing a Spring flower arrangement and a delicious dessert for the new season today! This would be a wonderful treat for Easter brunch! Let's dive into the floral arrangement first…
Flowers I used: Roses from my garden, Lisianthus, Ranunculus.

Step 1: I began by adding my roses. This was the most substantial flower I had, so I used them to create a criss-cross base for the rest of the bouquet. Start by taking off the leaves and thorns of the roses. Next, create the criss-cross pattern in your vase/pitcher by crossing the stems of the roses (as seen below). This will create a grid pattern, which will help you stand up all the other flowers in the vase relatively straight.
Step 2: Add in your Lisianthus. I love this flower because it's pretty inexpensive, available at your local Whole Foods or Trader Joe's almost year round, and it has a lot of bulky greenery. I put a few of these stems in between the roses, to fill holes.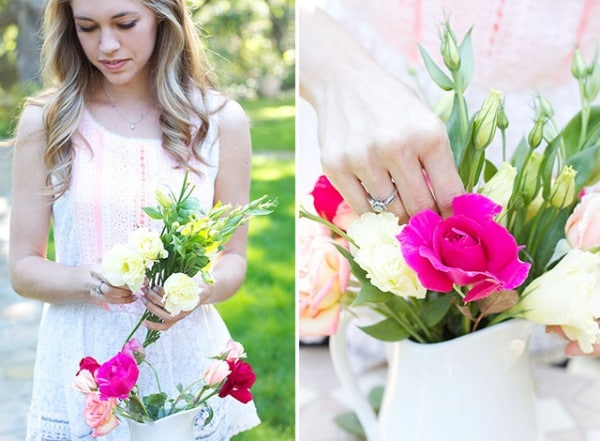 Step 3: Grab your Ranunculus and fill in the remaining holes with these little guys. Stand some straight up, drape some off the side and have fun with it. The more blooms drooping off to the side, the more "effortless" the arrangement will look.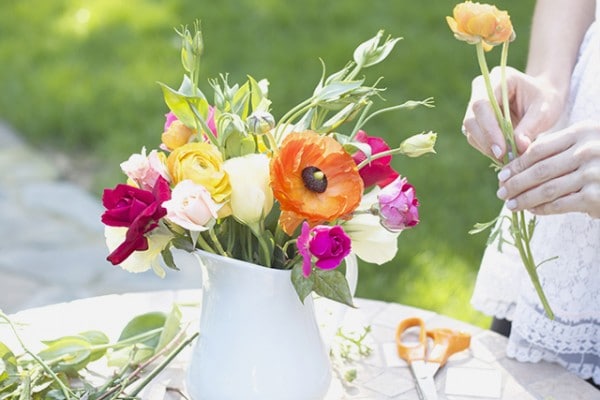 Now I'm going to give you the recipe for a yummy fruit tart!
Preheat: 400 degrees. coat 9-inch tart pan with nonstick spray, butter or oil.
For the crust, process in food processor: 1 1/4 cup flour, 1/2 cup powdered sugar, 1/4 tsp. salt, minced zest of 1 lemon.
Add: 1 stick of unsalted butter, 1 egg yolk to food processor and blend until mixture starts to clump around the blade. Press dough into bottom and up the sides of prepared pan. Bake crust until golden about 12-15 minutes.
For the filling, blend the following into a large bowl: 1/2 cup purchased lemon curd, 3 eggs, reserved egg white in a large bowl.
Combine: 1/4 cup flour, 3 Tbsp. cornstarch, pinch of salt. Add this to the lemon curd mixture.
Simmer: 2 cups whole milk, 1/3 cup honey, 2 Tbsp. unsalted butter, cut into cubes over medium heat.
Add a little of the milk mixture to egg mixture in a bowl and whisk to combine (just to be sure your egg mixture doesn't scramble when the hot milk and honey mixture are added!) Add all of the egg mixture back to the sauce pan. Simmer mixture over medium heat until thick and bubbly, 3-5 minutes. Off heat, add 2 Tbsp. butter to pan. Whisk until smooth. Pour filling into cooled crust, smooth top, and cover with plastic wrap. Chill tart for 4 hours to set.
For the glaze and berries: 1/4 cup apple or apricot jelly, juice of a lemon, 1 cup each fresh raspberries, blackberries and blueberries, sprig of fresh mint if desired. Melt the jelly and lemon juice in a small saucepan over medium heat, glaze top of tart before adding fruit. Place your fruit, dab with more glaze and serve within 1 hour of making.
The tart was delicious and the flowers were gorgeous! Hopefully this sparks some colorful tablescapes and treat ideas for Spring and Easter. Let me know if you give it a try!
Happy Spring!
xoxo



interior design website / services / portfolio