My husband and I have a yearly tradition of escaping to the coast to Newport, Oregon. Actually, it was a yearly tradition years ago when our girls were small, but we skipped a bunch of years since our family had a beach house to call our own. But, last week, we decided it was time to relive some old memories and make the trip down to Newport!
We are so glad we did, there is something so wonderful about reconnecting with your long ago past and keeping up on making new memories with your spouse. We've been together since I was 19 so our past goes way back heheh.
So what is our favorite little spot to stay? Sylvia Beach Hotel. It's a quirky place for book lovers and writers and anyone who just loves to escape from it all into another world. There are no TVs, no phones, no internet. Just the sound of the waves outside your window. That's our kind of retreat!
Luxury hotels and resorts with all the amenities are nice sometimes, but we are charmed by the unpretentiousness and solitude of this old favorite Bed & Breakfast. It's not for everyone, but for us it's a special place to get away and be able to hear yourself think again. A perfect place to just BE.
Each of the rooms is designed to showcase an author. We've stayed in so many of the rooms over the years, they are just all fun and unique. Nothing fancy, but that's what's so great about this place.
Honestly, I almost didn't even want to tell anyone about it because it feels like OUR private getaway, but you know I must love you all enough to share it with you. Just don't take our room when we want to come stay there. That's all I ask.
We spent time eating (we had this pretty salad across the street at April's!), walking on the beach, checking out the local shops, drinking coffee and mostly just reading and writing. We even bought some art which I will share soon, too. We've always had a tradition of bringing home art from our travels so it was fun to bring home new memories from this trip.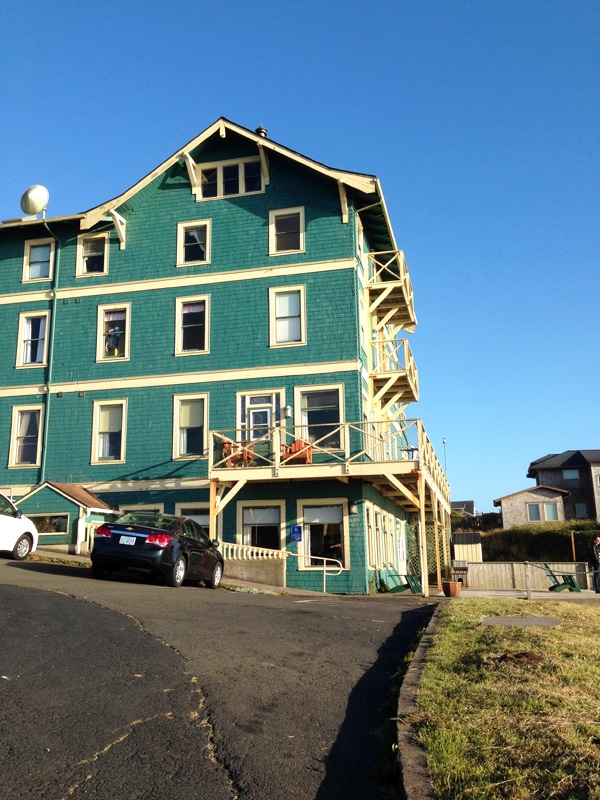 I didn't get a good shot of the hotel from the water or of the beach, but it is an amazing beach front property with an incredible view. The weather was so beautiful the entire week, windy but warm!
This was my spot for most of our stay. A quirky little corner of the upstairs library overlooking the water. I was working on a very big project that I almost can't believe is happening and I can't wait to share with you :-).  Don't you love me for keeping a secret?


Do you have a little escape somewhere in the world? Tell me about it!