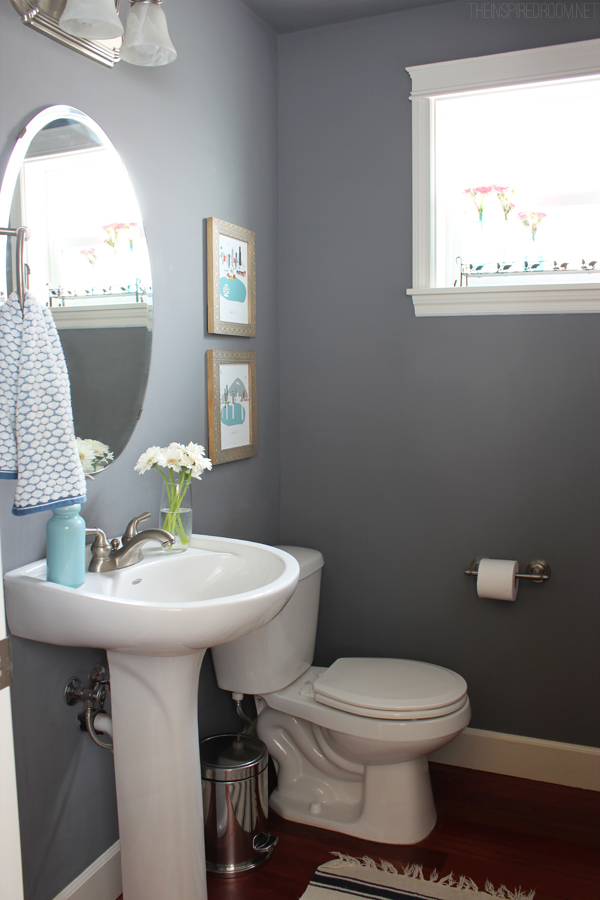 Hi! It's Kylee here today! I know I'm long overdue with an update on our move to the townhouse, but between working, taking care of Bella and unpacking boxes, getting settled has taken a bit longer than I expected. The last time we moved I'm pretty sure we didn't have nearly this much stuff!
We also had a little incident trying to get our old leather sofas up the narrow staircase to our second floor living room. I was kind of hoping to use that as an excuse for buying a new sofa, but my husband Lance was determined to salvage them. So, he came up with a plan to hoist the bulky sofa up over our balcony and into the sliding doors on the second floor of our townhouse. Good times. I have all the ridiculous photos to prove it, so I'll share that tale and how it all turned out in my next update.
Meanwhile, I thought I would share a quick update to our main floor powder room! This tiny little bathroom is perfect for guests. Can you believe we have three and a half bathrooms in our tiny townhouse? We do! Our last place was a studio apartment with no separate bedroom and only one bathroom so we feel like we are living the life here!
I have been looking forward to updating this little bathroom ever since we bought the house! It is so fun having so many rooms to decorate. I really wanted to give it a personal touch as well as make it feel pretty and welcoming for guests. Eventually we may decide to do something crazy like install wallpaper or, dare I say it, stencil the walls…but for now we are loving these simple updates!
In a powder bath it doesn't take a lot to make it feel finished, which means even simple updates make a big difference. I started by adding a fresh hand towel, a pretty soap dispenser, and a small bouquet of flowers.
I've collected blue glass vases for awhile now, I think they look so sweet with these mini pink roses in them.
I couldn't wait to get art on the walls, but I knew I didn't want just any art. I really wanted artwork that has personal meaning behind it. When I found Kim at Albie Designs on Etsy, I loved the entire collection of her city prints and knew I needed some in my house! My husband and I grew up in Portland, and we now call Seattle our home, so artwork that represents those cities is very meaningful to us!
Aren't they fun?
If you love these prints as much as I do, you're in luck, because today Kim from Albie Designs is giving away a $100 towards your choice of art at Albie Designs!
Note: The frames are not included, I got mine at Target! The wall color is Seal Grey by Glidden.
If you missed the story of our new house, catch up here!
What will you pick out from Albie Designs if you win? Comment below to enter!