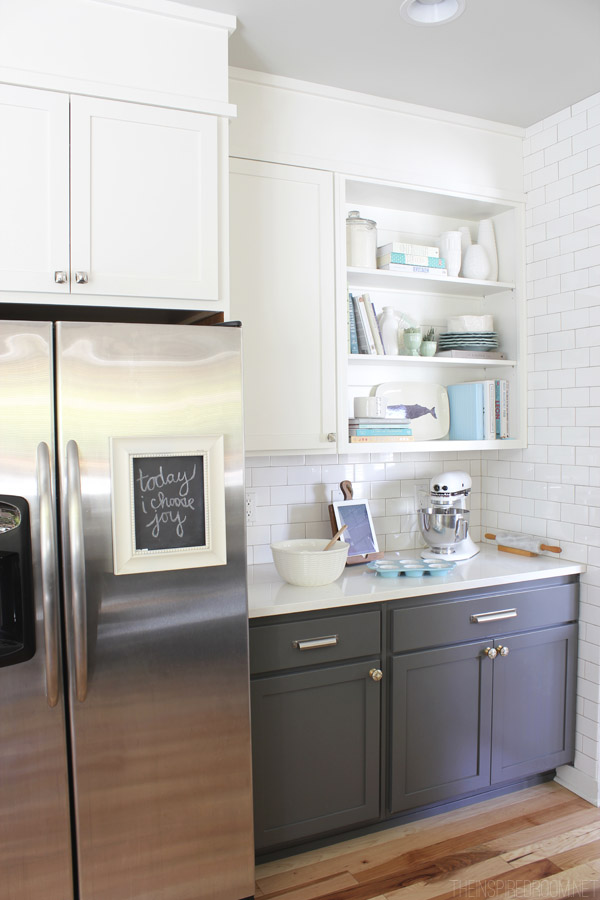 Do you love white cabinets, woodwork and tile? I do! White can be so fresh and pretty, but sometimes it can come off as bland, clinical and uninteresting! I'm sure none of us want that, so I think it helps to understand how to use white so you are able to get the result you are hoping for. Today I'll try to answer at least one of those perplexing questions about using white effectively! I'm not a color expert, but I definitely can share what I've found from my own experience.
Obviously, there are a million shades of white. I know it can be kind of overwhelming to choose just one when there are so many options from bright white to cream! And even once you finally pick your first white, where do you go from there? Should every white you add to your home from then on match?
It is probably no surprise that one of the FAQ readers ask about my house is if I try to match whites! It's such a great question that I decided it deserves its own post. The short answer is … no! I don't match colors or whites. I actually intentionally use many shades of white in my house for a few reasons.
One reason for a variety of whites is it would drive me crazy to have to match everything! It's hard to have a house that evolves in a gradual way if everything has to match. I want to be free to add in whatever fun accessories come my way, and not be limited or worry whether it's the exact color match. I also just happen to like the warmth that is created when there are slight variations in color tones whether they are whites or colors. It seems that the more you mix shades in your color palette, the less it seems to matter that nothing really "matches" perfectly.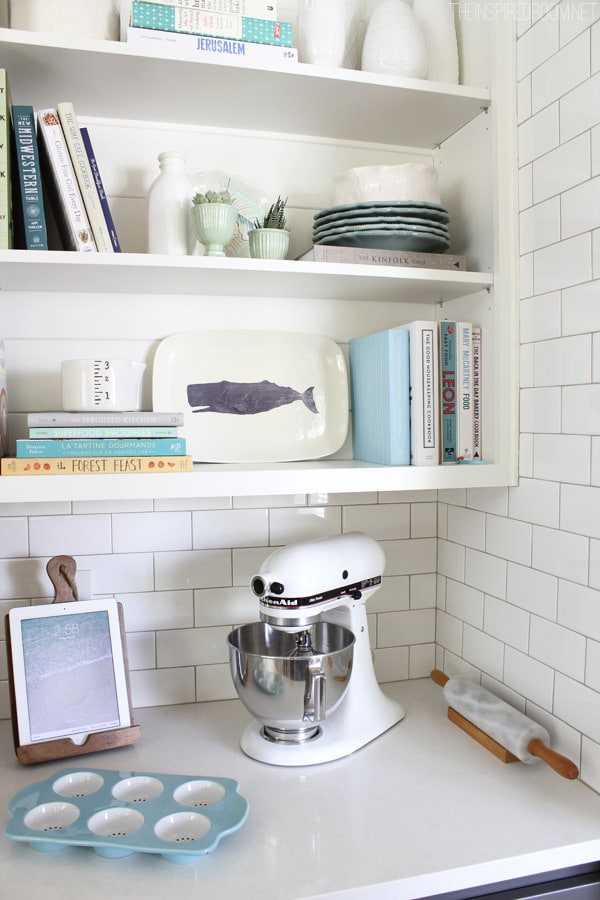 So in my kitchen, my tile is a soft white but it reads pretty bright white. My counters are white quartz. The cabinets are Benjamin Moore Dove White, which can appear to be white but next to a bright white they are more of a creamy white. When the tile and the cabinets meet up with the counters, we have three whites and none of them match perfectly.
Then I do the unthinkable and add in white dishes, accessories and books and none of them match either. And oh! Look at that. There is a bright white mixer on the counter too. And then my iPad and rolling pin want to join the party too. AHH! Fortunately, the more white I add in, the less it seems to matter that they don't all match. In fact, if they DID match, I'm afraid it would probably be a bit boring and one dimensional. Too perfect just isn't quite as inviting, I feel a little more comfortable in a space when there is a little bit of happy imperfection and variety. I think slight variations in shades of whites add some lovely depth and interest to a room.
While I do tend to avoid putting more intense or darker creams and brighter whites together (because the darker creams can end up just looking dirty), slight variations from soft creams to whites seem to look great together. I do have linen colored whites, gray whites, bright whites and soft whites and they all seem to blend in just fine!
I think the trick is to not try to add just one random creamy white in a sea of brighter whites or it will look like the oddball. Keep going and blend many shades of white together! While I prefer to stick with one paint color for cabinets, doors and trim if possible just for consistency and flow throughout the house (although I still haven't repainted all my trim or woodwork in my house!), as far as I'm concerned I think it looks totally fine to mix in a little variety when you start adding in additional elements such as tile and accessories.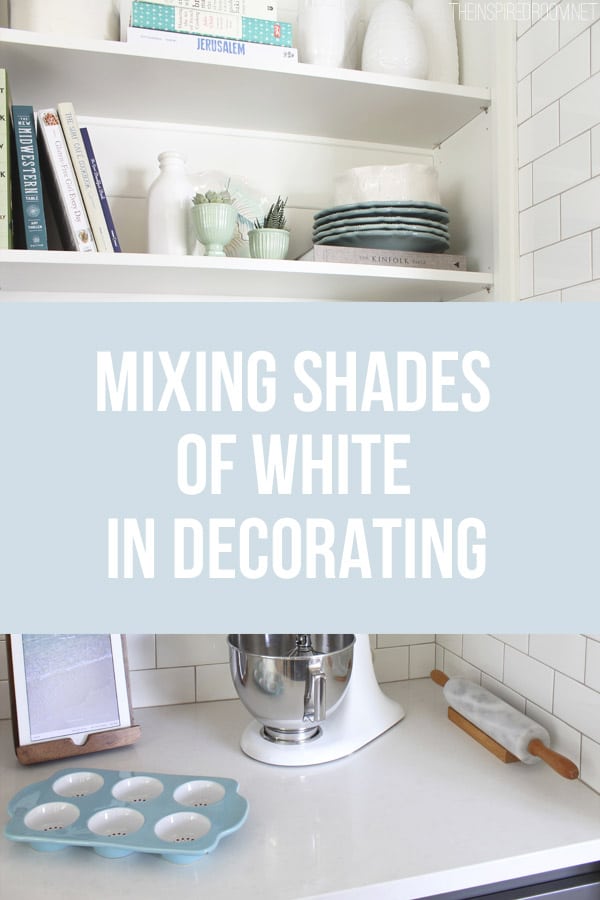 So at your house, are you happier with exact matches or do you like a mix when it comes to whites?
Sources:
Many of my favorite cookbooks can be found here
Lower cabinet paint color is Kendall Charcoal by Benjamin Moore
Related Post:
{Shades of Neutral} Gray and White Kitchens: Choosing Cabinet Colors