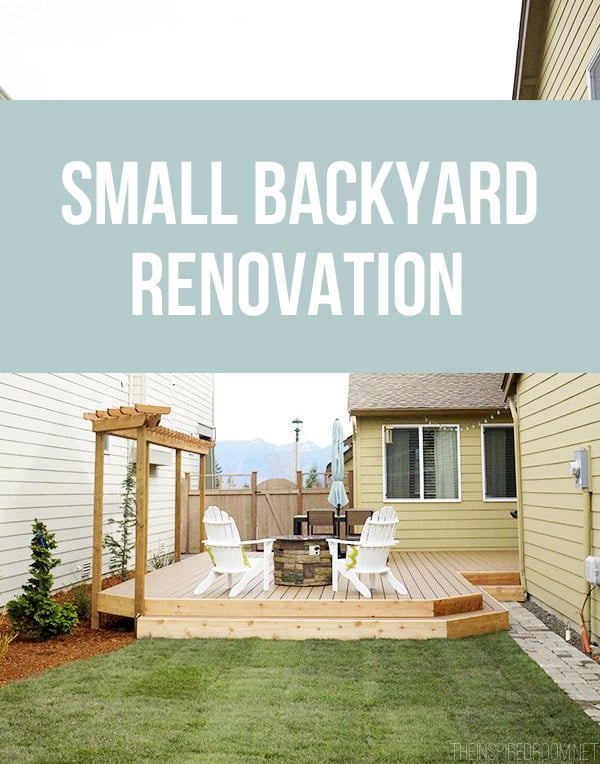 Hello friends! It's Cassie here again! Thank you all so much for your sweet words and welcoming comments on my first post last month. It was a delight to introduce myself and my home to you. I will also have to do a post in the future on all of the paint colors in our home, as so many of you had questions about them!
This month I am so excited to share with you our backyard renovation that we finished up these past few weeks. This is the time of year when we are all thinking about spring, especially here in Seattle where we have had an odd abundance of sunny days! Thinking about spring leads us to thinking about our yards, flower beds, gardens, and getting those all prepped and ready for summer. This year, my husband and I finally took the leap and redid our yard into something we love, that functions well for our family and lifestyle, and that fixes many of our past issues.
In the past, our yard has been a headache of sorts. As I mentioned in my last post, we moved into our home almost exactly two years ago. It was a new construction home, which has some amazing positives, but also some big negatives. One of those negatives was our yard. Our yard itself wasn't terrible, but the soil was about the worst I have ever seen. The grass was a constant battle to keep alive between the soil and our doggy friend, and it was near impossible to plant anything due to all the left over construction concrete "rocks" we found. I grew up on a farm and actually enjoy working outside, but this was more of an uphill battle than I had bargained for.
Our very sad yard and not-so-nice aggregate patio
So we sat down and mapped out what we might want to see in our yard. How could we fix the problems we were running into? What would be something we would enjoy maintaining? Would we use the space for for entertaining and/or for our children to play in? Here is a list of what we decided we wanted:
low maintenance, but with the possibility of some small container gardens
would resist flooding (with the bad soil and drainage, this happened a lot)
dog friendly
family friendly
a space to entertain
some way to help hide the house next door
more trees and shrubs
cost effective long term
We ended up deciding to reduce the size of our actual yard, add more plants, add a pea gravel area for the pup and possible container gardens, and build a deck. The deck was the big item we decided we wanted. We knew it would cost more upfront, but we found that decks (especially composite like we went with) keep their value and can add to your resale value much more than a simple yard renovation.  We also decided to reduce the yard size because we have a huge park with sports fields, two playgrounds, and walking trails directly across the street and knew that we would mostly be playing with our children there in the future.
After getting a few bids for the project, we found a great father-son landscaping company (Helmke's Landscaping Co. for those in the Seattle/Eastside area!) to do the job. Here is the plan they came up with for us:
 Plans designed by Helmke's Landscaping Co.
They finished the whole project in under three weeks and did a fantastic job. As I mentioned above, we did composite decking. We won't have to worry about staining it or tiny feet getting slivers. We went with Trex decking in the "Beach Dune" color. This is one of their least expensive options and it looks amazing, especially with the hidden fasteners we used.
Trex "Beach Dune"
They selected all of the plants from local nurseries. I gave them a few ideas of plants I liked, but left it up to them to select and place everything. The pea gravel you see above is where we can take our pup out and it super easy to clean. We also are planning to add some container gardens along the side of our house on the pea gravel using these galvanized metal tanks or something similar.
Sources: Adirondack Chairs (cushions are from World Market, but no longer available), Fire Pit
The pergola they built helps distract from the house next door. Hopefully in the future we will add planters along that side as well. My husband ran out and grabbed this propane fire pit the day the deck was finished. Although we entertain pretty often, it will also be a nice place for the two of us to sit and relax in the evening. 
Our teeny view of the Cascade mountains in the background. Sources: Table and Chairs, Umbrella
Our landscapers re-soded our lawn and also added soil to the areas where the grass and plants are now. I am hopeful that we can keep things alive!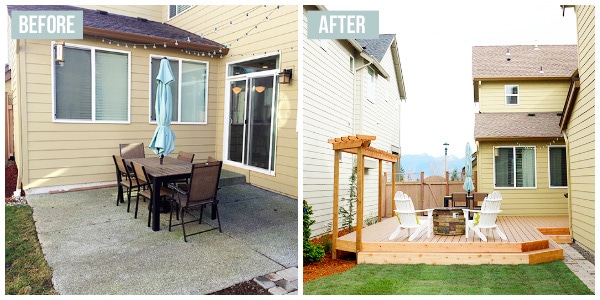 We are so pleased with how this project turned out. I know we will use it daily throughout the upcoming spring and summer, and for many many years to come. I hope this inspires you all as you plan and dream up any outdoor plans of your own!

Related post by The Inspired Room: