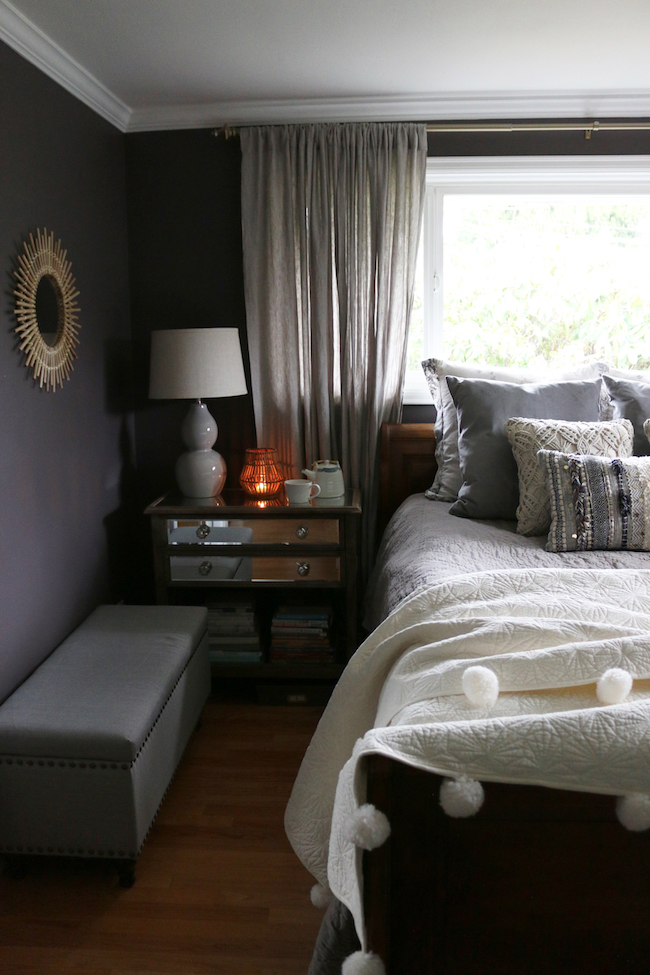 Amaster bedroom should be your retreat, a space that draws you in to rest and relax at the end of the day.  
You don't need a large room or a luxury master suite to create a wonderful sanctuary. It is the mood of your room that sets the tone for how you will feel in it all day long.
Here are eight tips for a tidy and peaceful bedroom. 
1. Create a Cozy Color Scheme
A neutral color palette can transform an ordinary room into an soothing oasis. There's no right or wrong color scheme for a bedroom, but consider what palette calms you inside and out.
In our room, the dark matte gray plum walls added drama while still playing up the cozy factor. (We chose the color Black Frosted Plum by Glidden–see more paint colors here).
2. Make your bed soft and inviting.
Allow your bedroom to be a place of softness and stillness. Play up interesting layers, trims, textures and unique embellishments to add personality! Have a stack of pretty coverlets and throws to bring warmth as needed. Attractive Euro-style shams can add a sense of luxury to the room as well as prop you up in comfort for nighttime reading. What could be more inviting than a comfortable spot to be rejuvenated?
3. Set the tone for relaxation.
How do you feel when you return to your room each night? Set the tone for relaxation. Avoid using your room as a dumping ground for stuff. Focus on calming the chaos with covered boxes or baskets with lids to stash any necessities. Keep electronics like phones and TVs out of the room or away from the bed.
4. Design a spa-like atmosphere.
Set the mood for rest with spa-inspired accessories such as lanterns, candles (battery-operated unscented candles work great and don't add harmful toxins to the air!), plants to refresh the air, soft lighting and music to create the ambience. Add dimmer switches to overhead lights and three way switches to lamps so you can set the right mood.
5. Treat yourself like a guest
Imagine a hotel you think would be the most restful environment for a weekend getaway. Would the surfaces be filled with bills or kids' toys? Last night's dinner dishes? Piles of clothes or layers of dust? Of course not! Give yourself the same sense of care, comfort and amenities you'd offer a guest in your home, or expect as a guest in a chic hotel.
6.  Practice peaceful evening rituals.
A good night's sleep is the key to an energy-filled productive day, so the last thing you should feel as you crawl into bed is chaos and tension!
A few moments at the end of the day to sip chamomile tea or read a book will calm your mind and prepare your body for rest.
7.  Make your bed to change your mindset.
Get in the habit of making your bed. A bed made in the morning not only makes you feel more organized and productive all day long, but it offers you a sense of peace as you return to your sanctuary at the end of the day. 
8. Invite in serenity over stress. 
What do you invite into your room?
Serenity or stress? How you feel in your space is up to you!
Discover more ways to transform your home into a comforting sanctuary in my new book, Dwelling!