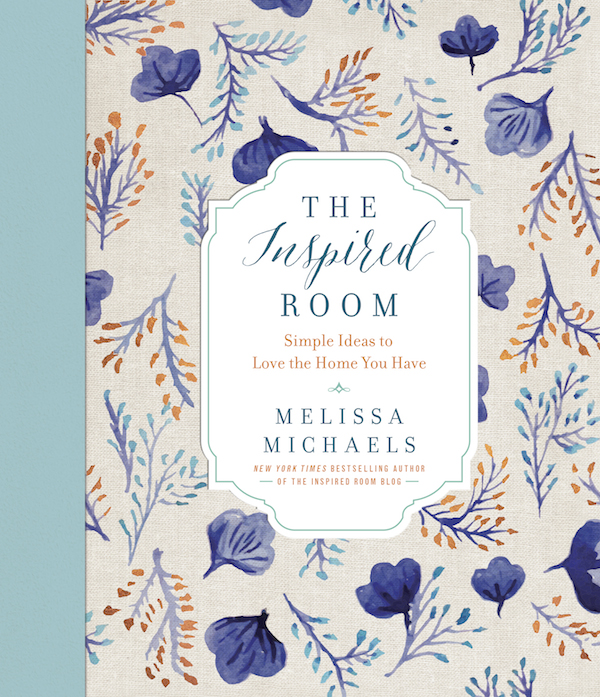 Today I'm so excited to officially reveal the cover for The Inspired Room book!
I've been a busy little bee behind the scenes working on my second book, The Inspired Room, due out on November 1! It is finally FINISHED! My first book, Love The Home You Have, a New York Times Bestseller (say WHAT?), was full of encouragement and ideas for simple and practical ways you can show love to your home and find contentment right where you are (whether you adore your home or not!). It contains the philosophy on which I built this community here on The Inspired Room, so it really was a perfect starting point for my first book.
This new book is about decorating your home (with lots of inspiration and practical affordable tips for how to decorate and create a home you'll love) featuring my own humble home in full color photographs taken by ME and my daughter Courtney (OH MY GOSH, what a job that was and how scary knowing my house is in a book, hahah!). You'll also be so excited because it has the CUTEST hand drawn art by Nicole Johnson, the same talented artist who created the adorable art in Love the Home You Have! The design is cute all around, I cannot wait for you to see the whole thing!
I can't believe this book is DONE and off to the printer now. I think I'm still recovering from the effort, ha, but what a HUGE relief it was to have my girls a part of this fun adventure and such a talented team at Harvest House and Faceout Studio to take my words and photos and turn it into a very special and unique book.
As you probably can imagine, selecting and designing a book cover is a group effort involving many many people. Like many authors, I had a vision for what I dreamed this book might look like. Unlike what you'll find on the cover of most design books or coffee table books, I didn't want a photo! I wanted it to feel special, because this book is for KINDRED SPIRITS!
I wanted it to be a book you would see on the shelf and want to run over and pick it up and hug it tight (I mean, honestly, WHY not? If you are going to buy a book you might as well love it, right?). I wanted you to be happy to carry around with you as you dream about your home or to set it on your coffee table or shelf to inspire you to create a beautiful home, right where you are.
I wanted the cover to be fresh, fun, whimsical, and friendly. I wanted it to have its own personality, some texture, lively colors and an interesting pattern that would not only be a pretty book, but would remind you of what a home should be. Home is where you LIVE, it's not a showplace. A home should be uniquely designed for happiness, creativity, and memorable moments to happen. It's where love should shine through.
I knew instantly when I saw this cover design that it was THE ONE. And not only was it the one, but it is also the prettiest cover you'll ever see because those little coppery leaves are actually going to be beautiful COPPER LEAF! They shimmer and shine because those subtle details matter!
While this book features my home and my words, photos and ideas, this book is for you. It's not a book designed to impress you, but rather it is designed to inspire and encourage you. And it isn't to show off the most perfectly styled houses I could find or from hundreds of well-appointed rooms of design clients, but rather a book that invites you in to my imperfect, never finished and always in process home.
The Inspired Room book offers ideas for creating a real-life home on a reasonable budget, using what you have or what you can gather and design over time. Whether you are living in a home that is perfect for you already or you are at the beginning of your journey to make a home, an authentic home is always created one day at a time, starting right where you are. This book is for anyone who knows how important it is to have a home you truly love and are content with, wherever that might be.
Best of all, while this book is a high quality, large format, 208 page beautifully designed full-color photo book, it is surprisingly affordable. While many similar coffee table books I adore are $30 to $75 (!),  The Inspired Room retails at $26.95 and you can pre-order it on Barnes and Noble or Amazon for closer to $20! It would make a lovely gift for a wedding shower, Christmas, birthday or housewarming gift, too! If you pre-order the book, you'll receive it when it releases in November and you'll be one of the first to have it so it would be perfect for holiday gift giving.
I cannot wait to share more about the book and the process of writing it and photographing it. My girls and I had such a great time dreaming about and working on this book, visiting Harvest House to help with the layout and to work alongside our awesome team there, and finally, celebrating its completion!
This book was created with a lot of love, laughs, late nights and of course, early mornings at coffee shops.
I'll be at the Haven Conference in Atlanta next week, Marian aka Miss Mustard Seed and I will be sharing some of our book-writing stories and tips for publishing a book so if you happen to be there, come to our session and let's meet face to face!
Thanks again for how supportive and kind you've all been to me and my family through this journey, I'm humbled and grateful for your encouragement.
>> Pre-order your copy of The Inspired Room at Barnes and Noble or Amazon! <<