Friends, I'm pretty excited to have the opportunity to do something fun here on The Inspired Room. I've been blogging for over eight years now and every year I meet the most delightful friends. You would think that it might be risky to make friends on the internet, but much to my surprise I have yet to meet any killers (as far as I know).
So many friends I've had the pleasure of meeting in person, and many others that I just know I would adore in real life as much as I do over the internet. I even love those of you who don't blog, but leave comments for me or have started sharing your home on my free community site Home Love Stories! You are all the best.
Sharing my home with so many kindred spirits is so much fun for me, but getting to see YOUR HOME is extra wonderful. To kick off my book launch (YAY!) many of my friends have offered to post online and share their favorite inspired room and share my book. CUE ALL THE TEARS to have such great friends! Their homes are inspiring. I enjoyed each and every story and photo they shared in their posts on their blogs. You'll have a chance to share your own "inspired rooms" with us too, so stay tuned to the end of this post.
Today I'm featuring a peek at some of these blogger "inspired rooms" and linking over to their tour so you can enjoy their homes too! I will be featuring more rooms in several posts over the next couple of weeks! I'd love for you to go meet these lovely bloggers and check out their rooms.
Wicks Nest
Kristy is one of those people you instantly become friends with because she is just so warm and encouraging. She is a new blogger but I actually met her even before she started blogging via her friendly comments on Instagram. Her home is gorgeous! She shared a room that is in progress, a "man cave" office for her hubby! I love all the little details in the room already, he's a lucky guy! Go see how it's coming together!
Michaela Noelle Designs
Michaela is our very own contributor here on The Inspired Room and one of the masterminds of The Bloom Workshop, which I had the honor of being a part of here in Seattle last week. She is crazy talented, if you ever have the chance to attend one of her creative workshops around the country, I would not hesitate to go! She's a college friend of my daughter's and recently moved to Michigan (to live near her boyfriend, awwww!). She now works as an interior designer to help clients pull together their rooms! Her dining room is so cute, go see!
Fox Hollow Cottage
You have to go visit this sweet friend, Shannon. I love how she shares the evolution of this room in her post. Her fireplace is SO different now, as is her whole room. It is really interesting to see how it's been updated over time to become such an inviting space!
At the Picket Fence
Vanessa's post is fun, she shares the evolution of her fireplace and how she embraced it in every season (even when she didn't love it). I love what she shared and I was inspired by how she didn't wait for the perfect mantel to enjoy it! Check out how the fireplace has changed into the gorgeous mantel she has now!
Reluctant Entertainer

Sandy is a precious real life friend that I met through blogging! Our husbands hung out together at an event near her home and we even spent the evening being wined and dined in her wonderful backyard! She has the most amazing outdoor space, I was enchanted. I love her beautiful fall tablescape and I know you'll love it, too!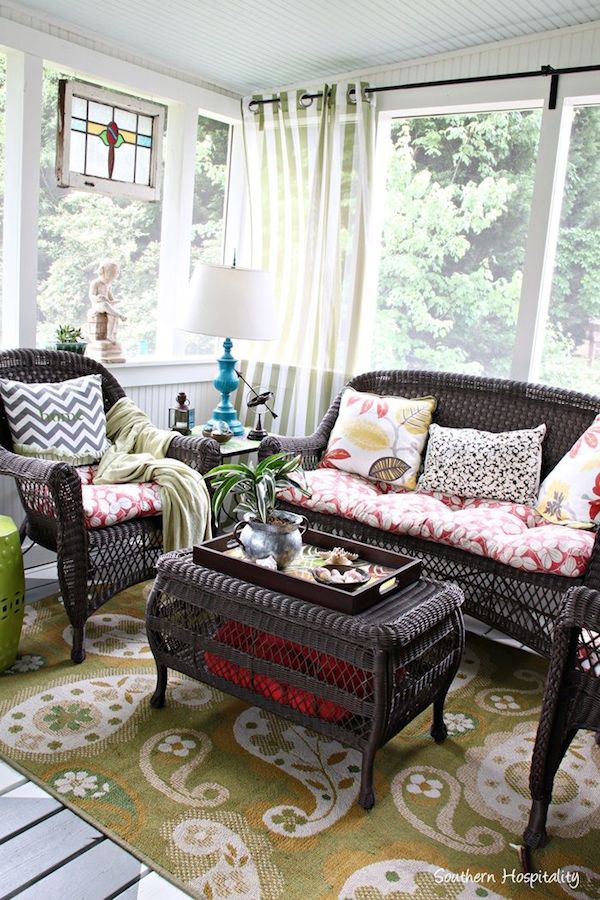 Southern Hospitality
Rhoda and I met through blogging wayyyyy back in 2007 so we've been friends a very long time. It's always fun to see how her home evolves (and her sweet dad who helps make her dreams come true!). In this post she shared her favorite inspired room, her wonderful porch! What a treat to have such a neat space outside. You'll enjoy seeing it!

Bliss at Home
Kristin and I met just a few weeks ago in NYC at a Better Homes and Gardens event. She was so sweet, an instant friend! When I saw her room, my jaw dropped to the floor. Such a stunning space! You must go see how she pulled the living room together to create a unique and stylish design.
Jen's home is my dream setting (hello, water views). Her home is warm and inviting. Her favorite space is her living room and I can see why! It is light, cheery and yet comfortable. I would want to curl up by this fireplace, too! Go see the rest of her room!
Lucy's house is so serene and relaxing I think I would want to whisper if I was able to visit her in real life! Her home beautiful, but comfortable and homey, too. Her dog cracked me up, you have to go check out her inspiring space, the dog and her encouraging words.
I love this house and Emily who lives here. :) It just makes me happy to see her home and I can't help but imagine sitting on her barstools chatting. I just love it. You need to go see the evolution of this kitchen and family room, it's inspiring!
My dear friend Darlene has a house that feels like it must be straight out of a story book. I drool a little overtime I see her stone house. I love her "keeping it real" stories in this post! Come see her beautiful rooms and read the stories behind them, so funny!
Laura has updated her wonderful kitchen, too. I loved reading the stories behind how her kitchen was transformed into a space for memory making and family time around the table. Laura has written a DIY metal craft book that is due out a few days after mine so I think our books should be friends. Check her book out here!
Below is the list of all the wonderful bloggers joining me in 'The Inspired Room Tour'!
– – – – – – – –
Isn't this fun? I always wanted to organize a tour of bloggers' "inspired rooms," but every year the idea seemed more and more daunting because there are so many bloggers! How would I choose who to include or feature? Well, finally I realized I didn't have to choose. I could ask a few friends to help kick off the tour, but then I could ask everyone to be a part of it because if YOU are reading this, YOU are my favorite, too.
In honor of my book launch virtual tour for The Inspired Room coffee table book in just a few days, I would love for you to join in the fun. Would you share YOUR inspired room? You can share how your favorite room inspires you, how the room has evolved, or even your funny stories about your rooms (all those "keeping it real" moments we might not see through the pictures). Not a blogger? No problem! Just become one by joining Home Love Stories and creating a room tour post there!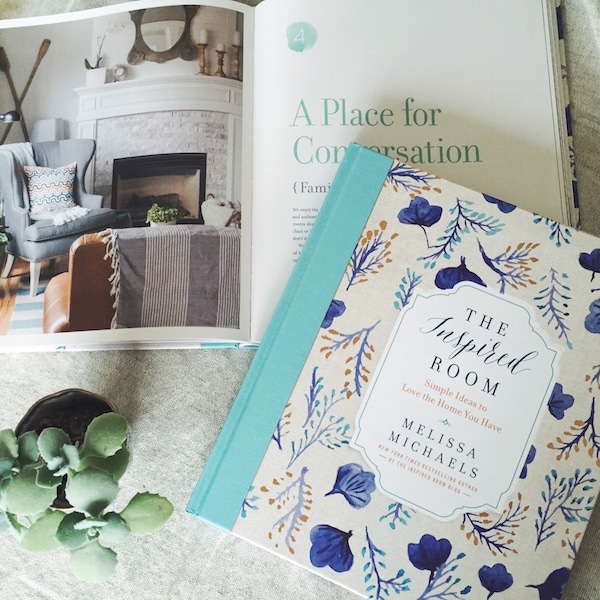 As a little thank you for sharing your story and for helping me with this book launch, I'm offering a fun giveaway open to anyone who participates with a grand prize of a $300 Anthropologie gift card and runners up will receive my favorite copper mugs!
In order to enter, make sure you share the URL link to your post online via this form. You have to post your room on a blog, on video (like on YouTube) or Home Love Stories to be included in the giveaway. See all the details and terms here.
Thank you for all your support and help in launching The Inspired Room book, your kind words, reviews and posts about the book mean so much!
Here is the book page if you want to order a copy of the book, and check out the book trailer there too!