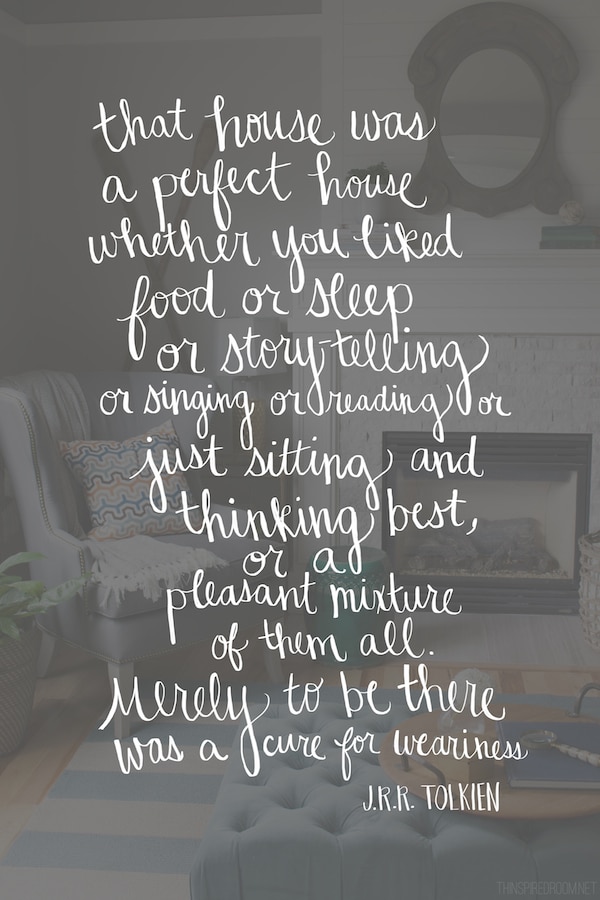 Happy The Inspired Room Book Launch day! I've been sharing my house and rooms here on The Inspired Room for the past eight years and I have to say, I've loved every minute of it. Can't stop, won't stop! I feel so honored and humbled to have had the opportunity to share here on the blog, and now to have my very own books that you can hold in your hand and set on your coffee tables! It has been a real thrill to publish TWO books this year! I've poured so much of my heart into each one and I hope you enjoy them as much as I enjoyed creating them. <3
But now that they are both out into the world (and hopefully hanging out at your house) I would really LOVE to see YOUR favorite room in YOUR house! As a part of my book launch festivities for The Inspired Room, I'm hoping that each of you will share your own inspired rooms and enter a fun celebratory giveaway!
Many of my blogger friends shared on their blogs last week and many more who will share their rooms over the next week or two. I would love if YOU would join in, too? (And you don't have to have a blog, yay!)
HERE'S HOW TO PARTICIPATE:
You don't have to have a blog to play along. There are three ways to share. 1) You can post on your own blog, 2) Create a YouTube video, or (even if you don't have a blog) 3) You can share on my FREE community home-sharing site called Home Love Stories.
Just upload a few photos of your own inspired room and share what that space means to you. You can tell how the room has evolved or share a before and after, or tell your favorite stories about your room.
To celebrate this big day, my publisher (Harvest House) is giving away a $300 Anthropologie gift card to one lucky winner, and a pretty set of copper mugs like mine to FOUR runners up! Hooray! See below for specific entry requirements.
HOW TO ENTER THE GIVEAWAY:
No purchase is required to enter the giveaway, but you do need to create and share a post about your inspired room to enter. Share it on your own blog, YouTube or Home Love Stories. Please let your readers know about the new book, The Inspired Room, in your post and share that you are participating in this book launch! Thank you so much for being a part of this celebration!
To be entered into the giveaway, you must fill out THIS FORM and include the URL link of your post (to find the URL, click on the title of your post and then copy the link from the address bar in your web browser to the form. You'll know you have the right URL if you can click on it and it takes you back to your post so I can find it!).
The giveaway will close on November 10th, so be sure to do your post and then enter your URL on THIS FORM by that date!
MORE WAYS YOU CAN HELP US OUT WITH THE BOOK LAUNCH:
Today is the official publication date, so I'm very excited to celebrate and launch it into the world! If you get a copy of the book or see it in your local store, would you take a photo of it and share it with us online? I would love to see it sitting on your coffee table or on your bookshelf. :) Tag me on Instagram! Use the hashtag #theinspiredroom and tag me so I can find your photos. I'm so excited to see the book on your coffee table or shelf!
Also, if you like the book, I would love if you would add a positive review to Amazon or Barnes and Noble. It really helps others to see encouraging reviews when they are deciding what to buy, so I thank you in advance.
If you don't yet have a copy, I've been told you can now get The Inspired Room book in any Barnes & Noble store, and of course, you can order it online from B&N or Amazon. I really hope you enjoy it and that it will earn a spot on your bookshelf or coffee table.
Thanks again to everyone who has so kindly shared about the book already. I'll be back Monday to show you my Thanksgiving Table! Ah, my girls and I had so much fun with it. See you tomorrow!