Happy November! Welcome to the Thanksgiving Tablescape edition of the Blogger Stylin' Home Tours! I was so honored to be invited to join up with these fine ladies to show our Thanksgiving tables.
At first, I'll admit, I was a little sad because we moved in our new house and I don't have a pretty dining room to share yet. I MISS MY OLD DINING ROOM! But after a moment of sorrow, I realized how silly I was being. We have a table and I can set it. If we can't invite friends over until we have everything done or all perfect, we are focused on all the wrong things.
So, WELCOME, friends! :) Come in. Our room is pretty bare but my table is NOT! :) I had fun with it. We made you a little video so you can feel a bit more like you got to see the table in real life. Watch below!
I really like to mix unexpected things together to create a unique tablescape. It's just more fun for me to try something a little different. We decided to go with an organic rustic casual vibe for our Thanksgiving table, with a little splash of gold to jazz it up.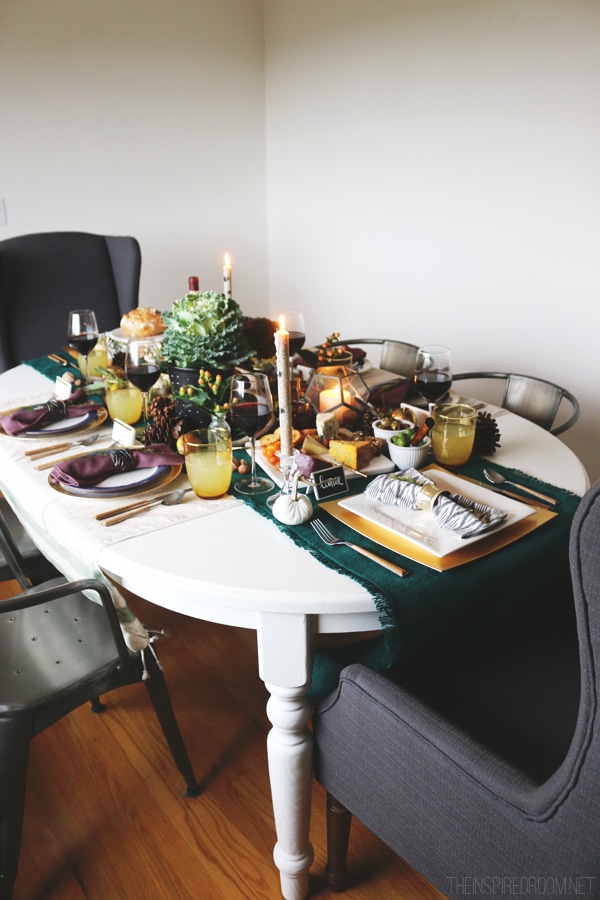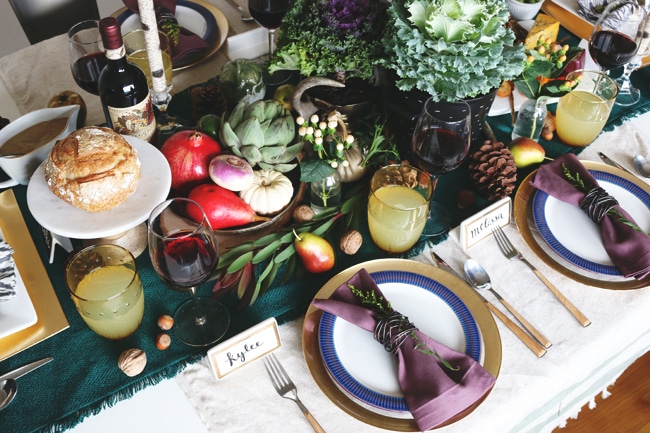 We already had plum cloth napkins, a green runner, a set of blue Denby salad plates and a set of gold rimmed dinner plates, so we thought we'd just use what we had to start out. It was a random mix, but we thought it would be fun to pull all the colors and textures together with organic elements, so we just went for it!
We wouldn't have thought to use those salad plates with the gold ones, but with the plum napkins, it worked because of the plum edge to the plates! We layered the deep green runner across a Turkish towel (that happens to have green stripes). The criss cross layering of the linens brought some great textures and softness as well as setting a more informal look to the table.
For the centerpiece, we picked up an assortment of fall vegetables and flowers in our color scheme of plum, green, white and from our local market, plus a couple of things we had around the house like pine cones, antlers, plush pumpkins and birch candlesticks to make the table feel lush, festive, lively and mostly organic.
Once the Thanksgiving dinner is ready, the serving dishes could be passed and then set on a console table behind the dining table so there would be plenty of room on the main table for the place settings and the centerpieces.
Our kitchen is so small that extra people around the stove makes cooking challenging, so
we thought providing some appetizers right at the table would draw guests to gather around the table rather than right in the kitchen, while Thanksgiving dinner is being prepared and served just steps away so the chef can still participate in conversation.
We decided that in addition to the organic centerpieces that would decorate the table, we would let the appetizer plates be part of the experience, too. So yeah, I guess you could say we are those people who pick our menu based on the color scheme of our table. But, it works out. The blocks of colorful cheese, the crusty round bread loaf, the pumpkin seed crackers, the olives, peppers and jelly were so pretty on the table, besides being tasty.
It makes a visual feast, as well as a tasty one!
My husband has been known to grab a big artichoke or cabbage up from the table and put it on his plate (even though he knows it is just a part of the centerpiece). You know, just to make everyone feel awkward and embarrassed for him, assuming he didn't know it was the centerpiece. :)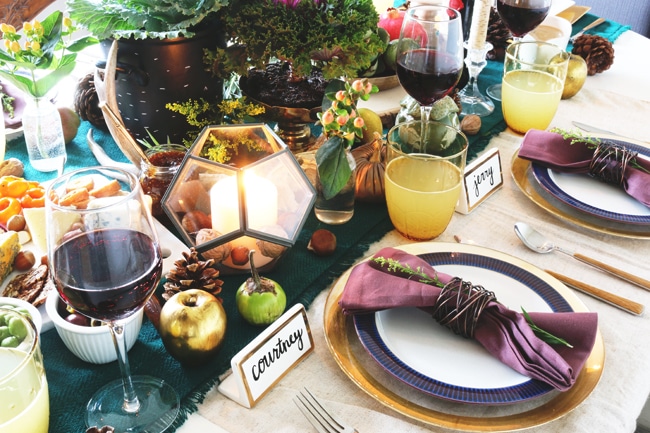 velvet plush pumpkins from Love Feast Shop

Plum napkins / Gold Name Plates / Marble Board / Birch Bark Candle / Flatware / Napkin Rings / Amber Glasses / Crackle Wine Glasses / Terrarium Candleholder
Thanks again to all of your who have been so supportive of The Inspired Room book, I'm so excited that as of TODAY it has officially been published and launched into the world! You should be able to find it at your local Barnes & Noble, too! Let me know if you see it in a store near you?
*For those of you who are saying tablescape smablescape that's all great but when are you going to tell me what is going on with the painter's tape around the door in the dining room? :) I'll be back with the tale of the dining room this week, I promise. :) The mystery will soon be revealed.
**Before you go, make sure you've check out Lindsay's beautiful Thanksgiving table at The White Buffalo Styling Co (our hostess for the tour) and then you can head on over to the next LOVELY table on our Blogger Stylin' Tours, via a new to me blog UK blog called Swoon Worthy! And then follow along at The White Buffalo Styling Co. the rest of the week to check out all the links to all the participants. Enjoy!**