When you take a little more care with setting your table around the holidays, it is not only a special gift to your guests but it can set the tone for a memorable celebration! At our house, there's nothing more perfect for setting a festive mood than a cozy mix of rustic with a bit of glam. The decor doesn't have to be over the top, simplicity can be beautiful! The rustic takes a bit of the stuffiness out of the glam and the glimmer adds a bit of class. It's fun to celebrate around a pretty a holiday table (whether it's for Thanksgiving or Christmas!).
Everyone is happy when they are celebrating, right?
Here are eight easy ideas I used to create the cozy glam ambience!
1. Add special little details to create interest and conversation around the table. Mix in ornaments, decor and seasonal elements to your centerpiece. I used a metal napkin ring as a cute base for a little DIY glittery pinecone tree! Just set the pinecone on top of the napkin ring, easy peasy!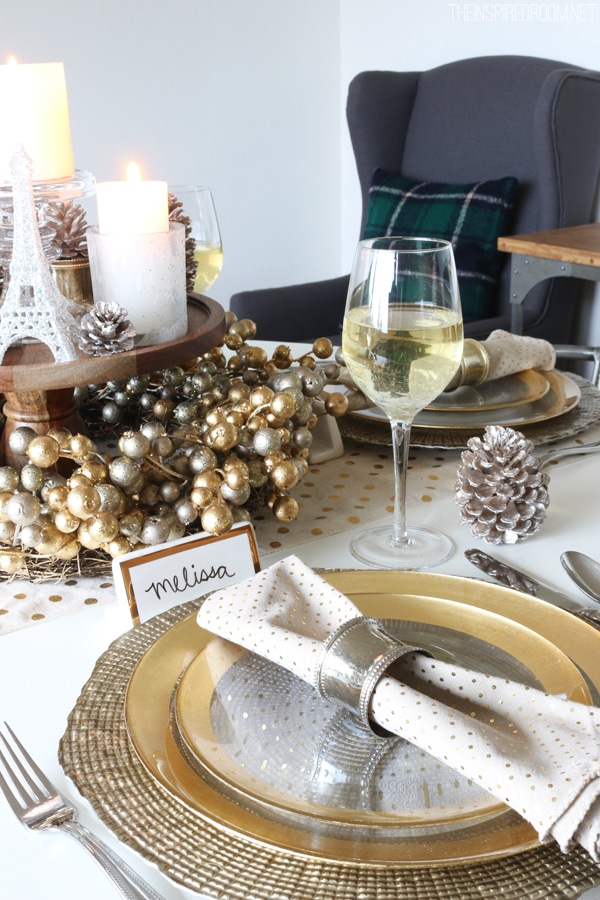 2. Wreaths are not just for doors, use them to create a festive focal point in the center of a table.
3. A pedestal cake plate can elevate food, candles or other decorative and practical elements to just the right hight for an eye-catching centerpiece (but not so high that you can't have a great conversation across the table!). The centerpiece has a tiered effect with the wreath and cake plate.
4. Mix and match natural and organic elements like wood and pinecones with soft linens in contrast to shinier material like glitter, glass and gold for a perfect blend of holiday glam and cozy rustic.
5. Layer plates for a more dramatic presentation. Here I paired a gold-rimmed glass dinner and salad plate with gold glass basket weave chargers. Notice how you can see through the glass plates, maximizing the design of the charger below.
6. Dress up your buffet and console tables to spread the mood throughout the room. You can use a simple strand of amber glimmer strings to add sparkle and leave room for your favorite dishes, and create more drama with these oversized frosted pinecones and beautiful branches with snowy pinecones on a table or in a favorite container.
7. Add softness and create a more cozy winter mood with plaid pillows on chairs.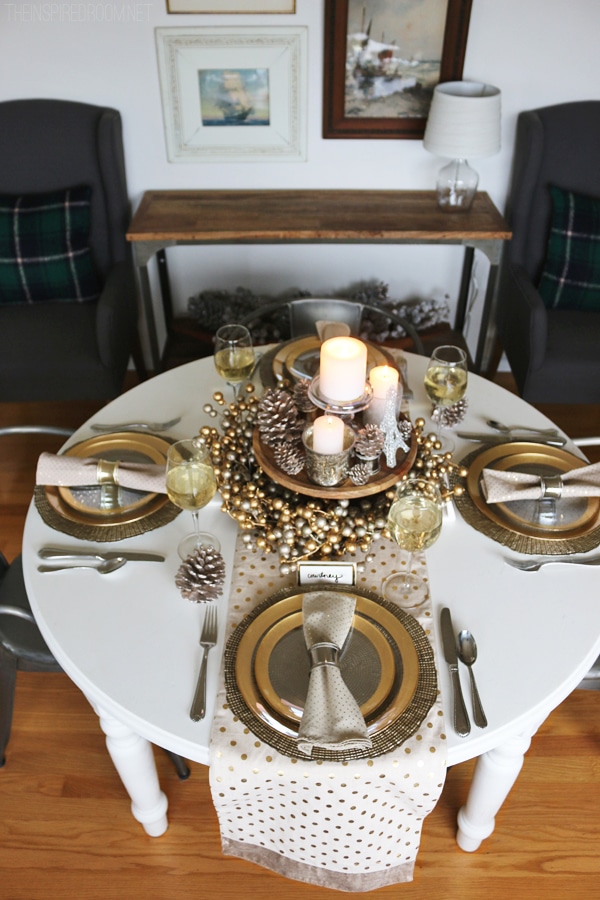 8. Use what you have! Collect basic elements that will be a beautiful addition to any table all year round. The gold polka dot table runner (we used it on our fall outdoor table!) and cloth napkins feel fresh and pretty for every holiday and can mixed and matched with other seasonal pieces. The gold rimmed plates, napkin rings and wine glasses can also be used year round with a different mix of linens and accent pieces.
What is your favorite mix for a holiday table?
Below find all the products I used on my table:
Clear Crackle Drinkware
Gold Dot Table Runner
Metallic Polka Dots Napkins
Napa Cake Stand
Gilded Royal Glass Dinnerware
Infinity Glass Charger
Hammered Gold Finish Napkin Rings
Glitter Berry Wreath in Gold
Oversized Frosted Pinecones
Glittered Pinecone Bowl Filler
Golden Border Placecard Holder
Woven Plaid Pillow
Candles
Luster Pillar Stand
Frosted Tree Votive Holder
Glitter Eiffel Tower Ornament
And more! Check out the full selection of holiday items from Pier 1
This post is brought to you by Pier 1 Imports.