I
love being creative. I always have. When I was a kid, I loved going to paper stores to look at all the notepads, pretty pens, coloring books and stickers. While other kids played with toys, I wallpapered cardboard boxes for my dolls to live in. I drew floor plans and searched magazines for the perfect houses and color schemes (surprised?). In high school, my favorite classes were art and calligraphy (to be honest I barely survived biology and algebra).
My first business as a young teen was painting strawberries on clothes pins and glass jars and selling them. My second business was as a scrapbook business for Creative Memories. And of course, through the years I've been able to enjoy creativity primarily through decorating my homes.
I feel fortunate to be able spend a lot of my days now working on one creative pursuit or another through my work, which is really cool and really makes my heart happy. But I wondered a few years ago if I needed to find a new hobby, since my hobby (decorating) was now my job! Hmmm…something to think about.
Even when I try to just stop working for the evening I tend to start doing what I love doing, which is being creative and working on my house. HA! Sounds weird, but I STILL love what I get to do as my job just as much as I did when it was just a hobby.
So, even though I do not consider myself crafty at all, in recent years every time I saw cute idea for a craft, I'd buy the supplies with the intention to use them as a different way to be creative and relax. I got all the rubber stamps, all the paper, all the ribbons, all the embroidery kits, the beads, the markers, the colored pencils, the photo albums, the stickers, the glue, the washi tape, etc. So much stuff!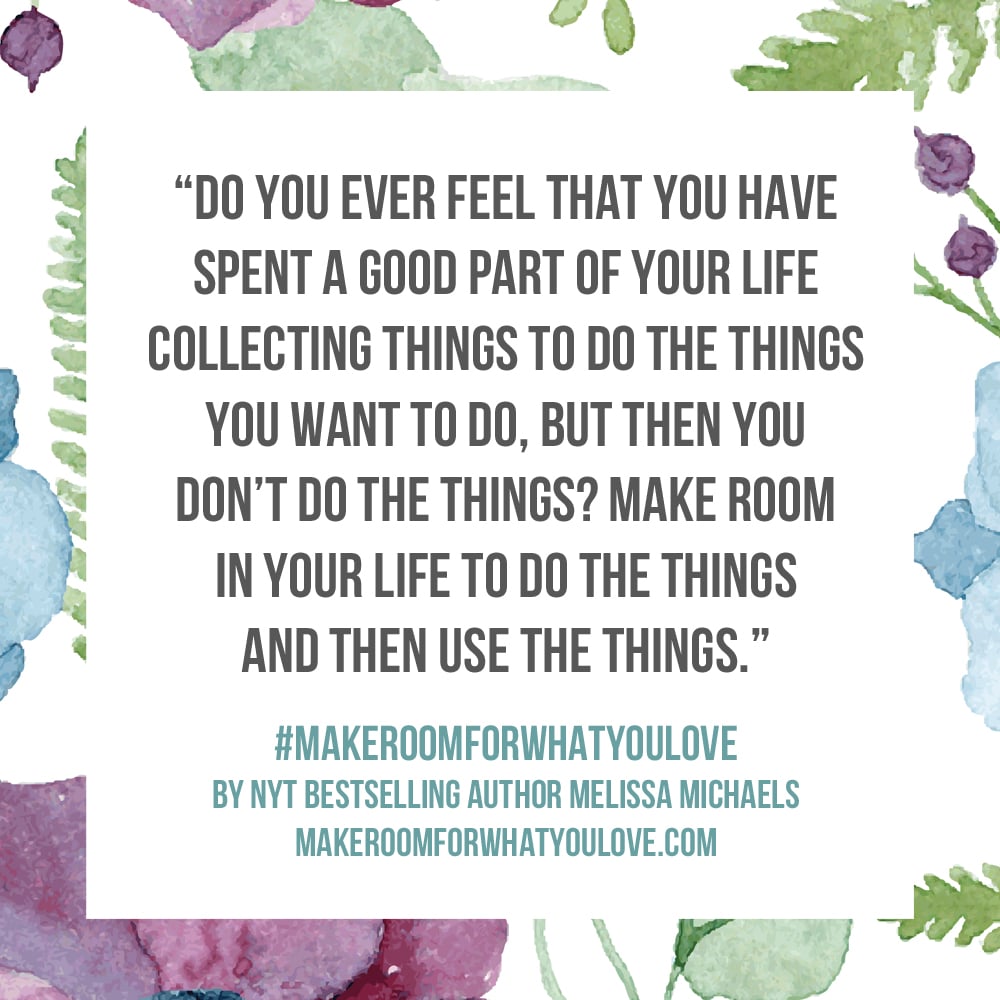 A couple of years ago Courtney and I tackled decluttering all of our art and craft supplies, organizing each and every thing we wanted to keep. Everything we hadn't found time to use in ages went to the church for the Sunday School or women's groups or Goodwill.
It felt so good to make room for and organize the supplies we wanted to keep in a way that inspired us to actually use them! Our IKEA drawers are my favorite for crafts. My mindset used to be KEEP ALL THE THINGS just in case we wanted to use them for something someday. But I no longer think like that! Or at least I try not to because the funny thing was, the more stuff we had the less likely we were "do the things" because it was just too overwhelming to find and manage all that stuff! Now I strive to keep less, but actually make time to use what I love!
I share some of my stories and thoughts about the significance of "doing the things" in my new book Make Room for What You Love. It isn't just a book about decluttering and organizing! It's about making room in your home and life for what you really love, including what recharges your energy for what you love and how to be more intentional with what you keep in your home and what you do with your time.
Speaking of doing what you love and making room for it in your life, months ago my girls and I started looking at all the coloring books in our favorite paper stores (yes, I still love going to paper stores!).
Coloring seemed to be the perfect way to unwind and relax because it was a creative task that wasn't a part of a "to do list" (like painting a wall might be) nor did it require a lot of supplies to organize, other than a coloring book and a box of pretty colored pencils! We brought our favorites home and indeed we can confirm, coloring is just as amazing as it was when we were kids!
colored pencils
But you know what? In our house-shaped heart of hearts, we really wanted HOUSE coloring books.
Since we couldn't find what we were looking for, we partnered with our awesome publishing company to create the coloring book of OUR dreams!
It's for all of us house and home lovers.
On July 1, our first coloring book will be released and you guys, if we can say so ourselves, it's adorable! We were blessed to be able to be very involved in the creative vision, which was super fun for us to dream up such a neat book!
The wonderful artist Nicole Dougherty (who worked with us on our other books) hand drew the most precious artwork and special quotes for this book, we can't wait for you to see it!
Houses, rooms, patterns, and all the most adorable of house-y things are inside.
You can dream up ideas, try out new color schemes, pick your favorite color and pattern combinations, and even color pretty pages that you can frame as art or hang on your inspiration board (all the pages are perforated, one-sided and printed on high quality paper).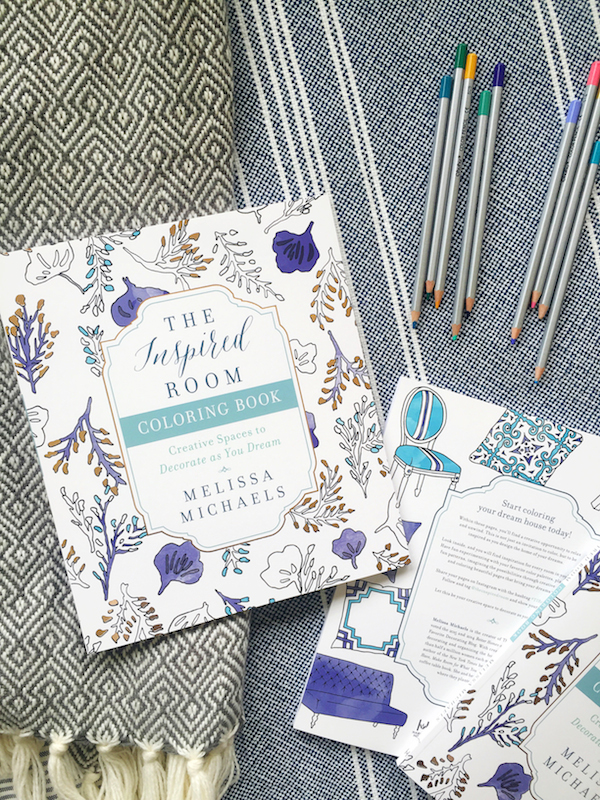 What you see in this post is just a very tiny sneak peek of what you'll find in the book (we haven't yet received the first actual copies, just sample pages!) we will share the book with you the moment we have a copy in hand! The cover is a gorgeous companion to The Inspired Room book with shimmery copper leaves and would make a fun gift or girls' night activity book!
> You can preorder it on Amazon or Barnes and Noble and it will be delivered to you as soon as it is available! <<
**  The colored pencils we use are these and these (the second ones are our favorites, great quality!) **

We can tell you for sure after spending the past few weeks coloring pages, coloring is just as fun (if not more so) than it was in kindergarten! We can't stop! We hope you'll love this coloring book as much as we do. It was a complete joy to be involved in this project.
It is so important to make room in your home and life for the things you love. Make the time to be creative and to do things you enjoy!
This week I'll be sharing some updates around my house (progress on my fireplace!) as well as more about making room for what matters most to us in our home!
The colored pencils we use are these and these (the second ones are our favorites, great quality!)