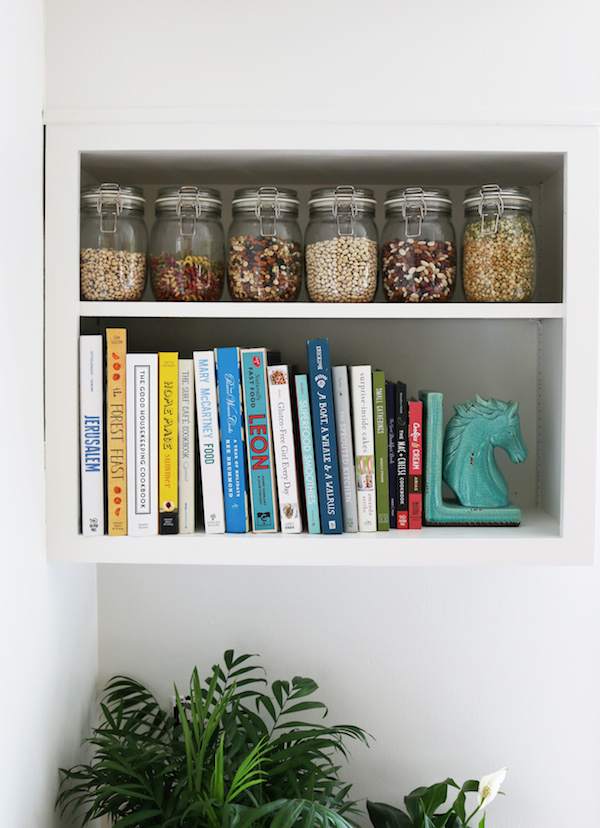 Before we move on from the focus on kitchens in our Best of the Best Room Makeover summer series and (as promised) look at pretty bedrooms for awhile (we'll come back to kitchens, though, because there's so much more to talk about that I couldn't get to!), I thought I would share about the simplicity of a kitchen paint makeover.
Yes, it's been fun to dream up the most grand of ideas and be inspired by kitchens that have had far more impressive improvements, but I also love to see more humble makeovers whenever they are possible. I bet many of you do, too.
If a room can be more charming with less effort and money, that's a dream makeover in itself. So with our little 1950s kitchen, I let myself think long and hard before we made any major decisions, just in case it was something we should simply "makeover" rather than remodel. I didn't want to leap to the gutting and redoing without considering the potential of what was already there.
Paint Red Wall to White
One thing I kept thinking about as I was weighing the options is that I always have to remember the power of paint. Even though we did eventually decide that it would be better in our case to redo our kitchen and do it sooner rather than later (I can't wait to share more about our project!), I still kind of wanted to see what it would look like if our red wall wasn't so vibrant and the oak cabinetry wasn't so, well oakey :).
When a reader asked if I might show an "in between makeover," I thought that was a splendid idea. Why not? I was actually REALLY CURIOUS myself about what a can of white paint could do for this side of the room. Nothing wrong with colors or wood in a kitchen if you prefer, but together with the yellow wall it just felt like there was a lot going on for my personal taste. Especially in such a little kitchen and all in this one corner where each color came together.
A little makeover in this corner would appease my curiosity and give you the fun of seeing what paint could do. When Glidden announced their new stain blocking paint and primer called Complete, I knew it was the perfect paint for this quick project.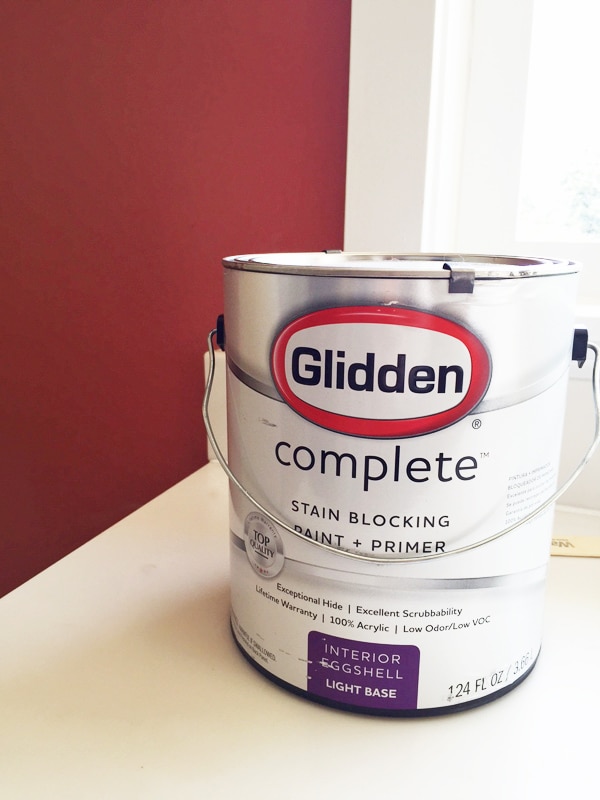 Glidden Complete acrylic paint covered the red wall and the oak with ease. The paint dried really fast and the end result was SO FUN to see! I didn't really didn't want to take the time or energy to paint the entire kitchen, but you can see how the fresh coat of paint certainly calmed and unified this side of the room giving it a whole new look. It looks so much fresher, I'm really pleased with the result.
For your enjoyment, check out the before and after below to see the power of just a paint makeover!

Phew! I feel like I can finally take a deep breath and just relax in my kitchen. I love the clean simplified look. Honestly, if my remodel was going to take any longer to begin, I'd be painting the entire kitchen and it would be worth it.
The power of paint is amazing, isn't it? If you have a kitchen that needs a makeover (or any room or piece of  furniture that just isn't what you want it to be), paint might be your answer or at least a great first step!
*****GIVEAWAY IS NOW CLOSED*****
Here's a few facts about Glidden Complete paint and a paint giveaway sponsored by Glidden, below.
Stain Blocking
Exceptional Hide
Highly Scrubbable
Lifetime Warranty
100% Acrylic
Low Odor/ Low VOC
Tintable to any color on the Glidden color palette
Available in the following sheens: Flat, Eggshell, Semi-Gloss GIVEAWAY TO ENTER: Leave a comment to enter a giveaway for 5 Gallons of Glidden Complete Paint in the color of your choice.THE RULES: You do not need a blog to enter and winner, open to U.S. residents only. Winner will be selected at random, the giveaway will end on July 13th.What paint project would you like to do?
*****GIVEAWAY IS NOW CLOSED*****
This project and giveaway was sponsored by Glidden, all opinions are my own. Thank you so much for supporting the brands that support The Inspired Room!