If I had a big enough covered porch, I'd want it to look exactly like this.
I saw this photo in Better Homes and Gardens and jumped up and down screaming with joy (in my mind, that is). It's my dream. The shingles, the furniture, the door, the porch ceiling. I love it all!
This mint green kitchen almost made me change my mind about my kitchen colors (yes, I'll share more of my plans and the timeline soon!). I had to tell it to STOP BEING SO CUTE, it was making my inability to make a decision so much more of a challenge. 
I am in LOVE with that lamp (but if I set it on a table like that and Jack walked by, it would crash into a million pieces). This whole color scheme feels so summery and pretty, though, I might risk it. 
BHG
The wood trim on that door opening has me feeling all the heart eyes. Oh, and the window seat. And the shiplap, of course. And the unique design of the coffee table. And the fan. OK, I'd take the whole room.
I see that some of you have kids going back to school already (it seems so early!), but my son doesn't go back until September so we are still in full "summer" mode here.
In past years I've found myself heading off to a Better Homes & Gardens event or some other blogging event around this time of year, but this summer I made a commitment to myself that I'd stay home (or only leave town with my family) the entire summer.
Even though I hate to miss out on all the fun and seeing my blogging buddies, summer can get so busy when you add extra trips and activities into your schedule, even if it is something you'd really enjoy or benefit from. I have to say I don't regret saying "no" this summer to so many things. It's been SO nice to be home.
Besides hanging out with my family (which has been wonderful!), I guess you could say I've been totally into "summer nesting" mode. I don't think I've ever been in "summer nesting" mode before, or at least I've never though of summer as a season for nesting. But somehow this particular summer, slowing down and nesting has just felt right.
I'll share more about nesting, my decluttering spree and my kitchen timeline coming up, but for now, enjoy this late-summer nesting, I mean, decorating, post.
What's going on around your house?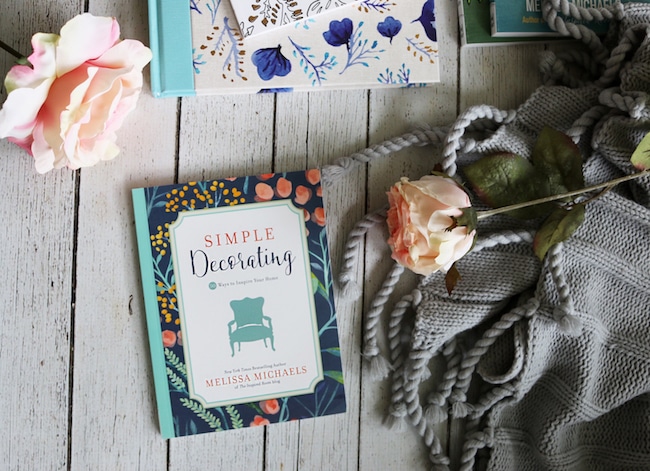 Jump-start your style and refresh your home with budget-friendly and practical ideas from my book 
Simple Decorating! 
You'll learn to embrace your style, reimagine your spaces, and transform hard-to-love areas into favorite destinations.