WELCOME! I'm so thrilled to begin our holiday series. This series something I've been wanting to do to inspire myself as much as something I'm excited to share with you all. With Thanksgiving in the U.S. still coming up and of course Christmas after that (and New Year's following at the end of the year), we're obviously coming up on a very busy season! Whether we are planning our festivities and coordinating all the get-togethers, decorating and setting up the tree, buying gifts or just cleaning the house so it doesn't look like a bomb went off, there's just a lot to do this time of year.
Rather than going on one extreme and stressing out trying to do ALL THE UNNECESSARY THINGS or swing to the other side and do NOTHING SPECIAL (and end up feeling like I missed out), I want to find simple ways to be fully present and enjoy the experiences and festiveness of the season.
Have you thought about what you want your holidays and home to feel like this year? As a disclaimer, I haven't started decorating my house for Christmas yet (all the photos in this post are from years past), so not to worry, I won't be rushing ahead to the finish line or skipping right past Thanksgiving (for those of us in the U.S.). There's about zero risk of me making anyone feel behind. But in the days and weeks ahead I can't wait to find and share inspiration for all the wonder and sparkle of the season so we can make our holiday everything we want it to be.
As I mentioned, this series is called Love the Home You Have: Simply Inspired Holidays.
I believe that if we begin this season with an intentional focus on gratitude, we'll be inspired to create a special atmosphere in our home for celebrating.
When we remember that is a blessing and gift to be able to create a cozy and festive home for our family to celebrate, we'll savor the process and enjoy our home even more.
If we keep things simple, we'll keep the focus on what really matters (and not feel like a frazzled mess in the process!).
So first things first!
Let's create a vision in our minds for what matters MOST to us this season. 
What are you most grateful for? Ask yourself how gratitude can help you shape your holiday plans and expectations. 
How will you create a simple but festive environment for celebrating in your home? What might you choose to skip in order to savor the season? Make a list of your plans and priorities.
You don't have to do it all, but what you choose to do can be meaningful to your family and help set the tone for celebrating and memory making.
I definitely start to feel more inspired once I get a vision for where I'm headed and why. I can't wait to get started!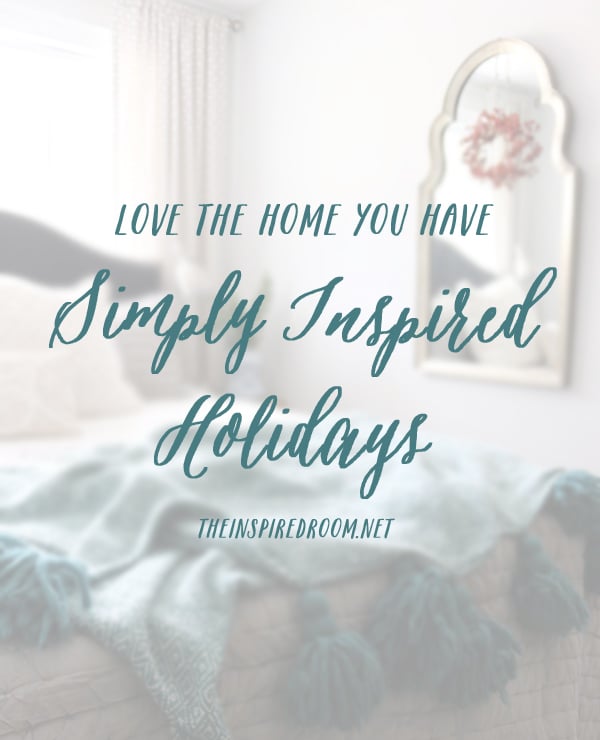 Note: The series won't necessarily be posted every day (since I still want to give you updates on our kitchen remodel and will have other random things I will want to talk about in between), but it will be posted several times a week through the end of the year. See you tomorrow!
UPDATE! Read this whole series HERE