In this fast-paced sometimes overwhelming life, I think it's fair to say most of us crave less stress and more joy in 2017. As we kick off this new year, I'm excited about the possibilities. I have so many dreams for this year. I love writing about the significance of creating a cozy home, one that is authentic to who we are. But I don't just love writing about it, I love the mindful process of living it.
We find the most joy in simple things. I believe creating a sense of well-being and comfort at home transforms our life in many ways.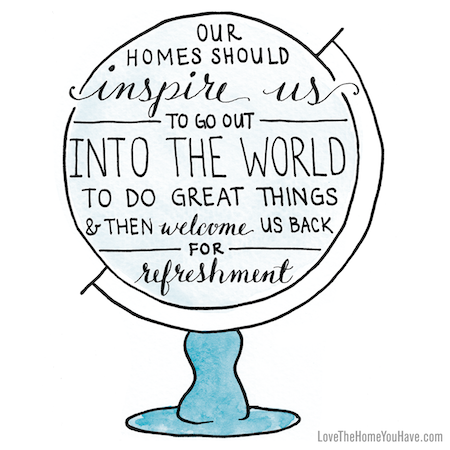 Our home should inspire us!
You might have heard about Hygge, a Danish way of life that incorporates a philosophy similar to my own. Inspiring people to find comfort, greater well-being and more joy in their home is my passion. It's the foundation on which I started The Inspired Room 10 years ago. It's so fun to find and connect with kindreds around the world, whether we call it Hygge or just call ourselves homebodies.
Are you excited about the possibilities for your home or even just hoping to rekindle or jumpstart a love of home-creating? I'm so glad you're here today. Home-bodying is what we do best here.
For those that are just joining us here on the blog, welcome. I also wrote a book in 2016 on decluttering and simplifying your home and life called Make Room for What You Love. It's about being purposeful in making room for what brings you more joy by learning to declutter things that distract and weigh you down. In 2015 I wrote the New York Times Bestselling book Love the Home You Have and released my first full-color photo book The Inspired Room, both which focus on finding contentment and greater well-being through creating an authentic home.
Bring it, 2017! We're ready for you.
Here are five ways to Hygge and embrace the joy of home-creating in 2017:
1. Make more room for joy.
At one point or another we thought that stuff would make us happy. We think perhaps we'll use it someday, and therefore we will be happy we kept it. We kept it because it holds memories that are important, but the more we keep the less we can enjoy each thing. If we aren't intentional, we'll end up with way too much stuff in our home and the stuff snuffs out the joy.
To truly find comfort in our home, we need to stop looking for happiness in keeping an abundance of things.
Less brings the opportunity to find more joy.
Excessive things crowd out what really matters, so we must intentionally make room around us to be able to see what counts. Start with a manageable goal, perhaps to open a drawer and be able to easily find joy in what you see. Clear out the excess, the clutter, the junk. Only put back things you love or enjoy.
2. Intentionally seek simplicity.
A simple home and life inspires the most joy. Before you overcommit to a new home project or make a move into a bigger or smaller house or make a change in 2017, ask yourself hard questions and be honest with yourself in the answers. Consider the simplest solution for your end goal first. It's so easy to overcomplicate everything! What will create the least amount of mess and stress with the greatest positive impact? What would bring you the most joy in your home or life this year? Is this the right season for that type of change or commitment? What are your boundaries for budget and time-investment?
Sometimes you have to commit to more complicated tasks or changes in order to get to a place of greater simplicity and more comfort in your home. If you're ready for the challenges involved, embrace a season of hard work to do what's required, but keep your eye on the ultimate goal of simplicity.
3. Feel more connected by disconnecting.
As we become accustomed to a more connected "online" life, we can easily forget how to be fully present in real life moments and experiences at home. The online community can be wonderful, but an addiction to connecting online will start to create disconnection and chaos in a home.
To be more content, creative and organized in our own home, it can help to turn our eyes away from the distractions of all the shiny things that keep our attention online. Being more fully present in our home requires discipline. Try being intentionally disconnected and fully in the moment for a period of time every day. You'll likely feel less frazzled and more connected to your home.
4. Create serene spaces to inspire your life.
Your home should be a haven that reflects and inspires your family, not a storage locker for all the things you never use or take care of. Make a commitment to self-care and greater well-being for everyone in your family by ridding your home of excessive clutter and chaos this year. Inspire your cleaning and decluttering efforts by creating cozy, comfortable and beautiful areas everyone can fully enjoy throughout your home. Clutter and chaos should not be invited back in to your newly serene and inspiring spaces.
5. Welcome others into your home.
Sometimes as an introverted homebody I find myself wanting to keep my cozy sanctuary all to myself in the cold winter months. But part of the joy of a cozy home is the connections with people. Think of the people you can bless and be blessed by if you invite them in. Extending an invitation to others can even inspire you to make your home more welcoming and cozy. Everyone wins with hospitality. What would add to the comfort for a guest in your home? Your home doesn't have to be perfect or impressive; that's too stressful for everyone. Find joy in making your home a warm and welcoming place for you and your guests.
Happy Hygge Home-Making in the New Year!