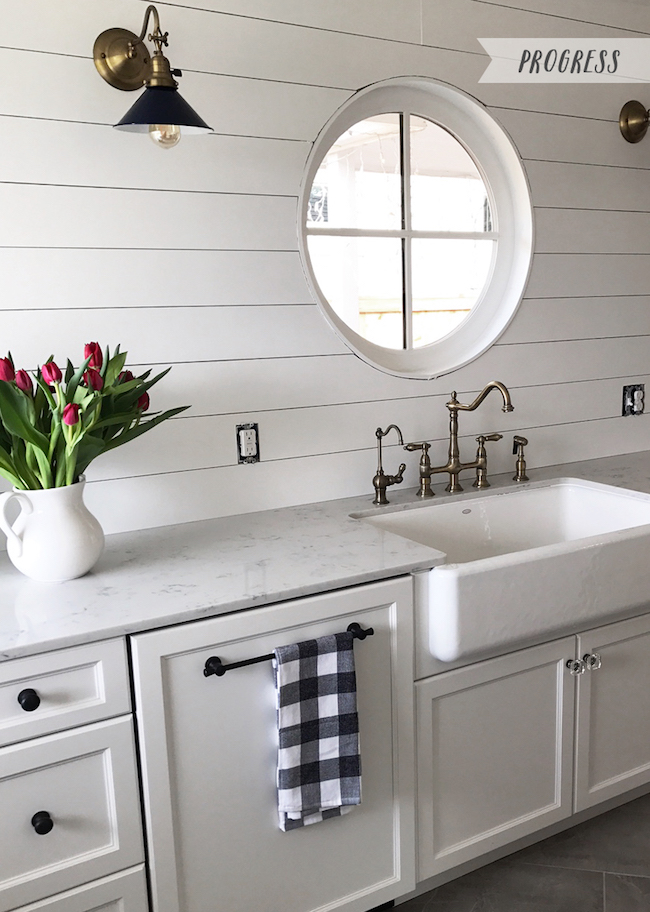 Hi friends. I was out of town the past few days with my girls working on a project that I'm excited to update you on soon. But because we all seem to have the kitchen remodel on our minds (judging by how many messages I've received this week, hahah!), let's talk about the kitchen! I truly hoped to return from my trip last night to find it finally completed. I even planned to be taking our reveal photos TODAY. But, alas.
There has been yet another mishap while I was gone that caused ANOTHER delay. Those of you who have experienced a delay in a remodel project especially due to someone else's mistake will relate. It's frustrating, but it is what it is. For the rest of you who might wonder what in the world could go wrong, let me give a little behind-the-scenes look into what it really looks like to remodel a house. It's not always like a TV show, let's just put it that way.
Let me try to explain the latest fiasco. Right now, our drama centers around the final important piece in the project: the round window above our sink. It's supposed to be one of the focal points of our kitchen, so we've waited quite some time to see it completed!
The couple photos you see in this post were taken throughout the last couple weeks. Hopefully this will give you a little preview of where we're at and give us all hope that the end is near. I can't wait to show you the entire kitchen once this one piece is complete.
One of the things that is difficult as a blogger is trying to juggle the real life timelines and to graciously relay mishaps that happen in a project due to someone else's negligence. I do try my very best to keep you all up to date with the progress and to stay on track with a reveal, but that is easier said than done. In real life some projects and mistakes just aren't able to be corrected, completed or explained away as fast as celebrities can in a 60 minute TV segment.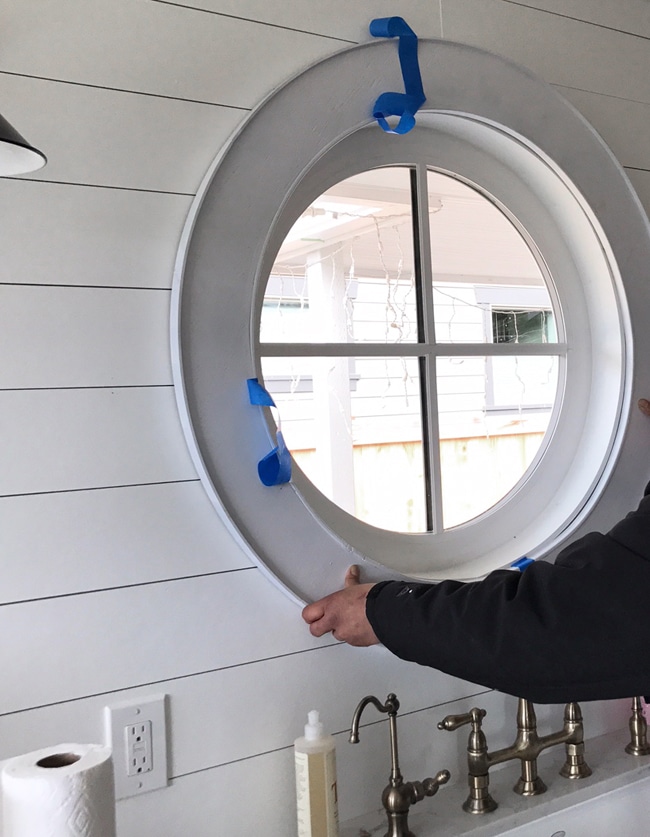 Potential delays are something to keep in mind and even plan for if you are embarking on a remodel. If you're lucky, your project might stay on schedule or even get ahead of schedule, but IF something, anything, goes amiss at any point (i.e. a schedule gets delayed, something is broken, someone gets sick, has a stroke, or breaks an arm, a piece doesn't fit, something unexpected happens or was incorrectly ordered, etc), the whole project can get WAY off schedule (and budget) quickly. In case you are wondering, every single one of those things I listed and more has happened throughout my kitchen remodel. :) And thank goodness, the contractors are FINE now! Projects are never as important as people.
In our last project, it turns out that creating and installing round trim work is not the norm for the subcontractor who was hired for this project and it required a bit more skill to execute that he had. Round shapes have to be, well, perfectly round. The difficulty began to be apparent as failed attempts delayed our project week after week until we are now at least a month behind schedule. Finally, we are going to another contractor to complete the work.
Since the top progress shot was taken several weeks ago, they've completed more caulking, installed outlet covers, and finished trim work and paint touch ups around the kitchen so we are actually even better shape than the photo shows. Those final details are so important!
The good news (?) is that missing round trim piece is the last element we needed to install so it didn't delay other projects as can happen in some cases. But still. It is frustrating. That one round piece of trim is the reason why I can't do the reveal quite yet! I really cannot wait to answer all of your questions and show you every single detail in the room.
So just know that I'm not holding out on you and we aren't up to something sneaky here. It's just reality. Not reality TV even, it's just the real life drama of a project.
Thanks again for hanging in there with your excitement to see the finished project. I guess we'll just have an even bigger celebration when we can finally call it done!

See our design board post here for a list of some of the sources you see in these photos (or scroll through above to shop!). We will have a comprehensive list of sources ASAP :)