Chair / Light / Pillow / Stools / Pouf / Art / My Rug Design (vote here!)
Happy Monday, friend! Hope you had a great weekend. Is anyone traveling anywhere fun this summer? I am headed to the Haven Conference in Atlanta this week to be a blogging mentor, but other than that I think we are pretty much staying home (or at least staying in the NW). I think staycations can be pretty fun, though, especially if you explore where you live like a tourist (which we enjoy!).
So as you might know, we're involved in a pretty cool rug design competition right now. Only the top ten rugs in the competition (top ten with the most Instagram votes by this Thursday) will be produced and sold by Annie Selke through Dash & Albert.
It's SUCH an incredible opportunity! But in a very tight competition, obviously every vote counts. Thanks for letting me share these designs with you and for being a part of this experience with me. I am so grateful for your support in everything; please know how appreciative I am! I couldn't ask for more awesome friends. Truly thankful for each one of you.
Today I thought it would be fun to do a little inspiration board mockup of one of our custom designs, the striped rug with the cross trim border, so you could visualize how it would look with three different types of looks!
I love a classic rug that can feel right at home in different rooms. It's so great when you can swap rugs between rooms or want a new look and the rug still works! So, check out the three inspiration boards to see what you think.
Also, scroll to the bottom for a little laugh. We couldn't resist doing a little Photoshop action to see how our dogs would look on these rugs, because that's important…you know? Clearly we had too much fun with Photoshop :). Our dogs seriously make their way to the camera every time we take pictures so I'm sure they would be thrilled to have our very own rug design to pose on!
Bed / Lamp / Sweet Dreams Art / Pink Pillow / Star Pillow / Nightstand / My Rug Design (vote here!)
Art / Chair / Table / Flatware / Plate / Chandelier / My Rug Design (vote here!)
I normally don't get involved any competitive design type of events because I don't like the pressure of competing. :) But this one was too fun to pass up. How cool would it be to have a rug design produced by Dash & Albert? It would be a pretty big deal for me and my family.
The competition will end later this week, but I'm really hoping to get enough votes on my rugs (only the top ten will be produced). If you are on Instagram or able to get an account (even just to give hearts on my rugs) it would mean so much to me! Thank you to those of you who have already voted.
It's so simple to give a heart, even if you don't want to use Instagram for anything other than to help out in this competition. Once you click each of the links to Instagram, you just double tap to make the heart turn red on EACH of my three rugs (yep, you can vote for all three!).
VOTE:
Now, you'll have to scroll down for a good laugh. I'm pretty sure our dogs would have a blast being Dash & Albert rug models. :) What do you think?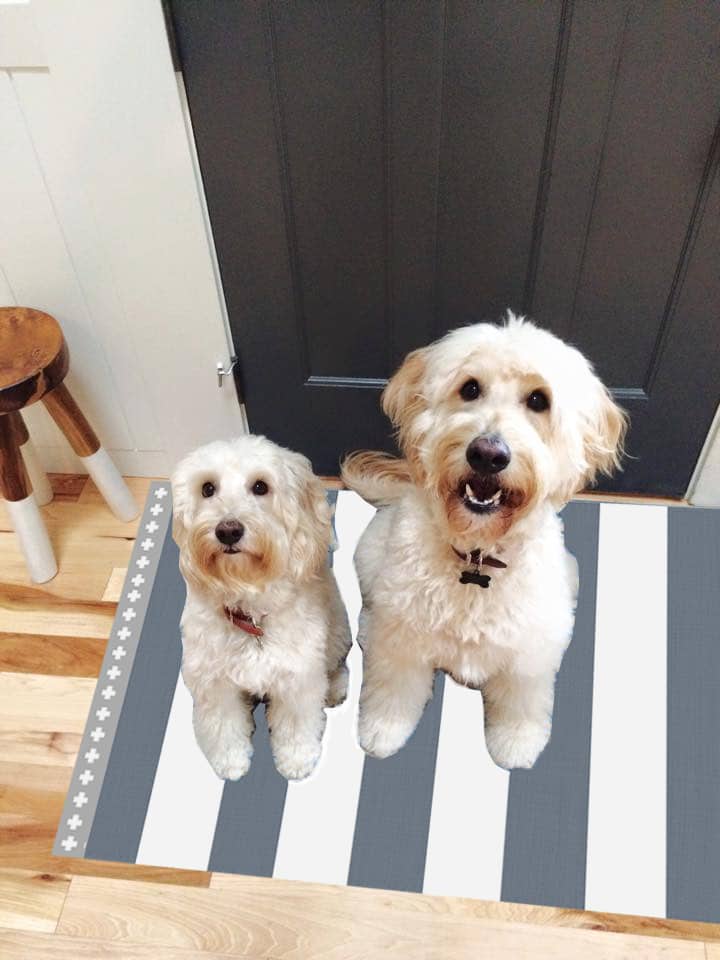 HAHAHAH! Alright. Hope you got a good Monday chuckle over these like we did. :) Even though these mockups look so silly, it really would be amazing to see this dream come true. Thanks for your support, friend!
Vote for the Stripe + Cross rug HERE!