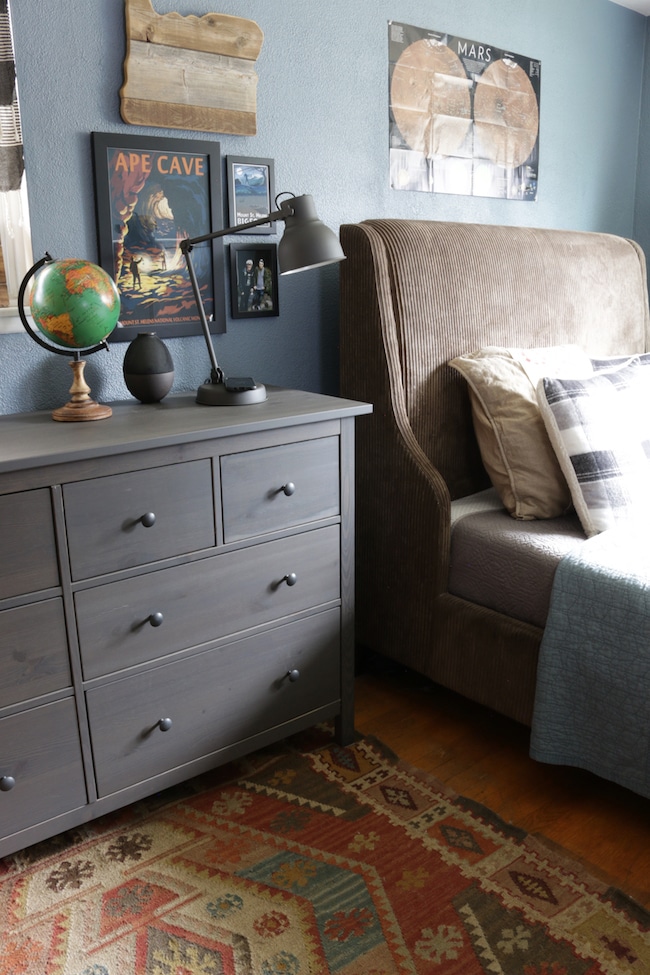 This post is in partnership with IKEA
When our family arrives around the holidays, my son Luke generously gives up his bedroom (and he stays on an air mattress downstairs) to make more room for guests. We don't have a lot of room, but we're happy to make space for everyone!
I've been wanting to make a few more updates in his room ever since we moved in, both so guests can be more comfortable and as a gift for our son! Unless we decide to move or rearrange the house in the next year and a half, this room will be my son's last childhood bedroom before he graduates from high school. Cue all the tears!
His previous dresser was the same dresser I bought for his sisters when they were little, so the drawers were super tiny. Now that he is a full sized man and not a little boy (how in the world did that happen) it really was not functional anymore for his clothing.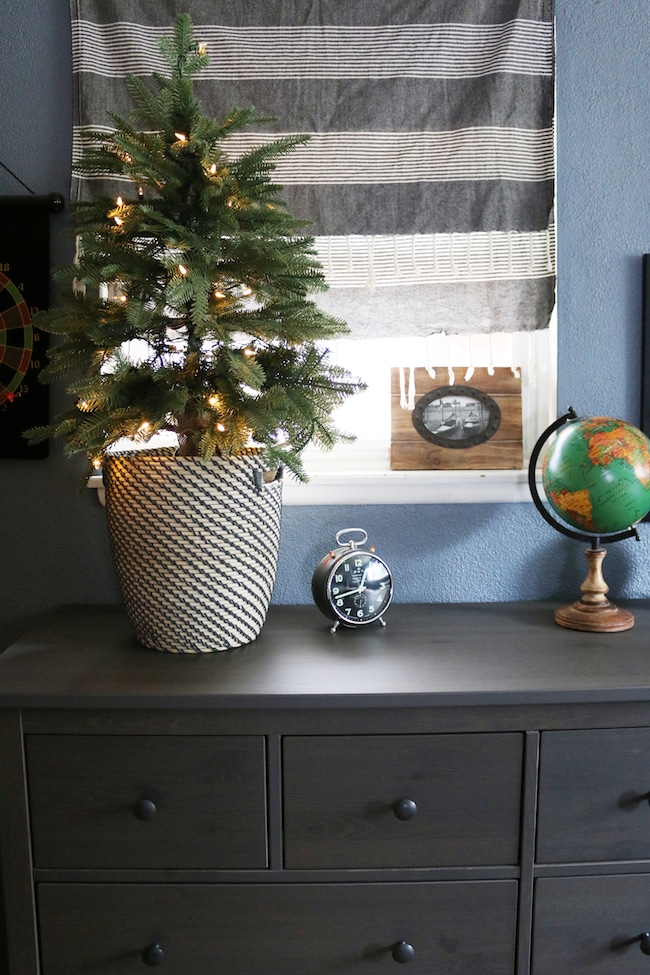 The too-small dresser and a diminutive nightstand both sat on one wall, next to his bed. Neither storage piece was functional for him or maximizing the available space. Excess furniture that wasn't serving the needs in the room felt like visual clutter.
His room was definitely ready for a style and functional upgrade, but I kept putting it off. As I was preparing for Christmas this year, my mind had a flashback to previous holidays. Without dedicated storage for guests to put their own belongings, dogs would grab guests' personal items off the floor and running through the house with them.
Needless to say it was just an awkward situation for all involved. :)  I really didn't want guests (or myself) to have to live through that experience again. Ha! As I glanced at the calendar, I decided I had just enough time to make a simple change that would benefit everyone.
My solution was to streamline the wall by his bed by replacing the existing awkward dresser and nightstand with one more substantial piece of furniture. Less can definitely be more. And bigger can be better, even in a small space.
I found the perfect solution at IKEA, the HEMNES 8-Drawer Dresser. It's affordable, stylish, fills the available space and is a practical piece for all of our needs in this room.
This dresser offers a lot of storage, so we can even have a couple of empty drawers for guests. I also LOVE the stripes on the inside of the drawers! When it comes to our home and design elements, it the little things, right?
He has plenty of room to organize his clothes in the dresser, with space leftover to stash his personal belongings, too.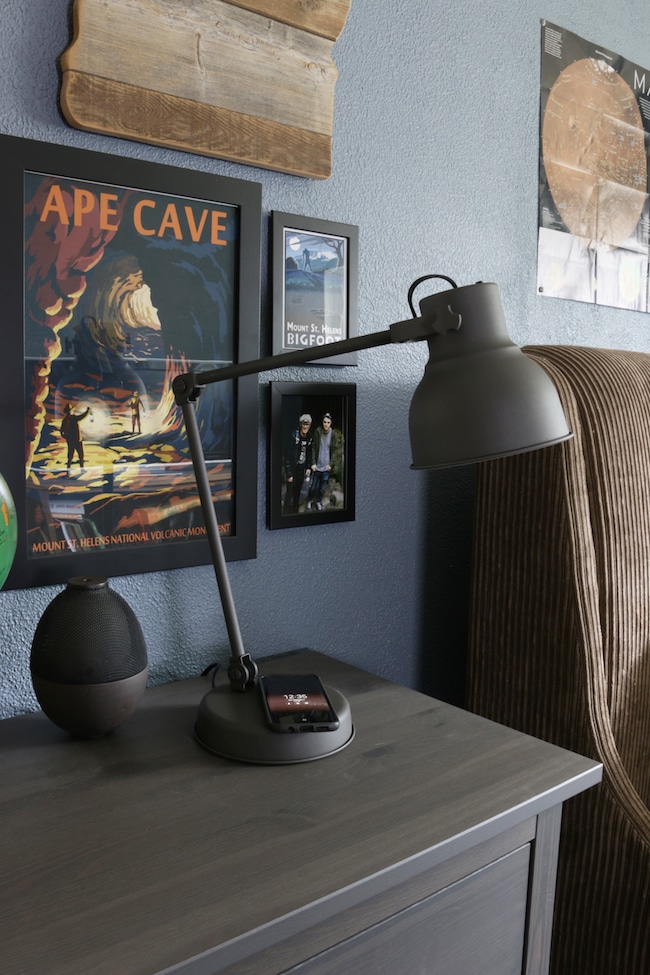 HEKTAR Work Lamp with Wireless Charging 
The lamp is perfect for a bedside table as well as a task lamp on the dresser. It has a classic shape, but a modern and convenient functionality as a wireless charger for devices. Pretty cool, huh? The HEKTAR Work Lamp with Wireless Charging is teen-approved!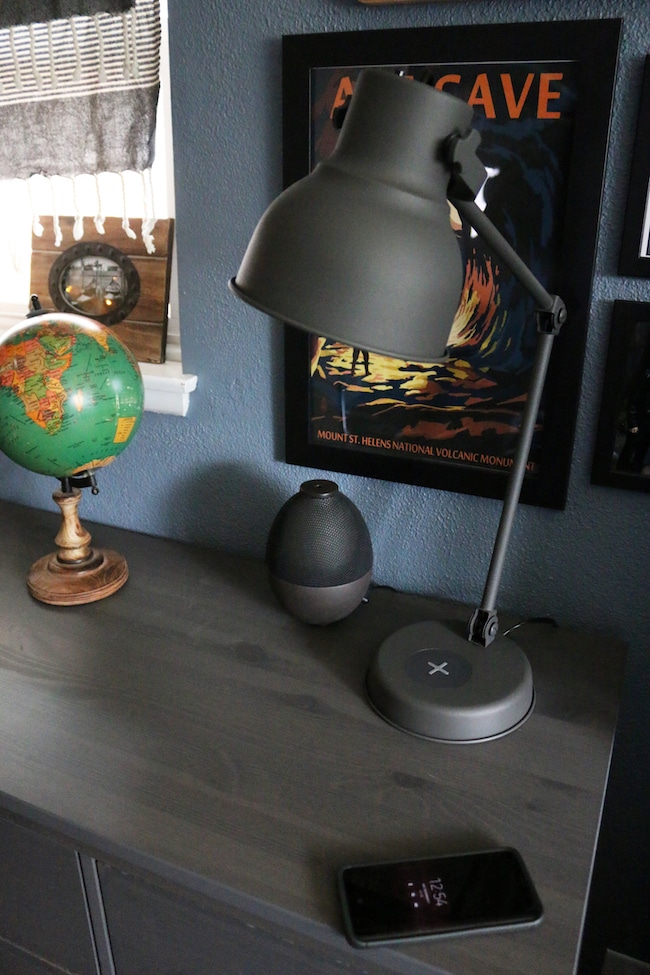 We seem to never have enough chargers when guests are in our home. The wireless charger on the lamp is a thoughtful feature for everyone who visits, too.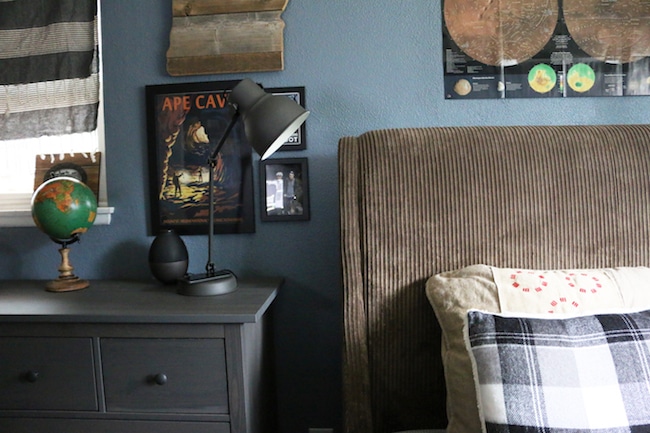 The HEMNES Dresser and HEKTAR Work Lamp were such simple additions. Streamlining this corner and adding more style to the space really transformed the whole room.
Luke loves his room now! I'm so happy we were able to complete this project for him. It will be such a comfortable and welcoming space for guests during the upcoming holidays, too! I can't wait for everyone to arrive and all the memories that will be made.
Are you sneaking in any quick home projects before Christmas?
I am a Brand Ambassadör for IKEA U.S. This is a sponsored post.