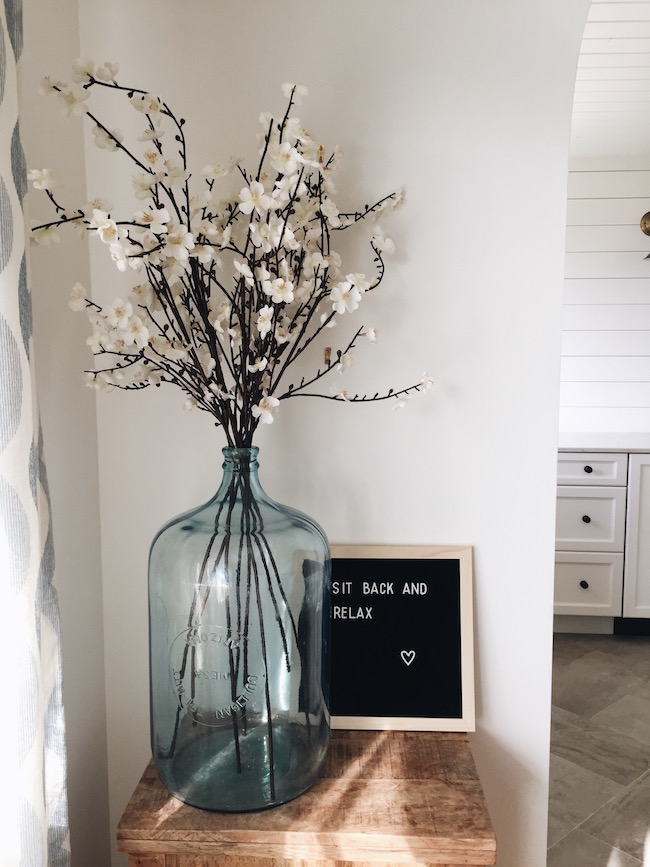 This post is in partnership with World Market 
Have you ever been pampered at a spa? I've stayed at spa resorts and I've been to spa-inspired salons, but the only time I've had an actual "spa" experience was at an outdoor hot springs. While I cannot remember for the life of me where I was (ha! mom? where were we! help! *Answer: Baden Baden, Germany, in the Black Forest!), I do remember it was totally relaxing and dreamy. You know me, though. Even though I so enjoy staying at fancy spa hotels and traveling to lovely destinations, home is where my heart is.
I'm sure an appointment at a spa would be super relaxing and uplifting (can winter be over yet?), but I happen to believe our home is the most important place to experience an atmosphere that nurtures our mind, body and soul. If we cannot relax at home, we need to bring more peace to our surroundings.
Today I have some creative inspiration for designing a spa-like ambience at home!
Relax
Sometimes you need those daily reminders to relax, all spelled out in black and white (ha, see what I did there?). I love pinning up quotes and verses on memo boards throughout the house, or writing inspiring words on a chalkboard. I finally jumped on the bandwagon and got a black velvet letter board from World Market. So cute, yes?
The words currently on my board gently remind me to set aside the stresses of the day and even just sit back and relax! It's super easy to change the words to suit the mood I want to inspire, too. This sign is so portable, it would be adorable in any room of the house.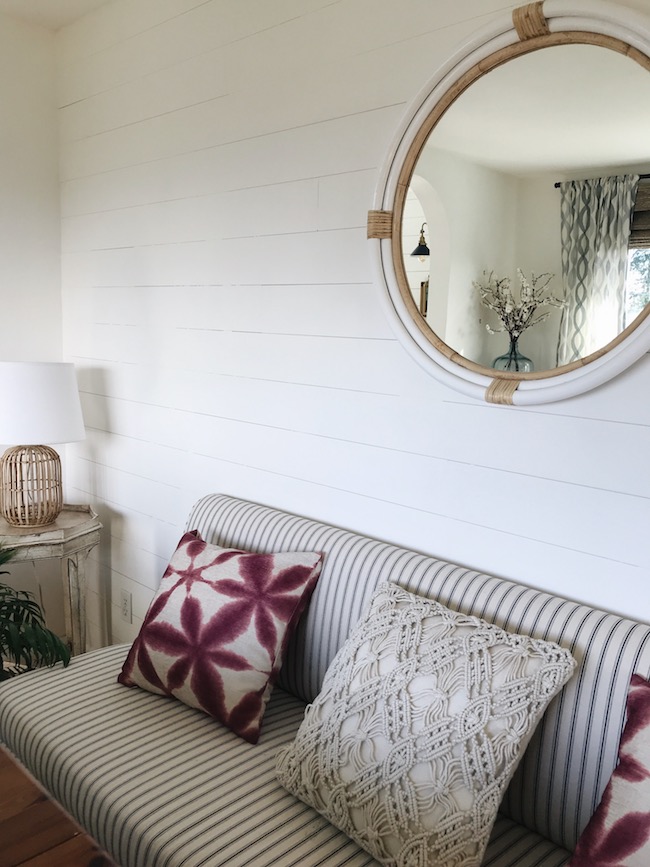 Pink chenille abstract watercolor pillow / Macrame pillow / Rattan lamp
Nature
Elements in nature are so soothing. One of my favorite garden stores in Seattle has a beautiful indoor cafe with tons of natural light, trees, and even ponds with koi fish! It's the most spa-like cafe I think I've ever been to so I love spending time there.
Even if you can't create a koi pond in your home (ha, that would be so cool though!), you can get that relaxing vibe by surrounding yourself with plants, textures from nature like wood cutting boards or baskets, pretty flowers in a vase (like my white velvet plum blossoms above!), or even art with natural scenes.
Comfort
What colors or personal comforts make you feel the most at home, relaxed and rejuvenated? Even though many people might consider neutrals or soft tones the most soothing color scheme, that's the great thing about designing your own spa-ambience. You're in control!
Maybe this time of year you'd feel most refreshed with a pop of pink on a few throw pillows to bring the hope and joy of spring to your home. Every season or even the day's weather can inspire you to switch things up for your own wellbeing.
My Bedroom Sources / World Market Bed and Bath (20% off spa event right now!)
I love my moody bedroom because it really promotes relaxation. It's so peaceful to have clean sheets, soft lighting, and a fluffy robe.
Check out these bath and bed items for a spa-like atmosphere.

Sounds
When I was heading into the delivery room to have my first baby girl (Kylee), my husband and I had our huge BOOM BOX and a set of cassettes with us so we could listen to nature-inspired sounds and music. I know. All you youngins might laugh at the whole cassette and boom box situation, but hey, we were hip youngsters ourselves back then. That's what we had. Side note, we had to get a PAGER just in case my husband was in class when the baby decided to arrive. Times have changed, yes?
These days of course we can relax with tunes playing on our cell phone. At our house we put an Echo Show on our kitchen counter (I love it, Norah Jones is one of my personal favorite artists for a relaxing evening!). I even have a diffuser that comes with a setting to play spa-inspired music.
Our house can get so loud with dogs and boys in the house, so when I need a little downtime I like to as everyone to shut off TVs and computers so I can listen to relaxing music instead.
Glass water bottle with wood lid / Large cutting board
Rejuvenate
Rejuvenate yourself by giving your what your body needs to be healthy! Inspire yourself to feel well by stocking your kitchen with quality nutritious food and making sure you have clear clean water to drink.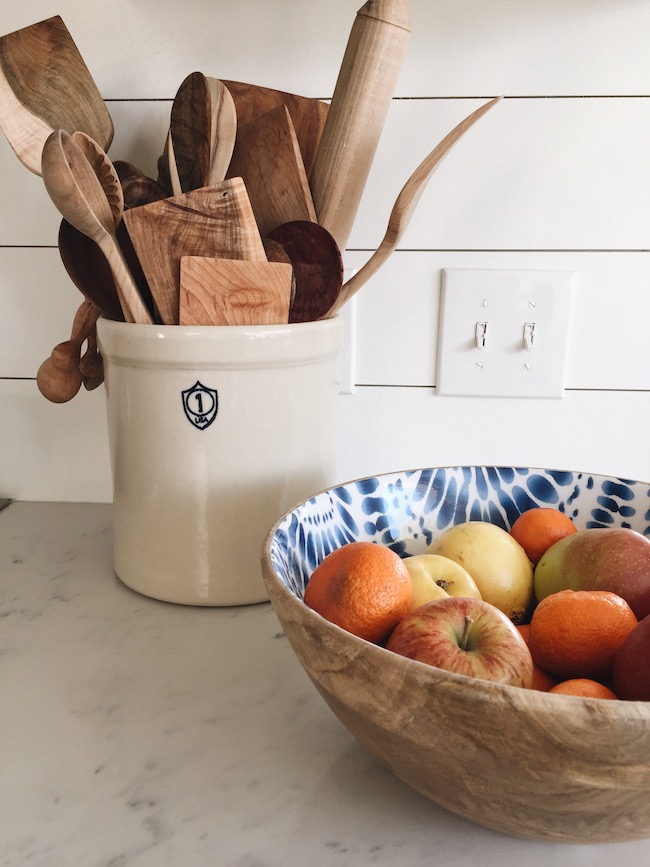 Indigo blue tie dye enamel wood salad bowl
Make eating and feeling well as appealing as possible. Buy fresh organic fruits and vegetables (we use a delivery service so food is fresh right from local farms). Keep slices of lemon, lime, or oranges on hand for a delicious fruit infused spa-inspired water bottle.
Rituals
Carve out time every day to relax and treat yourself right. What daily rituals sooth you? A cup of tea? A relaxing bath? Enjoying a craft or curling up with a good book? Set an appointment with yourself to wind down by doing the things you love.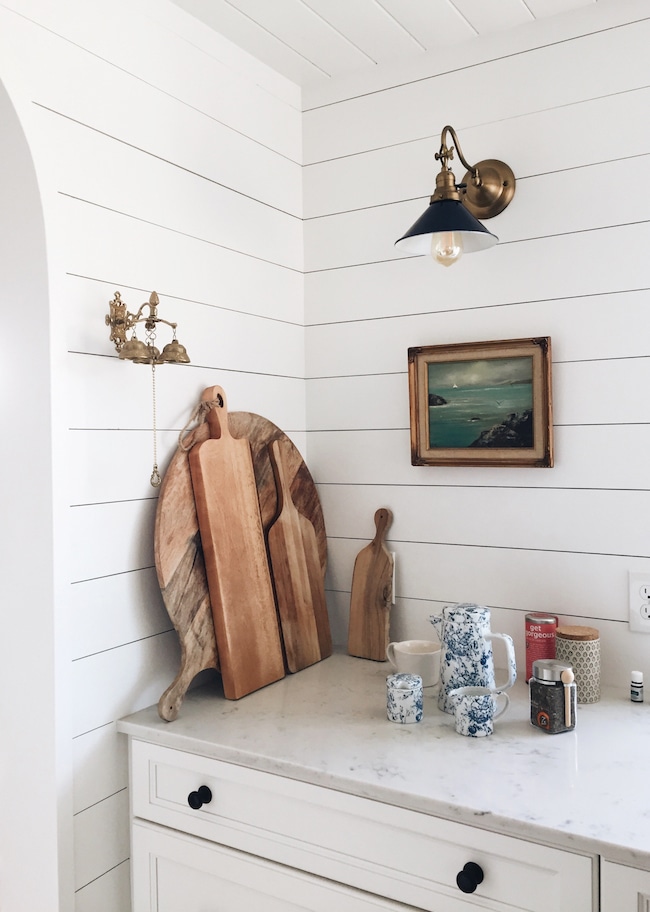 Blue and White Tea Set / Large cutting board
Tea Canister with Cork Lid / Mint Rose Loose Leaf Tea / Ivory Stoneware Mug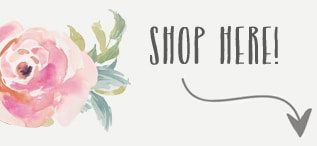 Shop items from this post via the scrolling bar below:

Be sure to check out the Spa Event and 20% off sale at World Market today!
What are some of your favorite ways to create a rejuvenating ambience in your home?