This post is in partnership with World Market
Can you believe Mother's Day is only a couple of weeks away? What do you have planned? My family loves to make breakfast together, so we quite often make plans to host a brunch during the holidays. We had a family brunch on Easter and we'll be having another one on Mother's Day. But we don't wait for special occasions to have brunch, any ordinary day will do!
We've been craving waffles forever, so this past week I seized a carefree morning to dig the waffle maker out from the basement. The girls were over and we didn't have a big agenda so WOO HOO! it was a great day for pre-Mother's Day brunch.
The week before, my girls and I had stopped in to World Market to see what was new. I'm so glad we did! They have so many great things right now, but I have to say we were were OBSESSED with all the blue and white linens and table settings! It all spoke to us. So we filled up our cart and brought some of our favorites home. And it was perfect timing, we had so much fun setting the table for our brunch.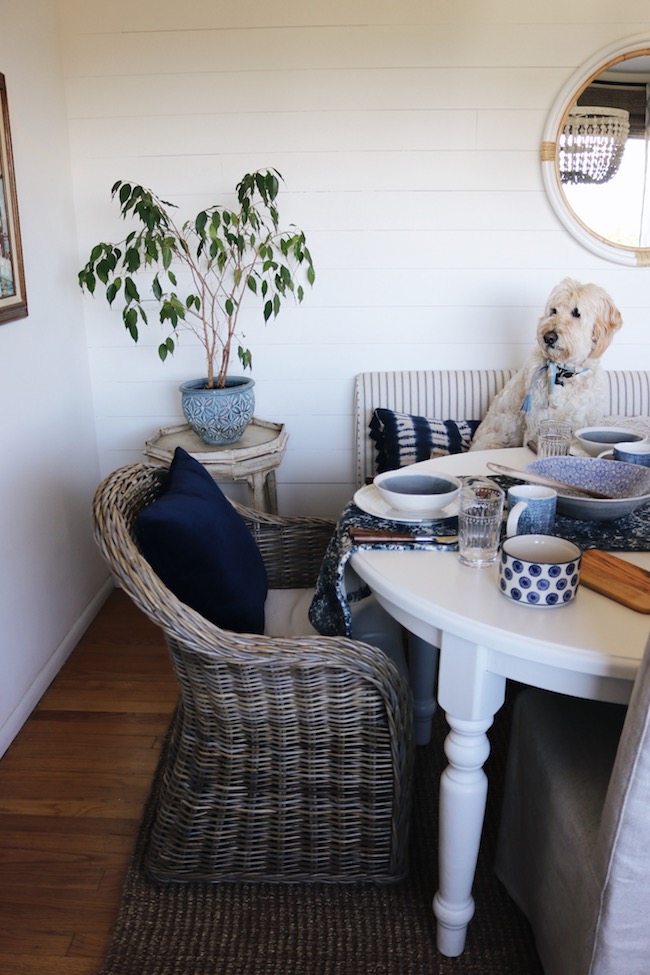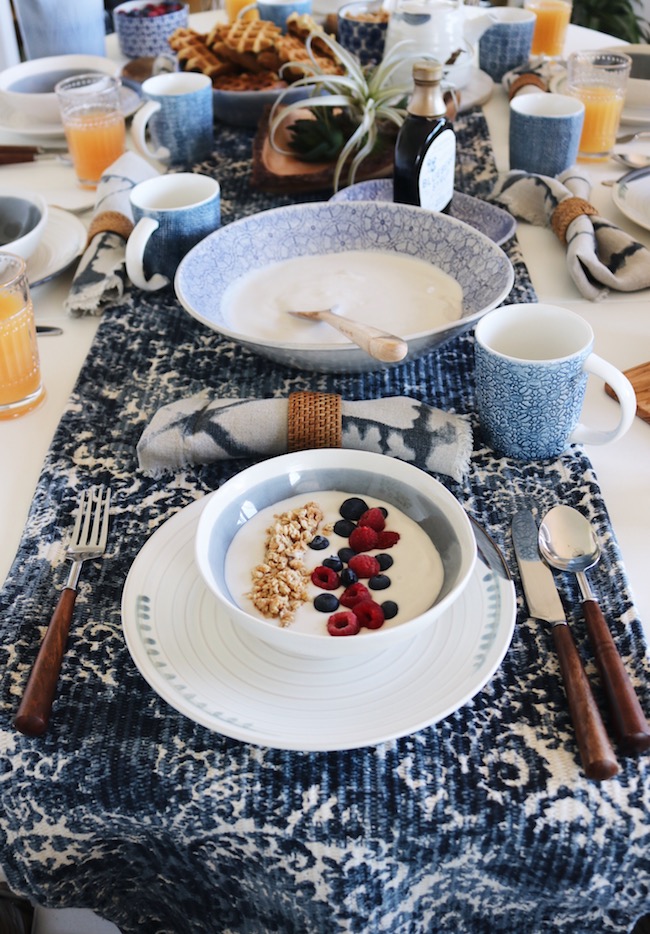 The mix of blues, whites and organic elements just feel so right for our table (and our house).
I have to tell you how much I LOVE the dishes!
The bowls are the perfect size for so many of the meals we make these days (we used them for our yogurt bowls this time, but I know we'll use them a lot. We love to make rice bowls with avocado, garbanzo beans, sweet potatoes and other tasties).
The plates are such a nice weight, I'm kind of picky about plates and I like them to be a bit heavier! These are winners, plus the soft colors and pattern make such a lovely statement on the table.
The wood handles on the silverware, the woven napkin rings, cutting board and centerpiece brought an organic wood vibe that I just love with the blue and white.
We found this really neat wood bowl at World Market for the center of the table. They also had some faux succulents and plants that made it so easy to whip a centerpiece together (and yay for plants that don't die).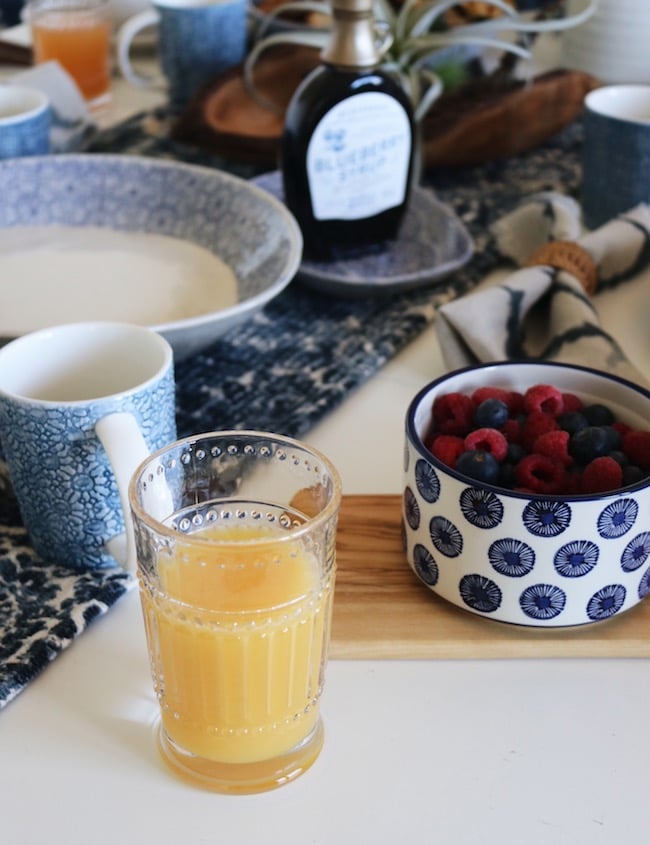 These adorable little patterned bowls are so fun, they come with tight plastic lids so you can microwave or store them in the fridge.
The juice glasses are my faves! We haven't had great juice glasses for a long time. Again, it was the heavy glass and pretty details that won me over!
Now, let me tell you why these serving bowls are SUPER special! They aren't just gorgeous to look at, they are HANDMADE, you guys! I knew they were something extraordinary right when I saw them.
Blue and White Tassel Pillows / Macrame Pillow
I love all of the new throw pillows for the banquette (and two navy velvet ones for the woven chairs).
As many of you have observed, we switched our dining room table and banquette to this side of the room before Thanksgiving.
I've shared a few photos of the room here and there, but I haven't yet officially explained the change. Our original plan was always to set up the table on this side of the room, just like this. Yet the only wall where our glass doored cabinet fit was on the shiplap wall, so it made sense to leave it there (while it was in the dining room) and move our table near the window for a closer view of the backyard.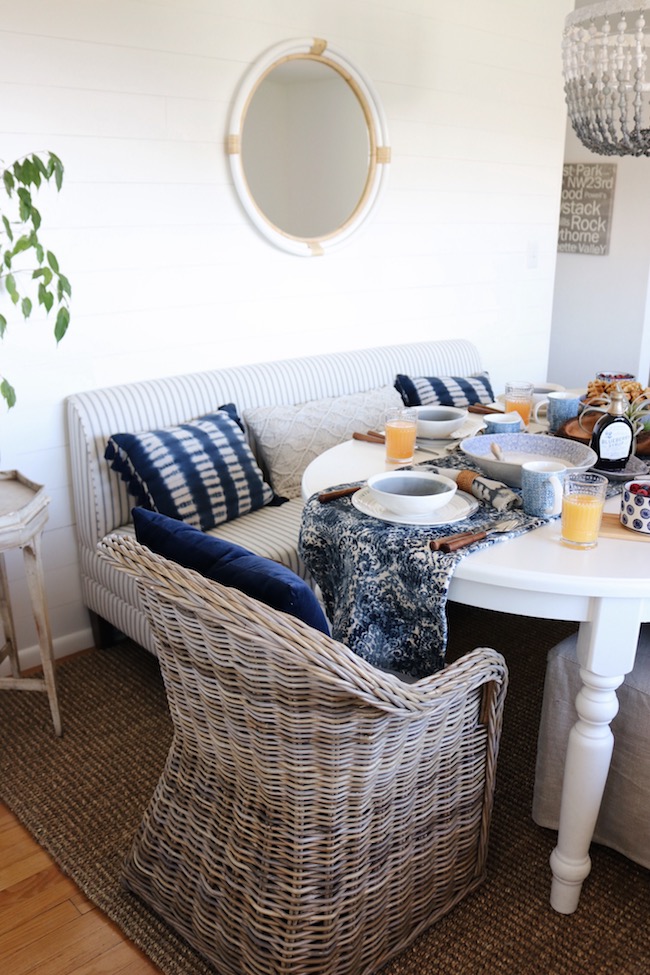 We really liked the cozy feel of the banquet and table under the window, but I still felt like the ideal was to have the table on the other side of the room.
I also had a vision for quite some time of the glass doored cabinet being in our bedroom, to make it feel more cozy library-ish.
You know how sometimes it's you might hesitate to try something that is not the norm, because you feel like it might be "wrong" or at just not be the right choice? Well, I finally told myself…"self, stop over-thinking and go with your heart. :)" Just to be safe we measured the cabinet and found it was the perfect size to fill the bedroom wall! And voila! My heart was right. I love it there.
And so that change opened up the wall space so we could flip the banquette to the other side of the dining room, putting the table in the spot where I originally envisioned it. It's so nice when your furniture starts to find it's way to the best spot for it!
Speaking of furniture finding its true home, I've been dreaming about ways to rearrange the living room. :)
Anyway, we had such a great brunch with our family this weekend (and loved setting up a pretty table for it!). We'll for sure be having another brunch for Mother's Day in just a couple of weeks! I hope you feel inspired to host a Mother's Day brunch at your house, too.
Scroll through the links below to find the items we got for for our table (hurry as many pieces were on an awesome sale!).
If you would like more inspiration for gathering people together, you can find my book Simple Gatherings here!