Hi friends! It's hard to believe, but it's almost December before we know it and Christmas will be here!
I have some fun DIY gift ideas for you in today's post!
Last week we shared some simple natural DIY gift ideas for a live workshop we held in our private Dwell Well Collective*** group. If you're a member you might have caught the live workshop in the group (if you missed it you can still see the replay)! If you aren't yet a member, get yourself in here!
Today I am excited to share a few of the DIY gifts my girls put together for that workshop (along with the recipes and the sources for ingredients, containers, printable labels and essential oils)!
These ideas are lovely, good for you, and so simple to make, too!
Of course, by now y'all know I use my oils for so much more than just making my home smell good or holiday crafting, right? Young Living oils are GOOD FOR YOU, too. It's the season where we need to be extra diligent about staying WELL.
Young Living oils are distilled from pure plants, without any fillers or toxic ingredients (I love going to their farms to see the pure process myself!). These little plant gems help my immune system stay strong.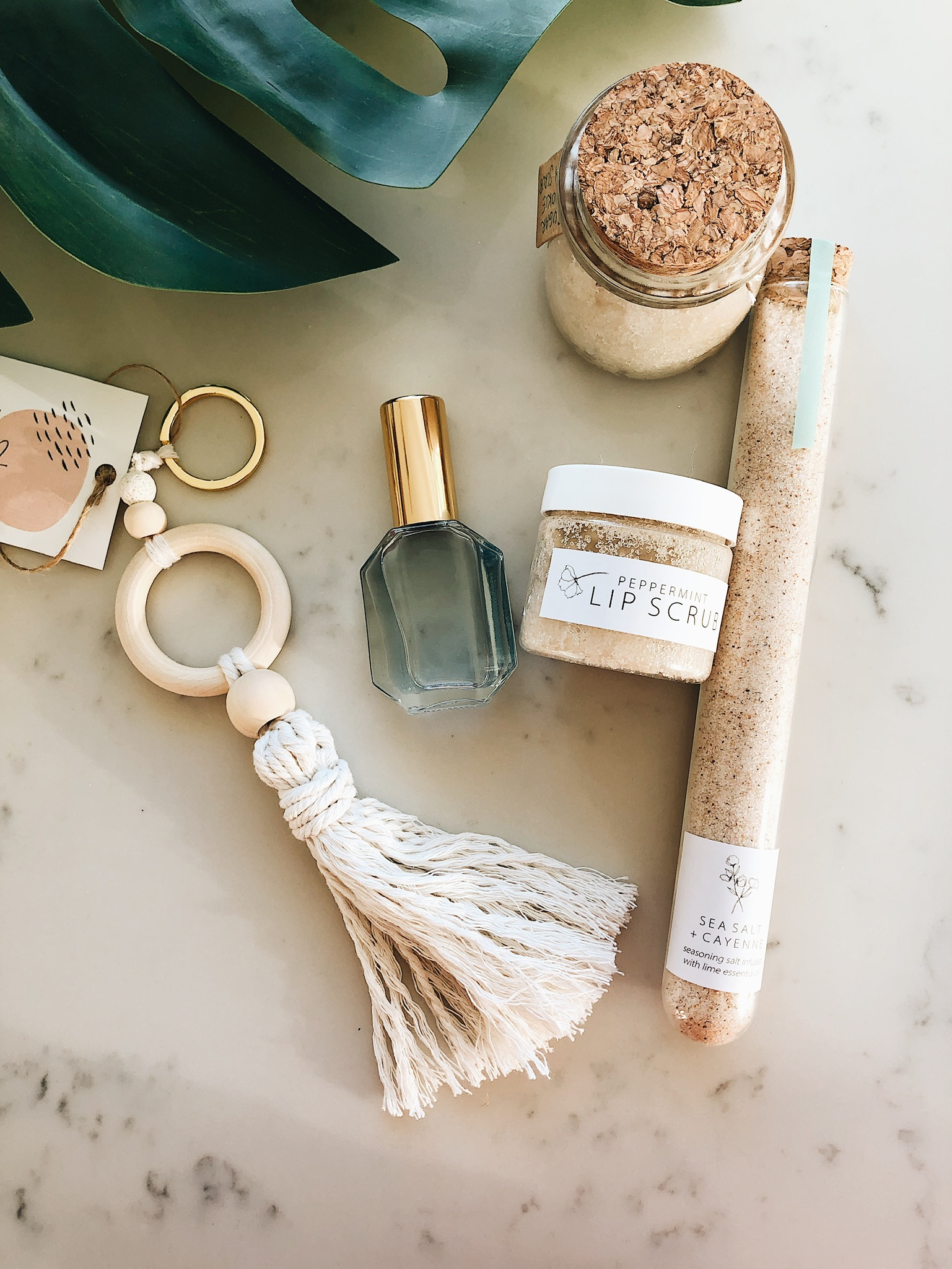 We make all kinds of things with essential oils and not only save tons of money, but we don't have nasty toxic stuff wearing our body down! I do all I can to avoid getting all the yuck out there this time of year. I haven't been sick in over four years, so I love my oils.
If you've been wondering if oils might help you or your family, don't hesitate for even a minute! I promise, you'll love them. I would LOVE to help you and have you in our group!
Grab your essential oils / diffuser kit here and get an invite to our Dwell Well Collective*** wellness group, too.
Enjoy these DIY natural gift ideas you can make with essential oils!
+++++++++++++++
Himalayan Salt Bath Soak
Combine equal parts himalayan sea salt and epsom salt in a small jar. Add 5-10 drops essential oil of choice (Rose or Lavender would be lovely!) and stir. Add dried flower petals until you are happy the look. To use, pour into running bath water to dissolve before using.
++++++++++++++++
Supplies:
Glass jars with cork stoppers
+++++++++++++++
DIY Tassel Diffuser
Use as a keychain, wall hanging, car diffuser, etc.
Get your craft on with this fun bead and rope set. String the beads as you wish and make a tassel (Google can help if you don't know how!).
+++++++++++++++
Macrame Cord and wooden bead kit
Who wouldn't enjoy receiving the most calming bath salts EVER! These tubes are the perfect size for stocking stuffing.
++++++++++++++++++++++++++
Calming Lavender Chamomile Bath Soak
Combine:
2 tbsp Epsom salt
2 drops Lavender Essential Oil
2 Drops Roman Chamomile Essential Oil
Multiply as necessary.
Optional: add contents of a bag of lavender chamomile tea, or dried lavender.
+++++++++++++++
Supplies:
Glass Tubes with cork stoppers
++++++++++++++++++++++++++
Peppermint Lip Scrub
In a small container combine:
1 part white or brown sugar
2 parts coconut oil
2 drops peppermint essential oil
++++++++++++++++
Lip Scrub Containers
++++++++++++++++++++++++++
Cayenne + Lime Infused Sea Salt
Essential oil infused sea salt makes the perfect gift for your friend who delights in culinary creativity! Get creative with spices and oils, you could even give a set of different flavors!

Combine 4 tbsp sea salt, 1 tsp cayenne pepper, and 2 drops lime vitality essential oil. Taste and adjust as necessary!
+++++++++++++++++++
++++++++++++++++++++++++++
Sugar Cookie Body Scrub
Combine:
1 part white or brown sugar
2 parts coconut oil
Equal drops of the following essential oils:
Stress Away
Lemon
Peppermint
Cinnamon Bark
Start with 2-3 drops each for every half cup or so.
+++++++++++++++++++++++
Printable Label
++++++++++++++++++++++++++
Hot Chocolate Kit
Gather up hot chocolate supplies, add a bottle of Peppermint Vitality and you've got yourself a hot chocolate kit! Check below for some ideas for what to put in your kit…
Supply ideas:
Printable Box tag
The pictured mug is out of stock, but this "cup of cozy" mug is super cute!
Organic fair trade drinking chocolate
---
This would be a fantastic week to order your oils wellness kit, give it as a gift to your family!
I do hope you'll give the oils and diffuser kit a try! Maybe get yourself one for the holidays :). As I've mentioned, I use oils for everything, they make such a big difference for our family. From sleep to skin, to stress and anxiety, to sinuses and throats, to tummies and digestion, for focus, cleaning, hormones, endocrine support, immune support, aches and pains, hair, for a dreamy smelling home without toxic fragrances /perfumes / candles / sprays and more … I use them every day.
***The Dwell Well Collective is my wellness community for my Young Living members–are you a part of our group? If you are, you can watch the live holiday gift workshop replay HERE. If you're not yet a part of the DWC, I would sooo love to have you there!
Follow The Inspired Room // Follow Dwell Well Collective
Want more gift ideas? You can also check out our annual gift guides with gift ideas for everyone…right here!