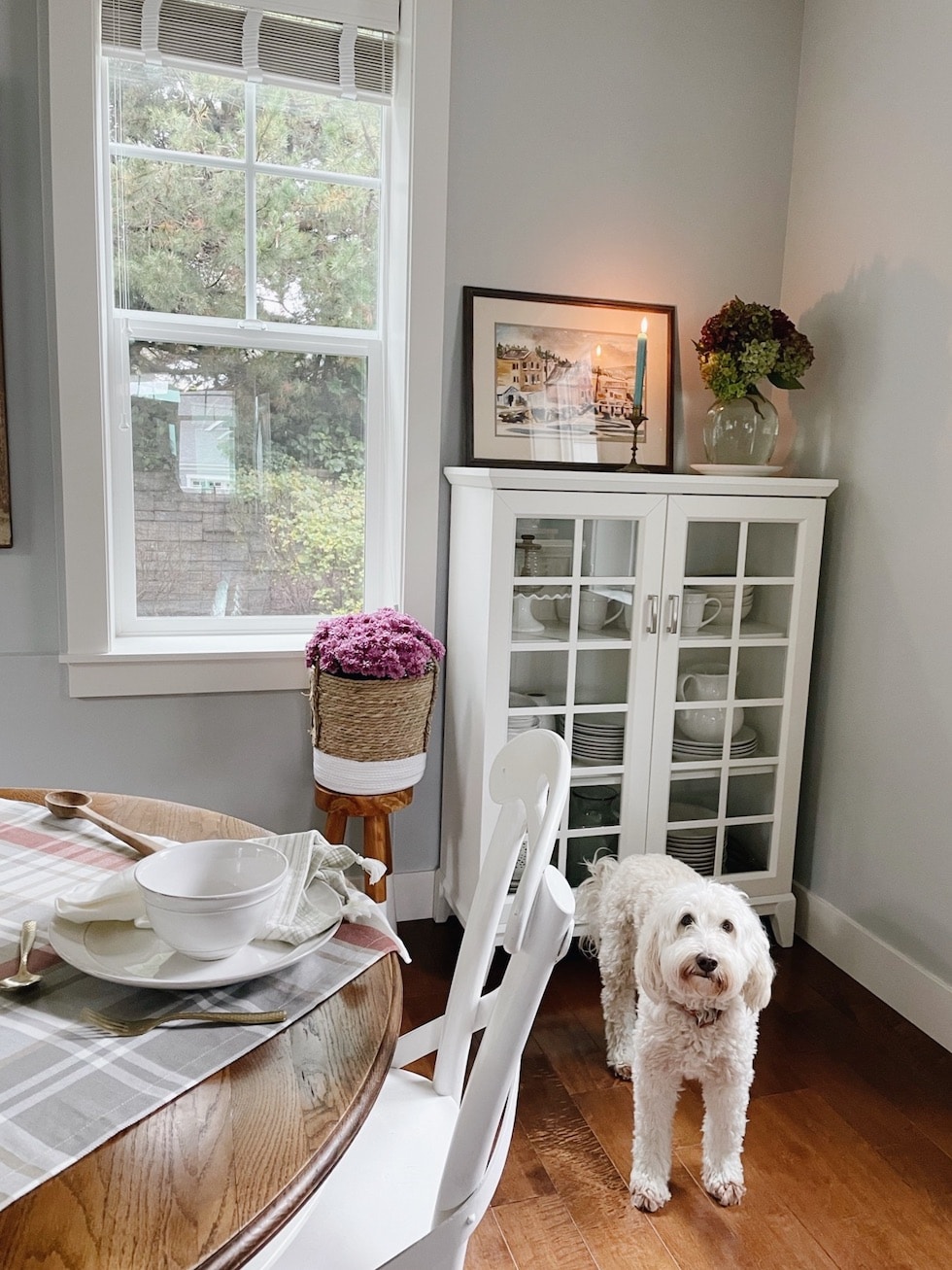 The chill in the air and the turning of the leaves signals it's time for one of my favorite rituals of fall nesting. EATING SOUP! We eat a lot of soup from fall through winter. Do you?
We are still getting all settled in our dining room but it's feeling quite cozy already. I've been wanting a plaid tablecloth in a fall color palette and found this really pretty one at Walmart. It's a square so we just turned it at an angle, it's a casual look I really like! I love how it brings in fall colors but still shows off the table, too.
Walmart makes it so easy to affordably decorate for the seasons.
Thank you Walmart for sponsoring this post!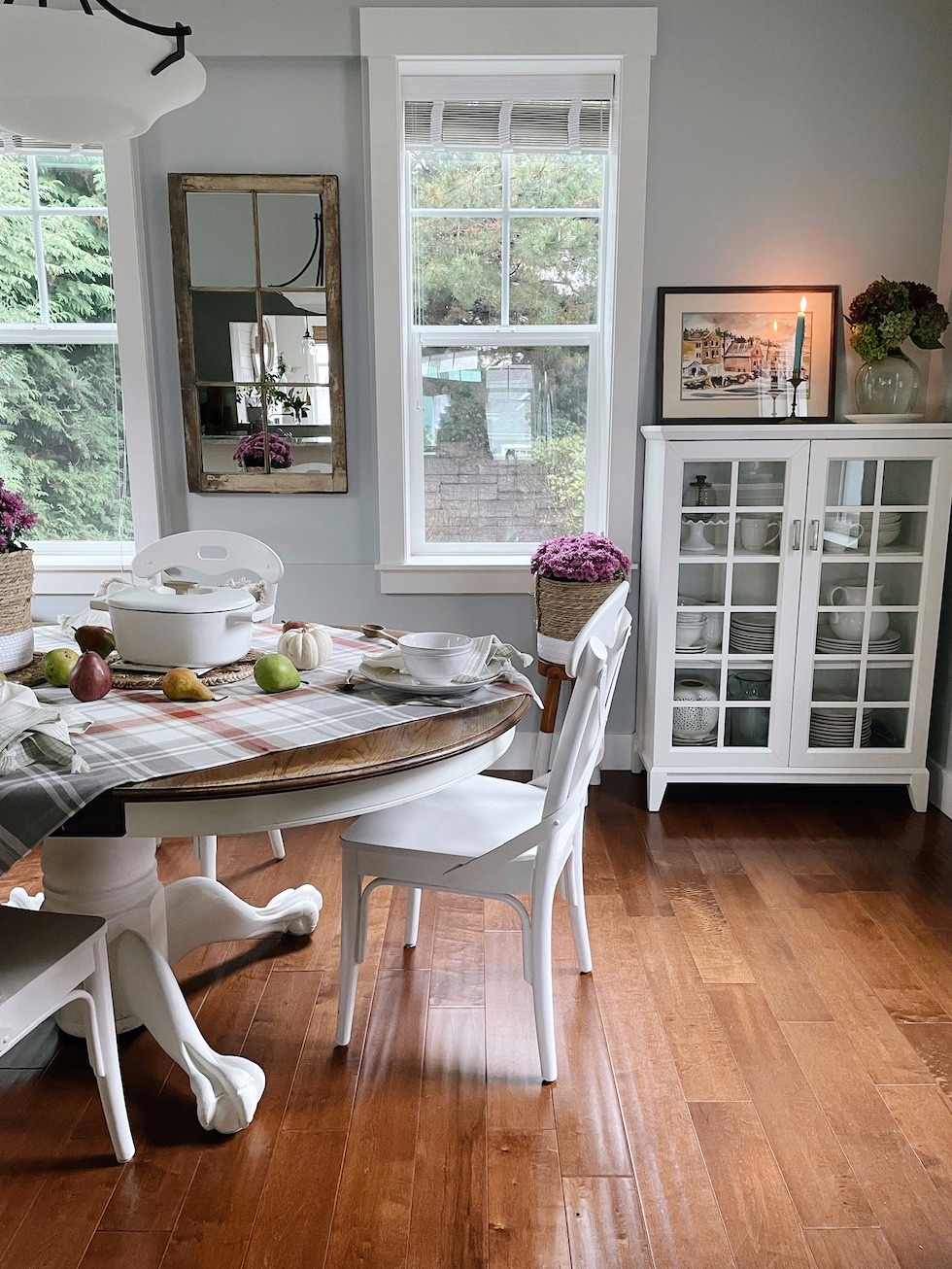 Walmart had quite a few other cute things for the table! I got beautiful woven jute chargers and a gorgeous Dutch oven that we can use for our fall soups and stews. It's pretty enough for serving right at the table, too!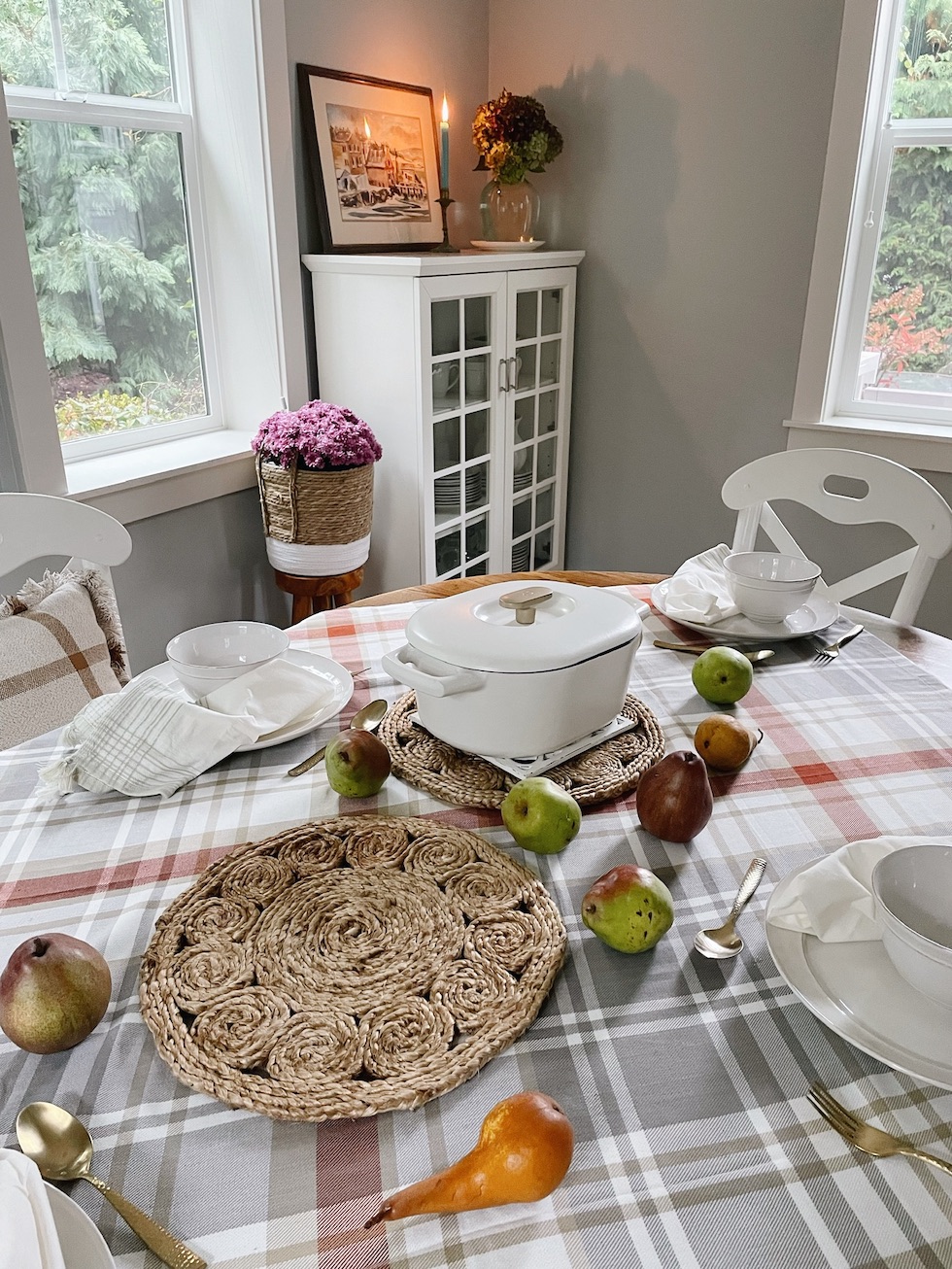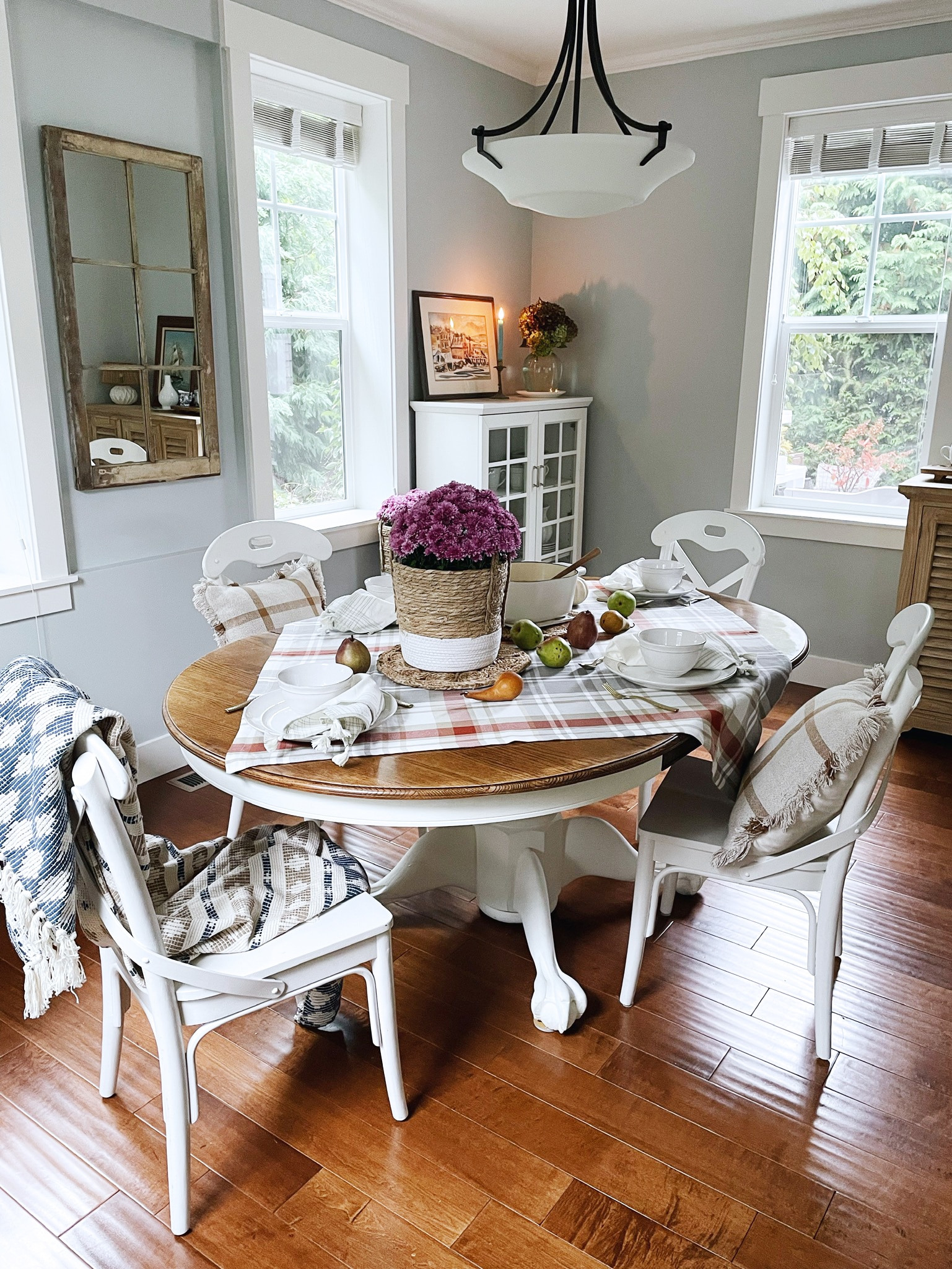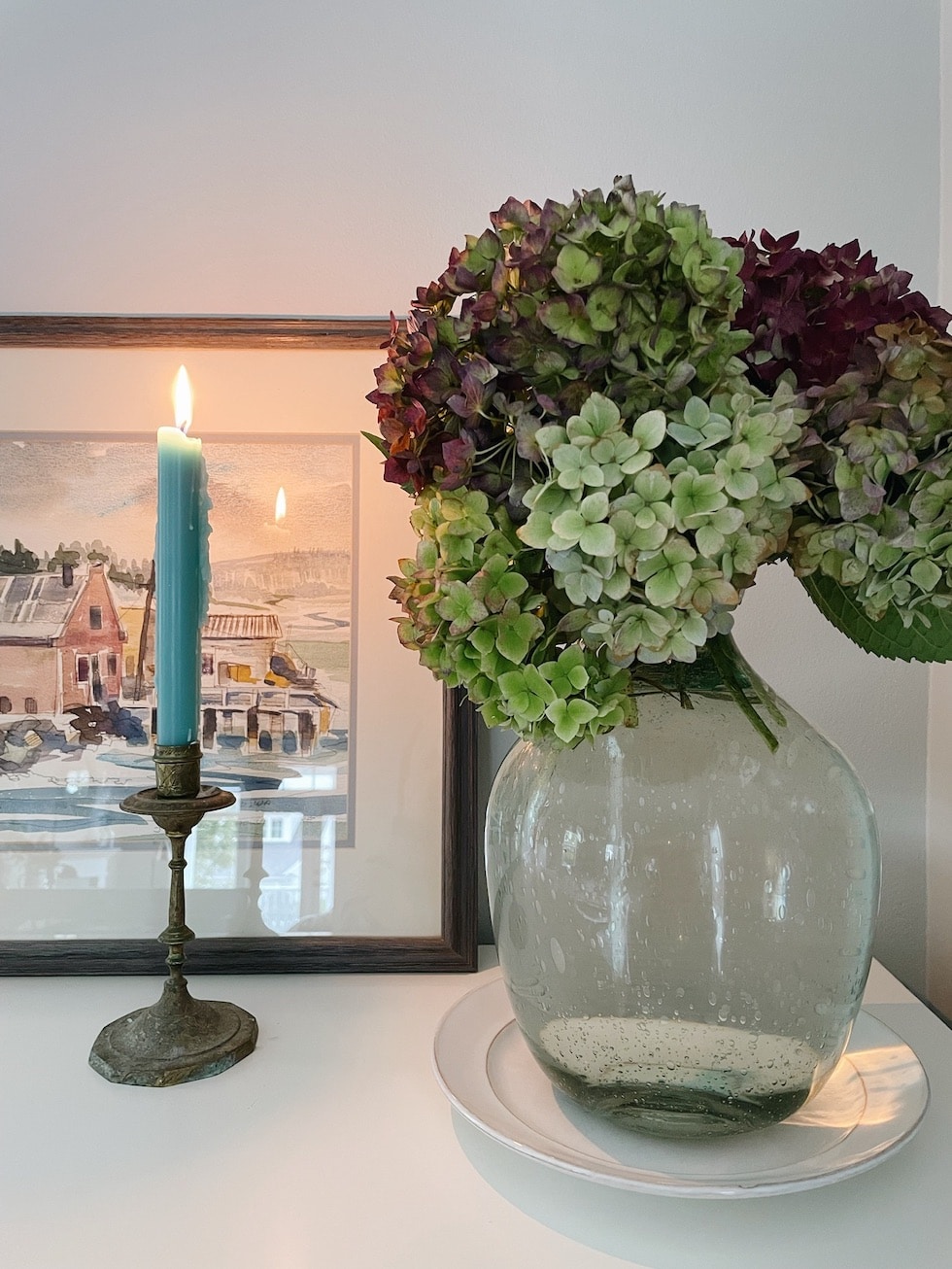 I loved this adorable sea green glass vase. It's just the right coastal fall vibe for this space. Mixing materials adds so much interest in a room, so I always try to add in something shiny along with my cozier textures like the woven chargers, baskets and the soft tablecloth and napkins.
I added an extra pop of fun color with my turquoise taper candle (same candles linked here–my candlestick is antique but here is a set of two gold candlesticks).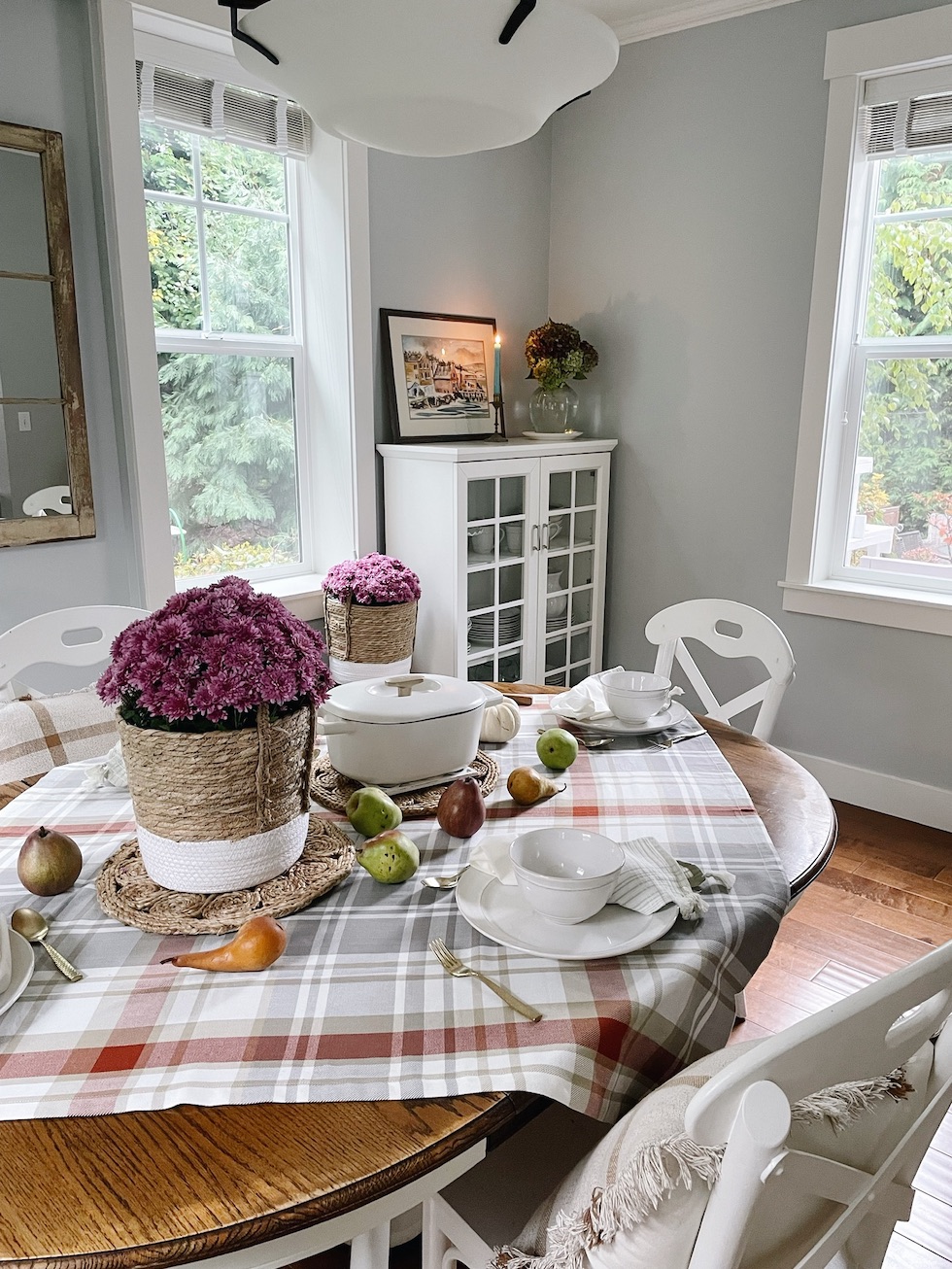 Courtney and I were shopping at a local grocery market and thought these beautiful fruits and mums would be so lovely scattered on the table. Simple, casual and organic is my favorite mix. It works for me to keep things simple because I don't want to have to fuss or overthink everything! Life is stressful enough, so let's not make decorating so hard on ourselves. :) Use what you have and can find, take your time, it doesn't have to be perfect at all. Just have fun with it.
Creating a comfortable mood in your home shouldn't be stressful, ya know?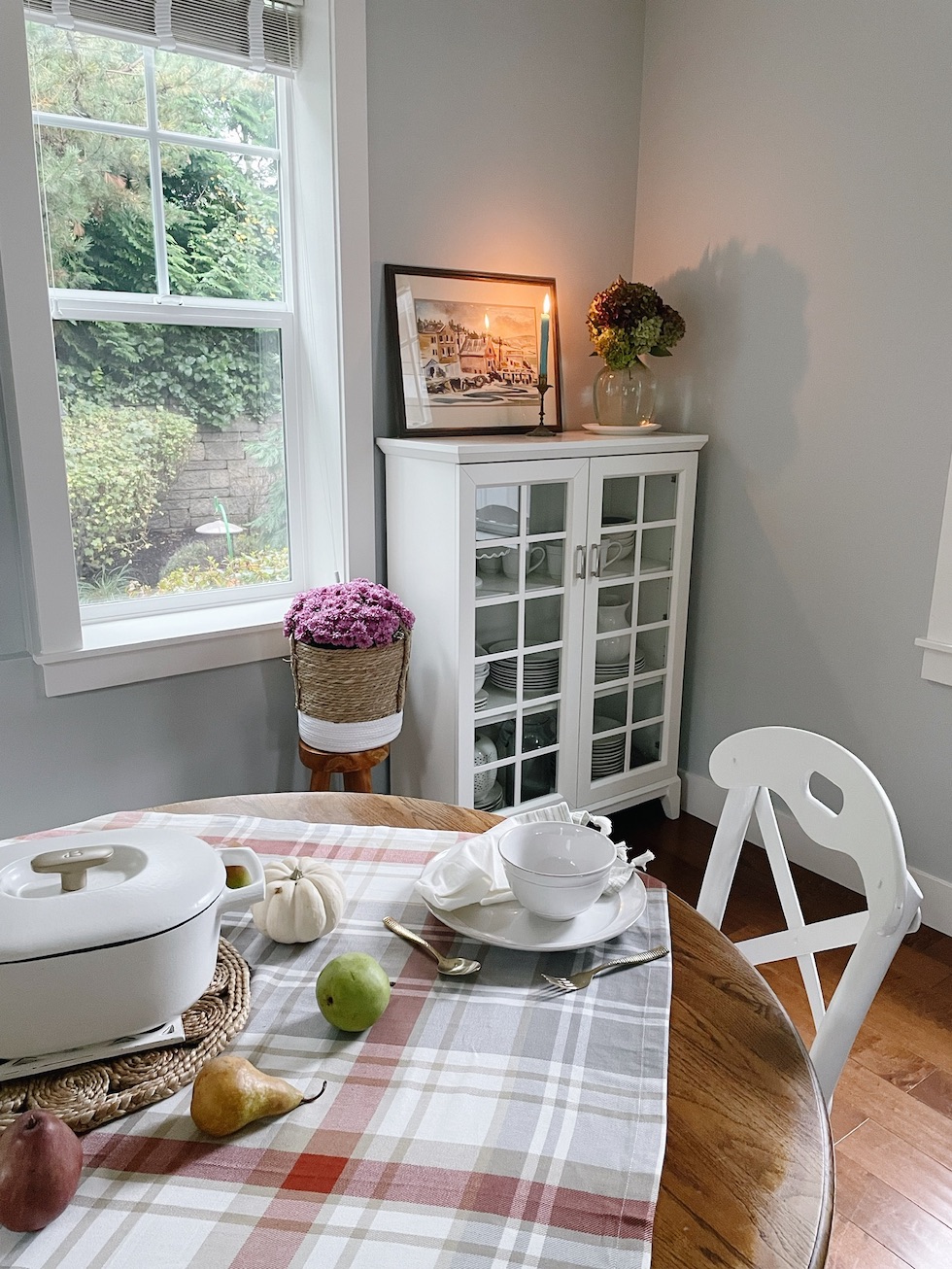 My husband jokes with me when I put real fruits and vegetables on a table saying he loves it because they double as a snack. That's fine with me. If you can eat your centerpiece, all the less waste and so much less stuff to store in bins and tubs later. Ha!
You're welcome. I know you love my simple decorating tips. LOL.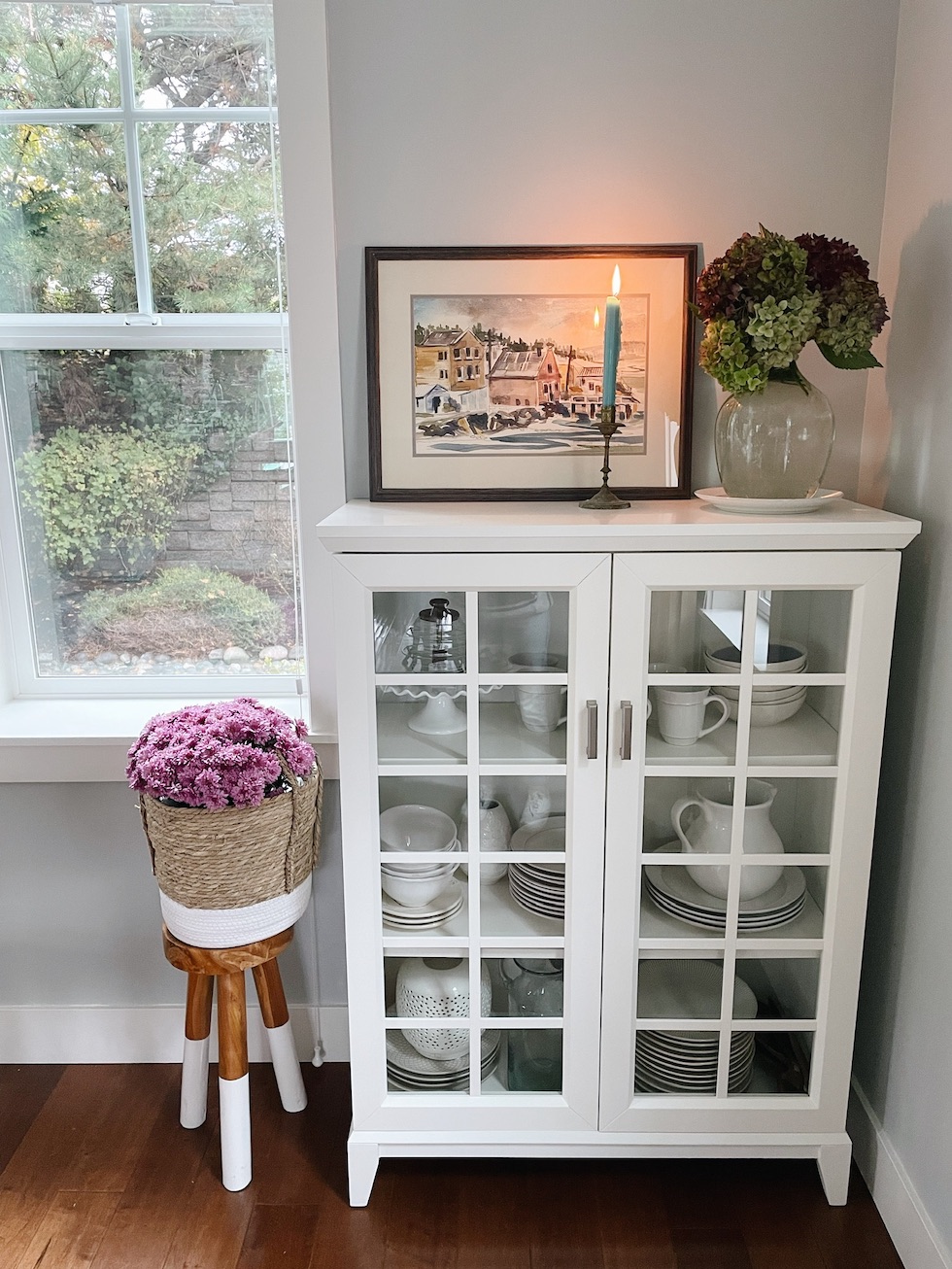 The little dipped baskets are from Walmart, too. Can you even handle how how cute they are? Natural woods and whites are pretty together any time of year. My favorite things to decorate with can be used in any season and for many purposes. I will have fun with these baskets! Today, they hold potted mums. At Christmas, I bet they'll hold holly or evergreens! Spring time they could hold tulips or any spring flowers. They are also handy for corralling just about anything. They'd even make cute waste baskets .Just line them with a can or plastic bag!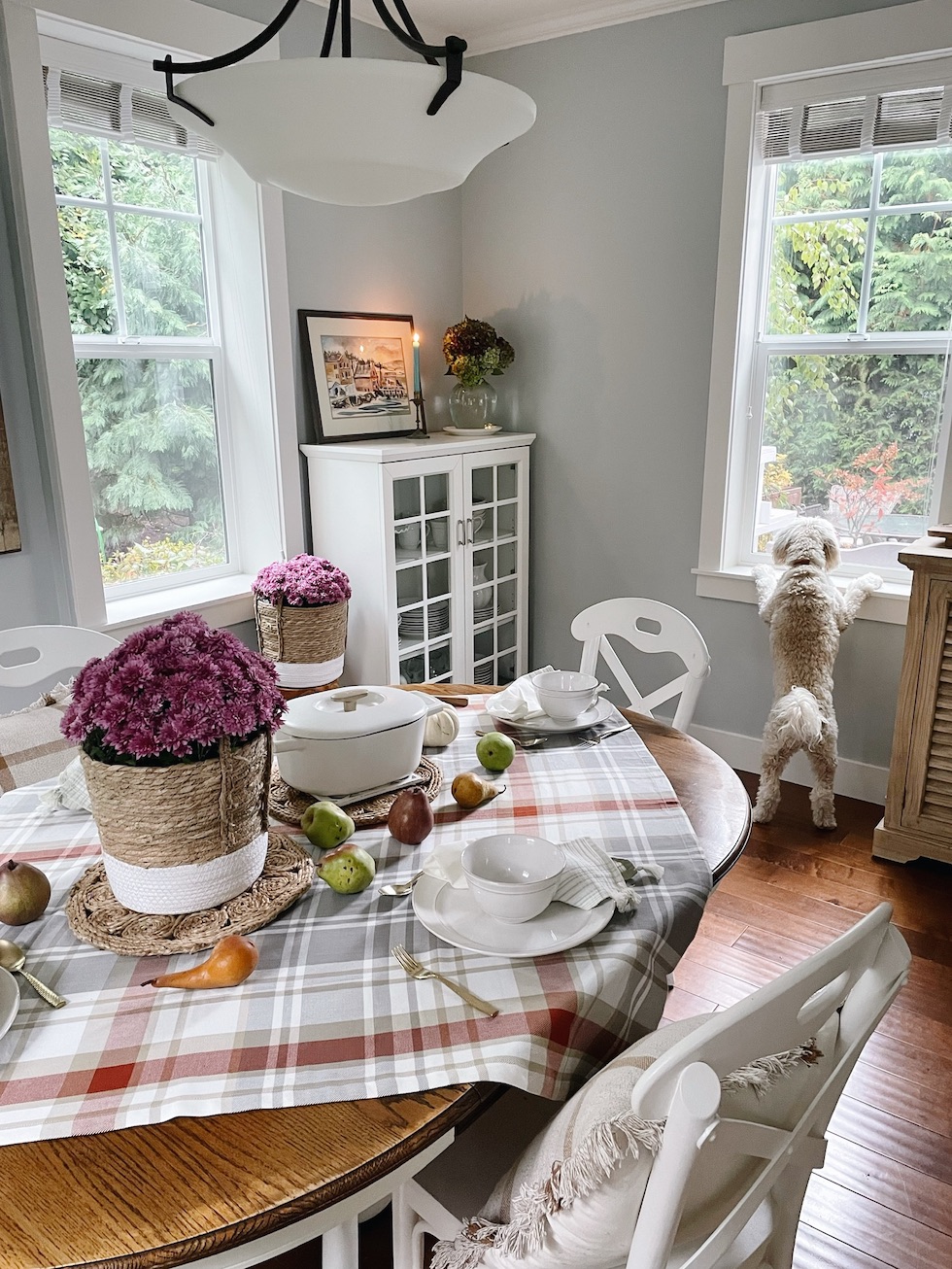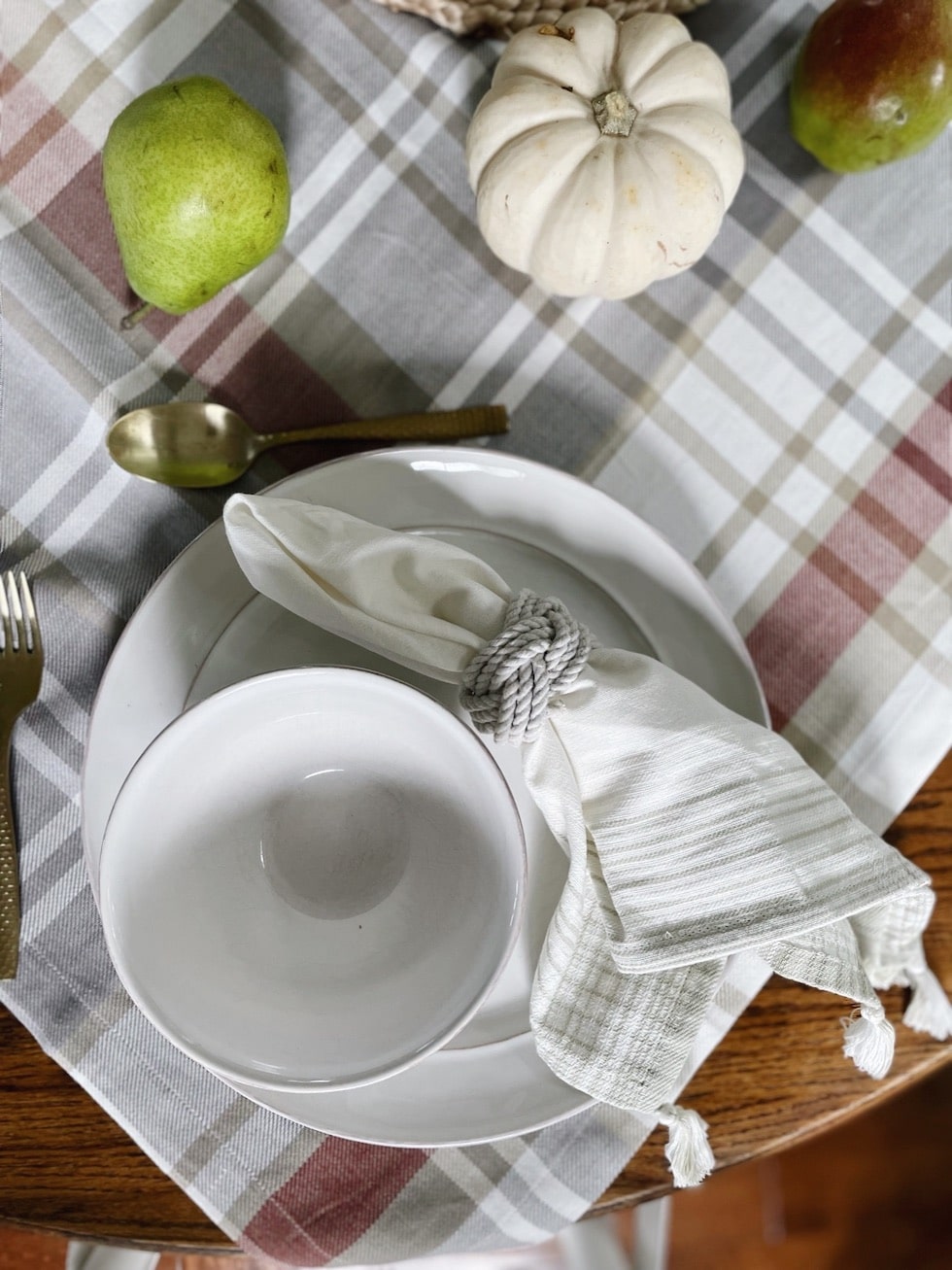 Don't you love the striped tassel napkins and rope knot napkin rings? I love the subtle nod to fall. The napkin rings are so adorable. They were delayed in shipping a bit so they weren't here when we took photos but I added a couple of shots with them so you can see how pretty they are!
Napkin rings aren't essential on an every day table but they sure are a nice finishing touch. I use mostly white dishes (I already had mine but Walmart has some similar as well here) so it is fun to have a variety of napkins and napkin rings to mix and match for the mood or season you're in!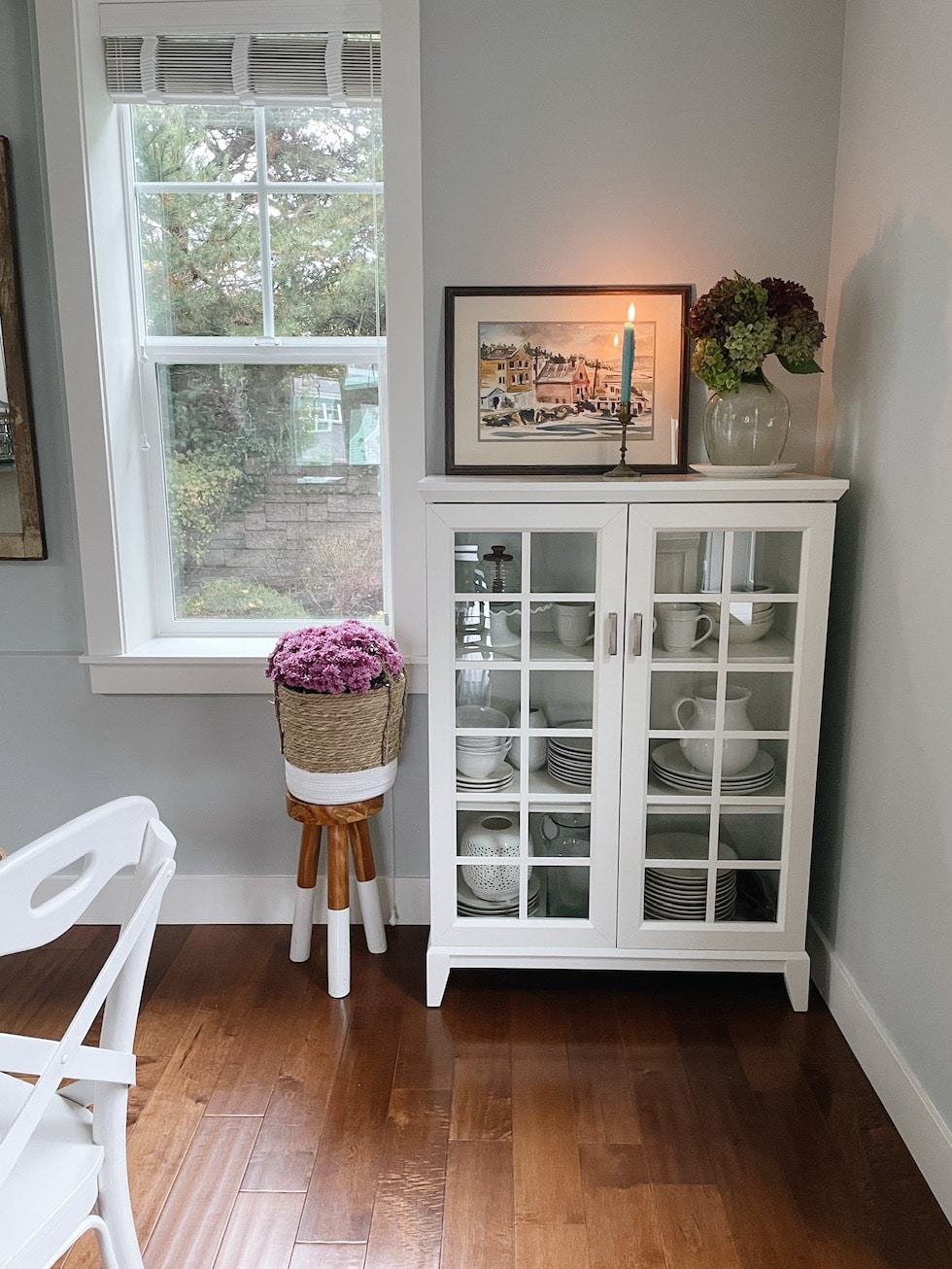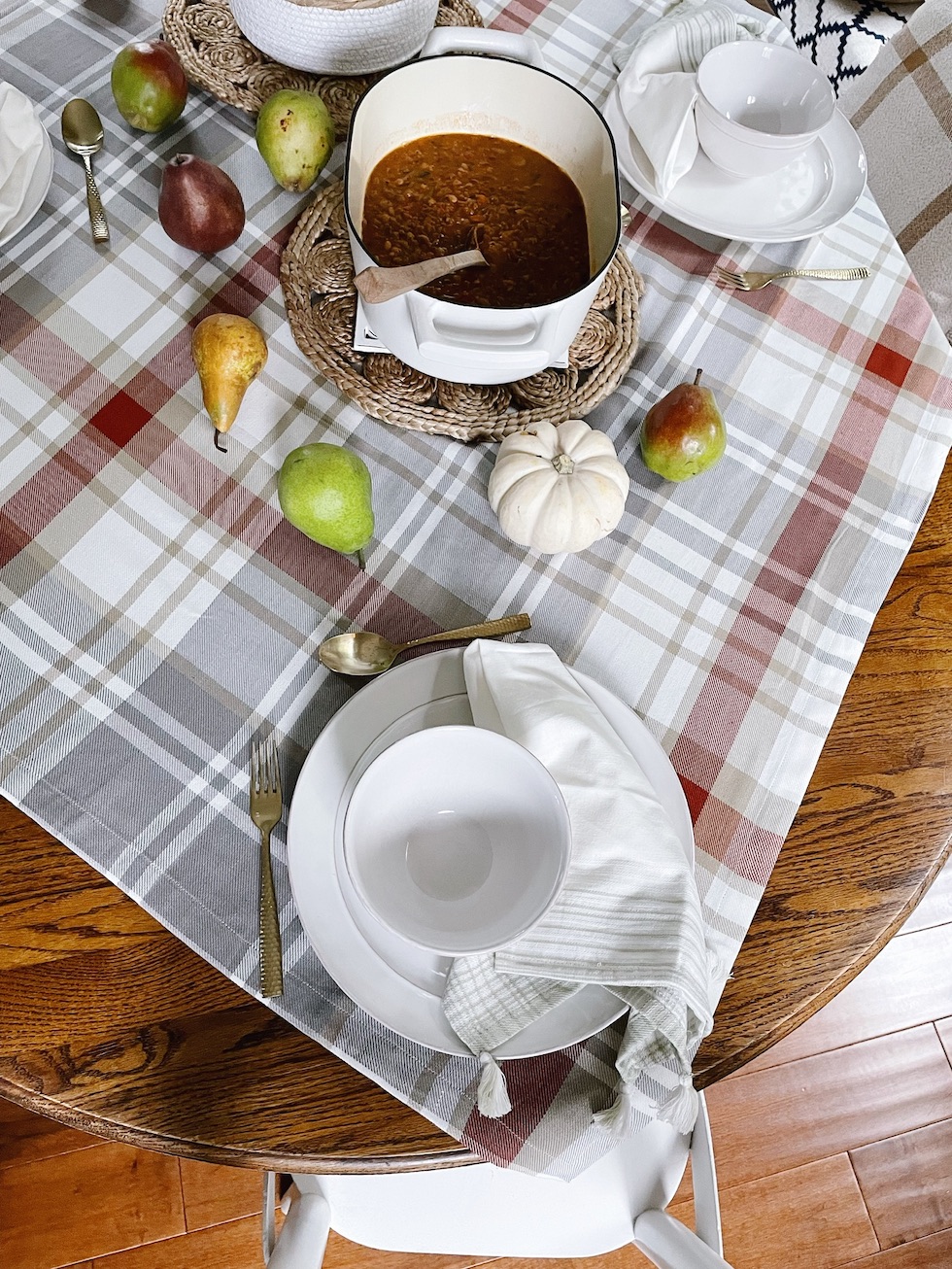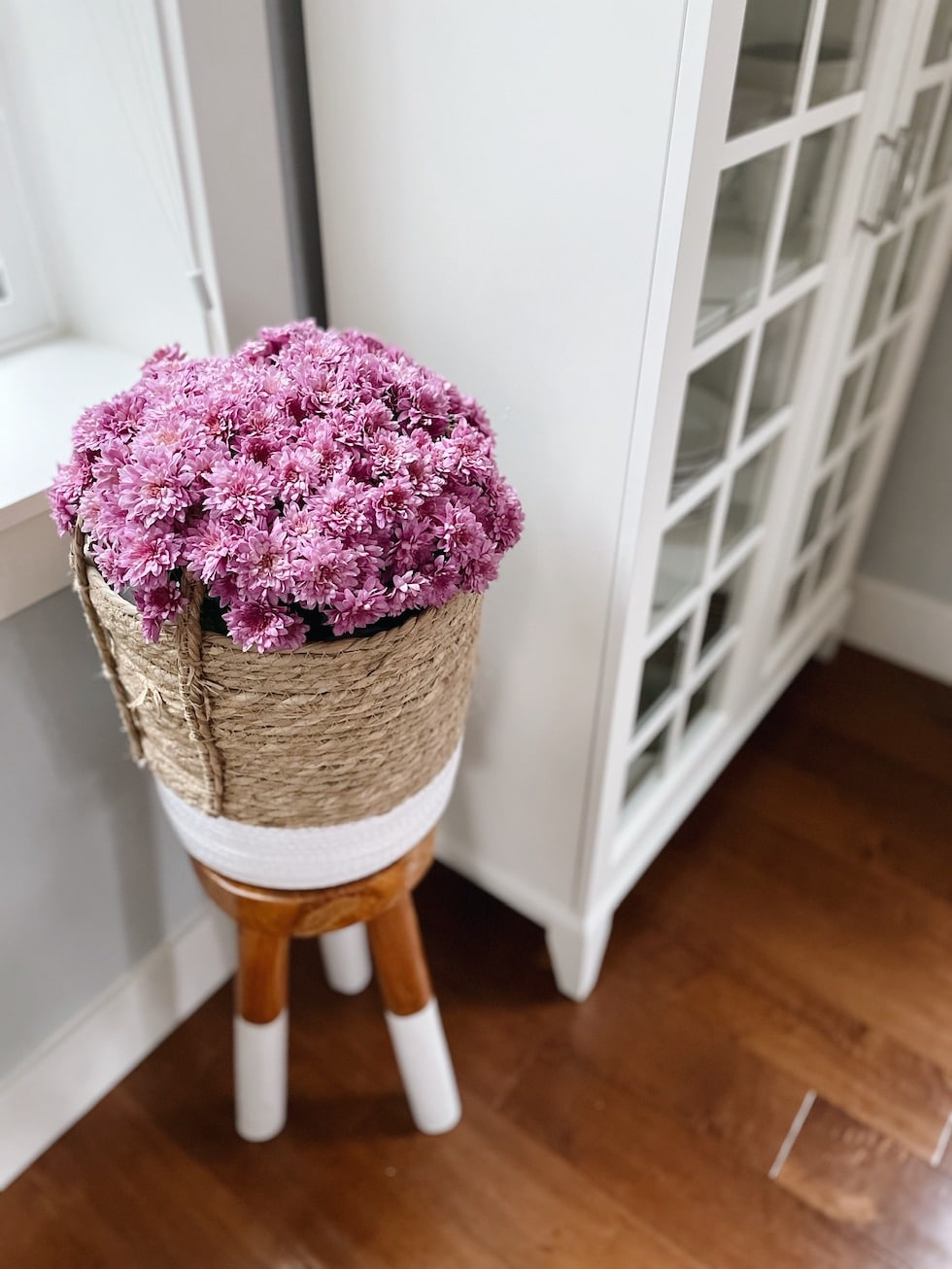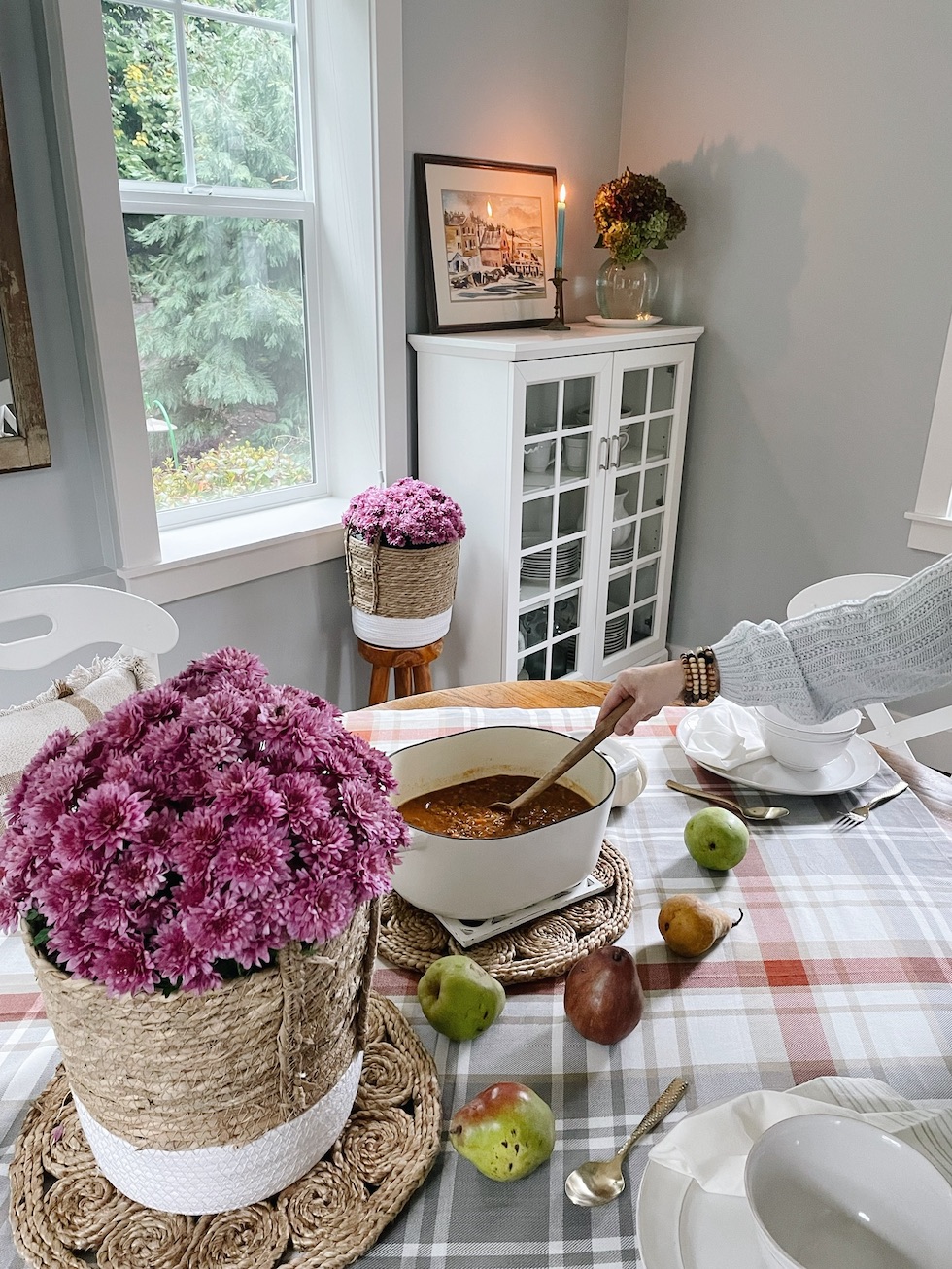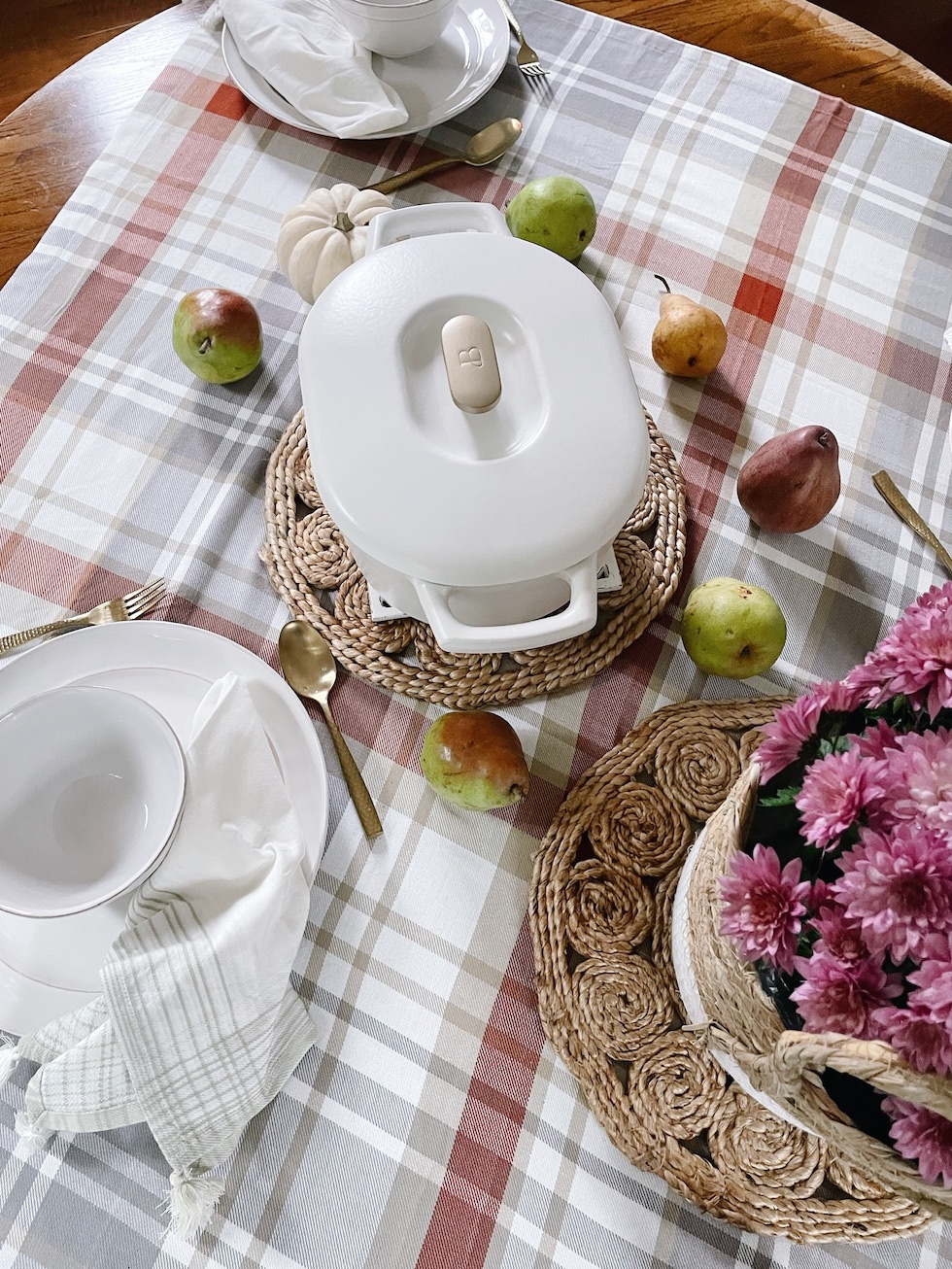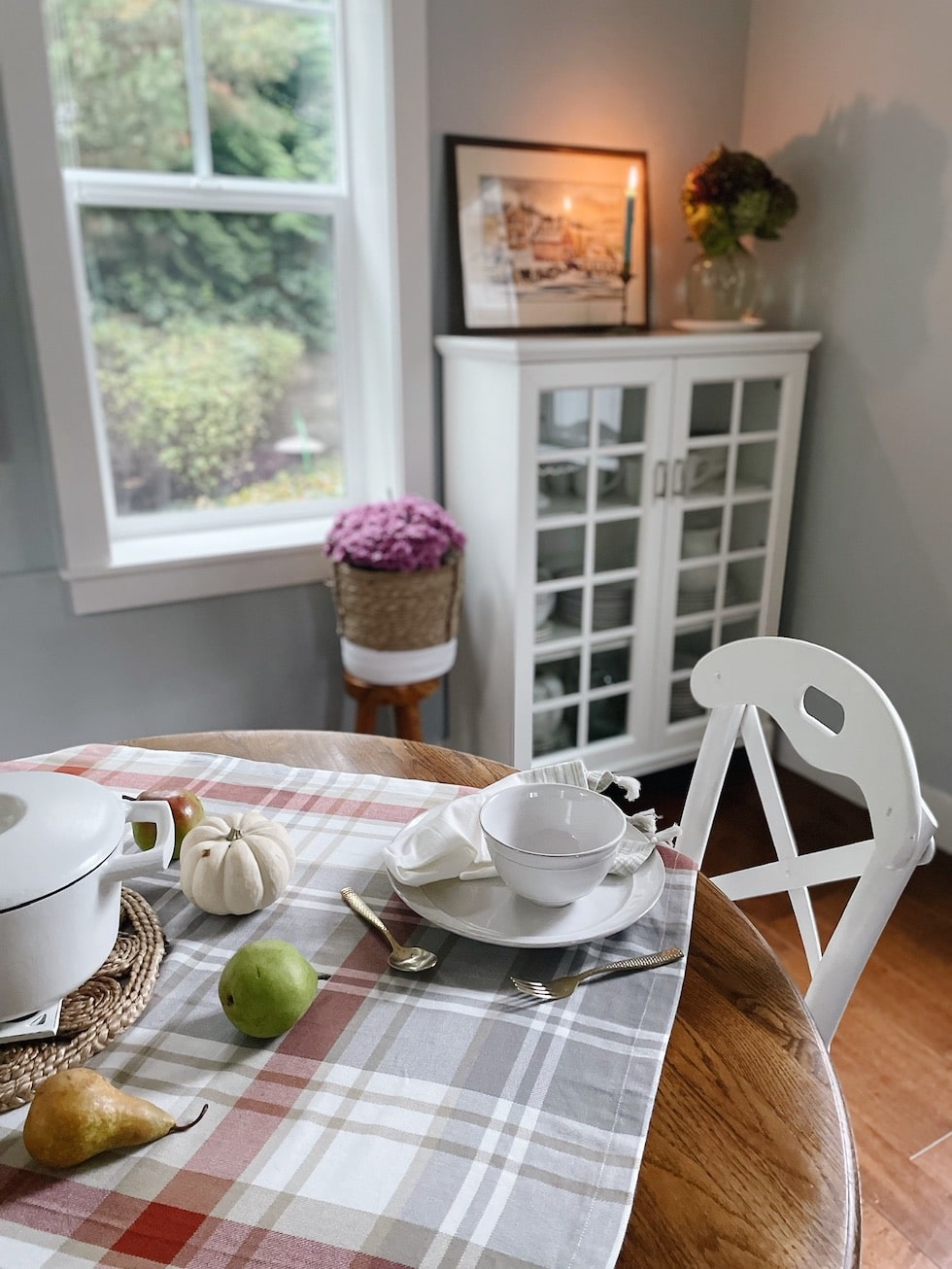 Enjoy fall nesting in your dining room!
You can find the links to the items I used from Walmart Home below.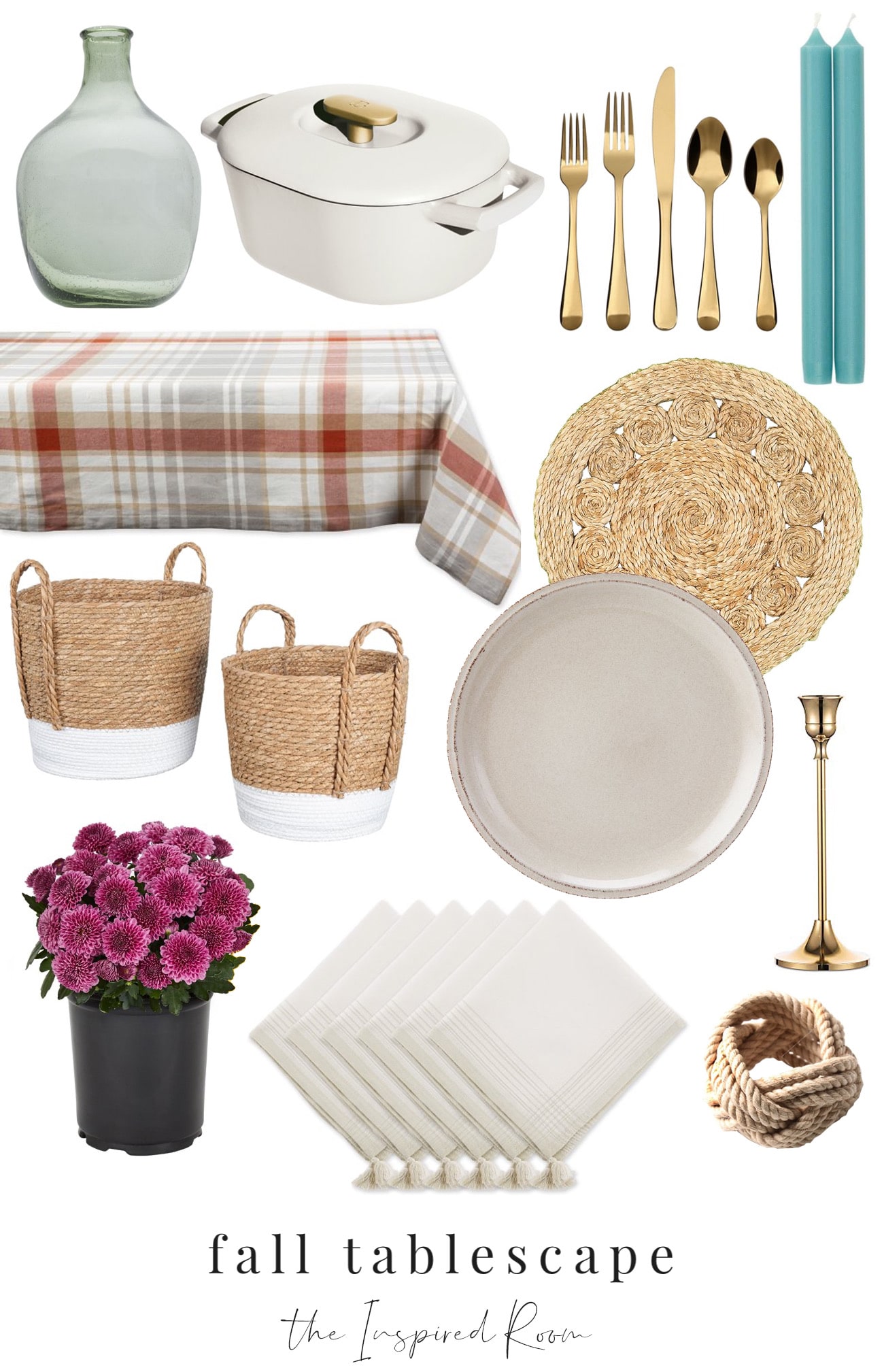 My Tablescape Sources:
White Enamel Dutch Oven with Gold Handle (multiple color options)
Dipped Seagrass and Paper Rope Baskets (set of 2–there's also a dark gray version)
Jute Braided Round Charger Placemats (set of 2)
Striped Napkins with Tassels (set of 6)
Rope Knot Napkin Rings (set of 8)
Turquoise Taper Candles (exact ones I have)
Gold Candlesticks (similar)
Cream Stoneware Dish Set (similar)

More fall decor below: